New Kootenay Parks Added To ehCanadaTravel.com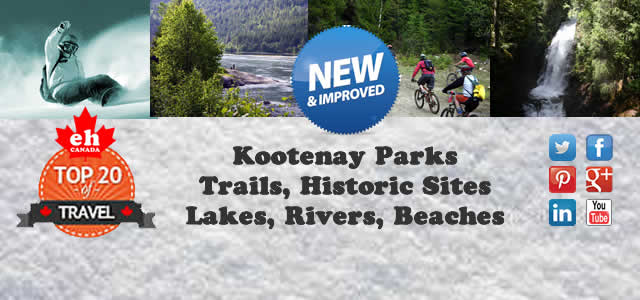 New Kootenay Parks Added To ehCanadaTravel.com
#ContentMarketing with Parks, Trails, Historic Sites in Fernie, Revelstoke, Kaslo, Rossland & Cranbrook, BC, Canada.
This week we saw the following British Columbia, Canada Kootenay Parks, Trails and Historic Sites added to our ehCanadaTravel.com website. With our website you can add content to our travel and adventure website assisting travelers in researching their adventures, at the same time, showcasing your expertise in your craft and area.
PLEASE REVIEW, RATE & COMMENT on ANY of THESE PARKS
You will notice in the top right-hand corner of the page the content provider for the Kootenay Parks is showcased as the expert and the source of the information. The content provider tab links to their Member Profile where the traveler can book, plan and learn more about them.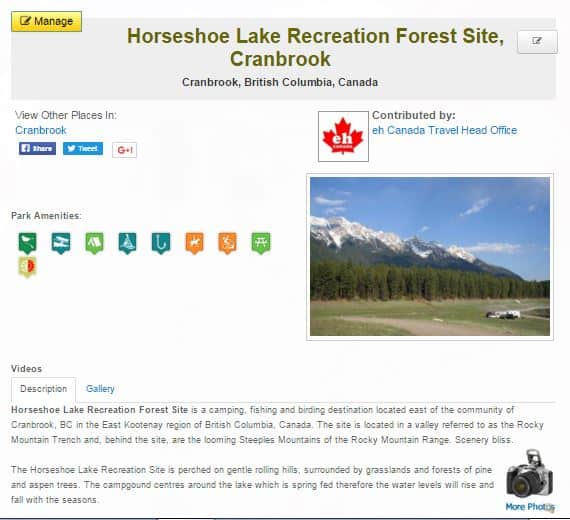 This is a new feature on our website which we are training tourism businesses, travelers, bloggers and photographers on. This new feature enables tourism businesses, bloggers and photographers to post content and advertise their services. In essence they can create advertising as much as they want, as many times as they want, based on their contributions.
This week we focused on Kootenay Parks. Here are the new submissions for the week of November 29th to December 5th, 2015 for Fernie, Revelstoke, Kaslo, Rossland and Cranbrook..
Fairy Creek Falls Trail, Fernie
Kikomun Creek Provincial Park, Fernie
River Trail, Revelstoke
Norbury Lake Provincial Park, Cranbrook
Lakit Lake Forest Recreation Site, Cranbrook
Jimsmith Lake Provincial Park, Cranbrook
Horseshoe Lake Recreation Forest Site, Cranbrook
Isador Canyon Trail, Cranbrook
It is easy to create posts which promote you and your services for the life of your partnership with us. Just sign up. Create a Member Profile with avatar. Click on add content. Click on the type of content. Create text and upload photos.
*********
ehCanadaTravel.com (eh Canada Travel & Adventure) is the largest travel and adventure website for booking, interacting and planning travel in Western and Northern Canada. The "eh Team" of eh Canada Travel & Adventure are a group of travel explorers, called Tourism Ambassadors, who research and write articles, take photos, create videos researching the many opportunities in travel, tourism, history and adventure in Canada.
We are currently expanding into Eastern and Atlantic Canada.
PLEASE mention eh Canada Travel during your travels.
Travelers sign up for free. Tourism Businesses sign up starting at $69 / year.
More Information

*********
https://www.ehcanadatravel.com/blog/wp-content/uploads/2015/12/banner.jpg
300
640
Greg "Gug" Girard
https://www.ehcanadatravel.com/blog/wp-content/uploads/2020/01/ehcanada-logo-340x156-1.png
Greg "Gug" Girard
2015-12-05 12:44:03
2015-12-05 12:44:03
New Kootenay Parks Added To ehCanadaTravel.com