Revelling in Mountains in Revelstoke – 2013 Road Trip Series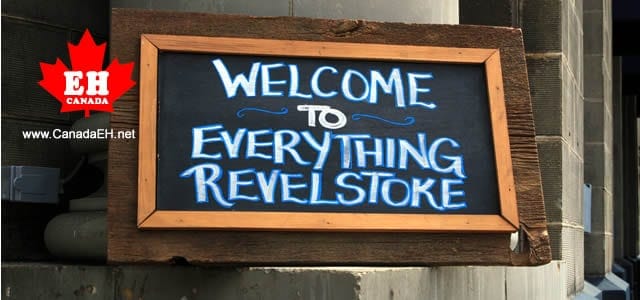 Arrived in Revelstoke, British Columbia, Canada and OMG look at those mountains! They are "everywhere mountains" with every day summits, peaks and glaciers. It is just one more "WOW" moment on our road trip of research.
We were not surprised by the grandiose monsters called mountains. No, I would say we were more like rejuvenated and revitalized by the sight of them. It is another stamp in the photo gallery of memories we will cherish for a lifetime.
We knew there would be an overdose of majestic mountains in Revelstoke. It was inevitable. "Sigh." We are in love.
This was not our first visit to the beautiful resort community of Revelstoke… nor will it be our last visit. The first thing that always takes your breath away when entering the community are the mountains. You just cannot avoid them when arriving in town and nor should you.
The Tim Hortons in Revelstoke is a magnet for… sad to say… chaos. It is the main stop on the highway when passing by the community. Big rigs and trucks pulling big trailers and bus tours are all fighting for space amongst the gas pumps of a Shell station. Add mixed in amongst the chaos are more trucks towing boats, cyclists and everyday cars and motorcycles adding to the confusion.
Revelstoke is the first community for many when arriving from Golden (when traveling west) and from Kamloops (when traveling east). Some stop to refuel and eat and are off again. Others stay and venture into the village and the surrounding mountains for sightseeing and adventure.
There is allot more to discover in Revelstoke when you get off the highway.
When you explore the community you will be blown away by all that Revelstoke, B.C. can provide you in breath-taking scenery and natural outdoor adventures. We have already established the mountains so let us move on.
Surrounding the community there are two massive reservoir lakes which book-end Revelstoke called Upper Arrow Lake (south end) and Lake Revelstoke (north end). And then in town… there are two major rivers which converge – the Columbia and Illecillewaet Rivers. So much water surrounded by wilderness is only a good thing for those who enjoy beaches, camping, boating, kayaking, fishing, water skiing, swimming and sailing.
The mountains… well.. they are a hub for alpine adventures like mountain biking, hiking, backpacking, wilderness camping, horse back riding, skiing, snowboarding, heli skiing, cat skiing, snowmobiling… oh yeah baby!!
So what is our first move? Setting up our base camp would be a wise step. So we ventured out and scored a waterfront campsite on Revelstoke Lake in the Martha Bay Provincial Campground. Sweet spot too!!
The lake is a regular source of entertainment. Down the bank from our campsite we could see families swimming, floating and laughing near the designated swimming beach area. Off our front high-bank deck were people kayaking, boating and fishing or should I say casting as I did not see any fish being caught. Saw a few jump though.
The cherry on the sundae was the group of long boat paddlers (long canoe with 12-16 paddlers and a drummer) who paddled by our campsite. We gave them a standing ovation as they rowed in close. Gotta love it!
We ventured into town so we could walk the streets incognito. The main streets were lined with outdoor patios, people and bike racks. It seems many prefer to bike in Revelstoke. How cool is that!
I have a hard time remembering when the last time I have seen so many bikers doing their business in town on a bike. This is our type of town – park the car when you can. And, get this. The bikes and cars get along sharing the streets.
The stores – some dressed in pastels, some looking old and some all spiffy in new digs – were varied. There are cafes, restaurants, gift stores, banks, book stores, snowboard shops, sports stores and eclectic and everyday stores lining the main streets. Most of the national chains are on the highway.
The personality of Revelstoke is large just like its mountains!
https://www.ehcanadatravel.com/blog/wp-content/uploads/2013/08/banner2.jpg
300
640
Greg "Gug" Girard
https://www.ehcanadatravel.com/blog/wp-content/uploads/2020/01/ehcanada-logo-340x156-1.png
Greg "Gug" Girard
2013-08-13 17:32:14
2013-08-13 17:32:37
Revelling in Mountains in Revelstoke – 2013 Road Trip Series