Vancouver Outdoor Adventure and Travel Show – ehCanadaTravel.com
Vancouver Outdoor Adventure and Travel Show
Celebrating Outdoor Adventures in Vancouver, BC, Canada
"You could tell this was a show for adventure providers and adventure enthusiasts to connect and hook up for an adventure. "
I have researched Canada from coast-to-coast-to-coast and have been fortunate enough to have visited over 750 tourism communities. I have been schooled by culture, questioned by history, entertained by communities, tested by adventure and I am still learning all the time. I am not naive. Canada is a big country. It is always changing, and one can never stop learning about his or her passions and livelihood. The invitation to write about the Vancouver Outdoor Adventure and Travel Show is right in our wheelhouse. This last weekend, March 3rd – 4th, I put on my adventure face and hit the event running.
I felt there was good energy in the air as soon as I walked through the doors. It made me feel kind a giddy. I could hear people talking all around me. They were saying words like kayaking, mountain biking, boat cruises, backpacking, rafting and hiking. My ears pricked, those just happen to be my "buzz" words.
I could not wait to hear about everyone's adventures. I was walking into my candy store. I was parachuting into my utopia. You could tell this was a show for adventure providers and adventure enthusiasts to connect and hook up for an adventure. I wanted to connect, listen, and learn during my visit to the Vancouver Outdoor Adventure and Travel Show. Was I being selfish? Who cares right?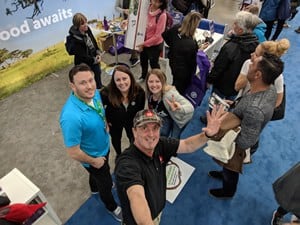 Once I adjusted to the environment, and navigated the crowds at the entrance, the first booth to greet me was G Adventures! They are the sponsors of the Vancouver Outdoor Adventure and Travel Show. G Adventures provides cultural and authentic tours all around the world. The travel company has transformed cultural tours and is a trend setter in the industry. They are the real deal.
G Adventures has a cool backstory too and it is 100% Canadian. G is based out of Toronto, Ontario. The adventure company is the brain child of Bruce Poon Tip. Heard a lot about his story, but not in detail. So when the team at G Adventures reached behind the counter and gifted me Bruce's book called Looptail I was stoked. A semi-documentary about his story and the rise of G Adventures. OMG! It is a page turner.
"G Adventures has defined (and redefined) small group travel for over 25 years. Travelling with us is the very best way to get up close and personal with your planet in a way you'd never manage on your own. And when you travel with us, you support local communities and help make the world a little bit better for everyone. Welcome to a World of Good."
Getting Schooled in Adventure
Everything is a learning experience. If you think you know it all, then you have a long way to go. I try to make most things I do in life a learning experience. Call it what you will, but education is everywhere. I am a "boots-on-the-ground" and "blinders-off " type of guy. When I research I like to get all my senses involved before I make any assumptions. Hence why I always bring my best set of listening skills to these events. I find I learn best that way.
At the Vancouver Outdoor Adventure and Travel Show the entrepreneur in me wanted to check out the booth designs, listen to different presentations, and watch body language for belief in product. The traveler in me wanted to learn about new activities, equipment and destinations for future research missions, documentaries, and adventures. #ehroadtrip is in order soon. I can feel it.
There were booths about kayaking, boating, wildlife watching, kiteboarding, rock climbing, scuba diving, hiking, fishing, SUP, golfing, backpacking, cycling, rafting, flightseeing, and mountain biking. Heck, one-third of the trade show floor was dedicated to mountain biking. There were exhibitors for resorts, attractions and adventure get-a-ways. Many where from Canada and some from out of country like Cuba, Africa and USA. The exhibitors, bless their hearts, provided us the necessary information to assist us in making our future travel decisions. From there… we build our bucket list.
Here are our 3 featured exhibits. Lets just say we connected with them. We liked their story and style at the Vancouver Outdoor Adventure and Travel Show.
FEATURED ACTIVITY EXHIBITOR
Nootka Marine Adventure (www.nootkamarineadventures.com)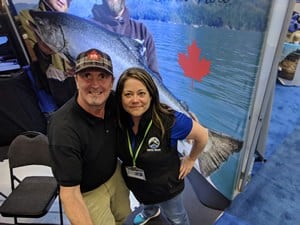 "Nootka Marine Adventures offers world class fishing adventures and accommodation at three remote lodges in Nootka Sound, BC, Canada. Nootka Marine Adventures is proud to have a team of the most experienced and professional fishing guides in Nootka Sound on the largest and most comfortable fleet of guide boats on the west coast of Vancouver Island. "
Really enjoyed our conversations with the folks at the Nootka Marine Adventure booth. We talked a little fishing, Nootka Sound and wildlife scenery. Pleasant to talk with. Very knowledgeable. Always smiling. They were also professional and genuine when hearing our story. Beginning of a beautiful partnership? Maybe so.
FEATURED CANADIAN EXHIBITOR
Tumbler Ridge Global Geo Park (www.tumblerridgegeopark.ca)
"A UNESCO Global Geopark is an area recognized as having internationally significant geological heritage. Geoparks aim to reconnect people to the earth, whether through hiking trails, learning about mountain building, eating food grown in the local soils, or celebrating the stories of the people who have lived here since time immemorial. The geology in a Geopark may be linked to sites with interesting archaeology, wildlife, history, folklore and culture. Tourism industry promotion in a Geopark focuses on highlighting the geographical character of a place."
We have had the pleasure to explore Tumbler Ridge BC Canada. We have camped, and hiked many of their trails. Most trails connect to a waterfall and anyone who knows me knows I love waterfalling. This past weekend we learned about backcountry skiing and snowshoeing while visiting the Tumbler Ridge Global Geo Park booth. Already hooked on the adventures of this BC village, it did not take me long to be drawn into the Global Geo Park presentation. Click on this link to learn more about Tumbler Ridge.
FEATURED INTERNATIONAL EXHIBITOR
Munising Bay, Michigan (www.munisingbay.info)
"Alger County and it's surrounding area is the gateway to Pictured Rocks National Lakeshore, Grand Island National recreational area and Hiawatha National Forest. Enjoy miles of Lake Superior shoreline, rivers and streams as well as hundreds of inland lakes and miles of trails to explore. Offering an amazing Four Seasons of Fun, our area is sure to have a fit for any trip plan."
Learned so much about this area of the United States. I was not familiar with Munising Bay, Michigan. It is located on the shores of Lake Superior about a 2 hour drive west of Sault Ste Marie, Ontario, Canada. Munising Bay is home to beautiful red rock cliffs, forest parks, hidden ocean coves, hole-in-the-wall rock formations, ocean drives, endless beaches and much more. Activities include cycling, ocean kayaking, beachcombing, fishing, boating and more. The ladies at the booth were full of information, happy about sharing it and enthusiastic.
---
Canadian Travel Influencer post by :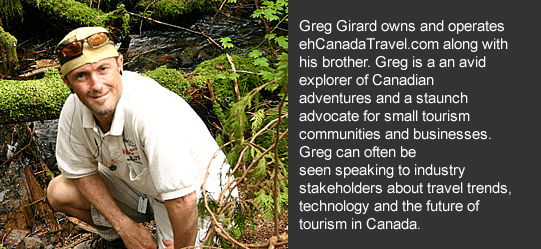 As Seen On:
CBC, Huffington Post, Canada.com, Nature Conservancy of Canada, Cottage Life Magazine, TravelTV.com, Travel Industry Today, Yukon Life, TAPS Magazine, HUB Magazine

Head Office
ehCanadaTravel.com
54-120 Finholm Street N.
Parksville, BC, Canada, v9p 1J5
https://www.ehcanadatravel.com/blog/wp-content/uploads/2018/03/blog-header-bc-outdoor-adventure-show.jpg
300
640
Greg "Gug" Girard
https://www.ehcanadatravel.com/blog/wp-content/uploads/2020/01/ehcanada-logo-340x156-1.png
Greg "Gug" Girard
2018-03-09 01:34:25
2018-03-12 10:48:04
Vancouver Outdoor Adventure and Travel Show – ehCanadaTravel.com