Calgary Outdoor Adventure and Travel Show
Calgary Outdoor Adventure and Travel Show
Exhibitors from Canada and around the world
"share our love for adventure and exploring this beautiful country we call home"
Do you remember the excitement you felt in anticipation of summer vacation time and all the fun there was in planning your adventures? Walking into the Calgary Outdoor Adventure and Travel Show the air was filled with this same excitement. Smiles and friendly greetings everywhere as l made my way down the isles filled with exhibitors. Exhibitors from Canada and around the world were there capturing the attention of thousands of show visitors looking for their next adventure. And adventures there were, by the hundreds, from canoeing to houseboating, camping to glamping, biking to zip-lining. There was something for everyone.
The great folks at G Adventures who sponsor the Calgary Outdoor Adventure and Travel Show had everyone dreaming of future holidays with their cool contest where you mail yourself a postcard
to your dream destination. Someone very lucky will win a G Adventures dream trip! I love meeting new people and learning about travel and there was no shortage of great conversations as l meandered my way through the over 200 exhibitors.
Chungo Creek Outfitters – Nordegg, Alberta
A chat with Chungo Creek Outfitters had me day dreaming about their horse back riding trips that can be customized to suit your needs. At Chungo Creek they can accommodate all riding abilities and all ages. They offer different adventures to suit every taste and level of experience from hourly and daily rides to multiple day trips. Starting out from their cabins with an informative introduction to western riding and horse safety, take a ride through the beautiful forest along both the Blackstone and Wapiabi Rivers.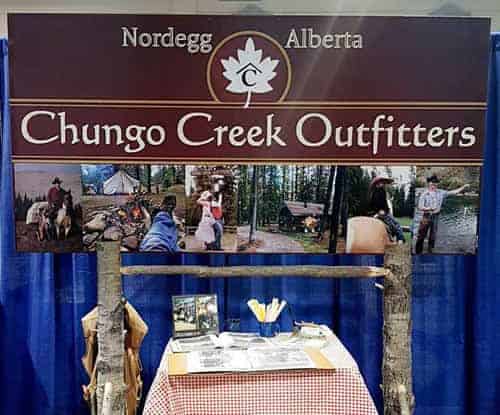 For those who are looking for more, one can mount up and head into one of their back-country camps. While in the mountains you can enjoy activities such as riding, hiking, fishing, wildlife or just plain relaxing. Located in beautiful Nordegg, Alberta, Chungo Creek Outfitters have cabins for rent that are overlooking the junction of the Blackstone and the Wapiabi Rivers. Available year round. Contact Pam at 587-444-0034 to book your horseback riding adventure today! (website)
BarCountry
One exhibitor that really caught my attention was BarCountry. Mathieu, one of the Co founders of BarCountry has a love for the outdoors and a passion for great cocktails. We all know the headaches that come with trying to pack light and BarCountry has now solved having to pack those heavy mixes. Mathieu & partner, Kole made it their mission to make premium cocktails accessible anywhere in the world. Their premium dehydrated cocktail mixers have all the ingredients you need to recreate your favourite cocktails. All you need to do is add water and spirits. The ultimate convenience of a dehydrated product, without compromising on taste ! Back country or back yard, BarCountry is your reward for chasing the adventure. Try their Caesar mix…it is delicious! For more info on BarCountry products contact Mathieu at 403-880-2221
Parks Canada and Banff National Park
The folks from Parks Canada and Banff National Park were on hand to educate tourists in a really fun way. From Lake Stewardship, Leave no Trace Camping to Wildlife Education, there was quite a line up at their booth. Getting folks involved was the name of their game so l had my two sons line up for some wildlife education where Brett dressed as a Long Horn Sheep and Brad as a Bear. Parks Canada staff quizzes you on wildlife safety. What distance is a safe distance to stay from wildlife. How to keep your campsite safe and food free and most importantly, not to feed the wildlife!
Pacific Coastal Airways
It was a great pleasure to meet and chat with Kevin Boothroyd, Director, Business Development & Corporate Communications of Pacific Coastal Airways. Pacific Coastal Airways provides regular schedule, charter, and cargo services to 15 airports with connections to 50+ destinations in British Columbia, more than any other airline. They are the sixth largest airline operating at Vancouver International Airport (YVR) based on total outbound seats, and third largest based on take offs and landings. Kevin said to keep watching as Pacific Coastal Airways is expanding this spring in a big way!
Expanse Cottages – Nordegg, Alberta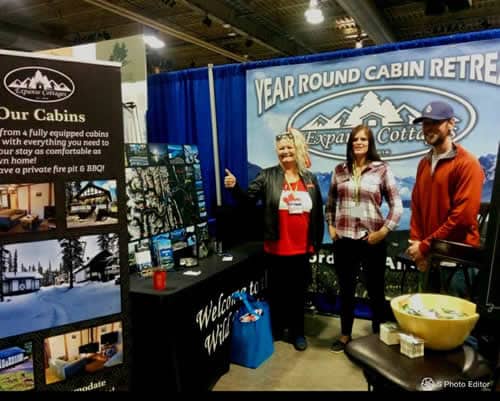 Our friends at Expanse Cottages, Nordegg, Alberta Canada were also present at the Calgary Outdoor Adventure and Travel Show. Expanse Cottages in the wild Canadian Rockies offers self contained cottages for your stay and acting as base camp to many backcountry adventures. Some of the adventures available in the Expanse Cottage backyard include hiking, atving, backpacking, biking, fishing, birding and more. Contact Expanse Cottages today at 1-877-706-5701. (website)
Thank you Calgary Outdoor Adventure and Travel Show
I don't always get to meet customers face to face as sometimes distance means business via phone only so to have the opportunity at the Calgary Outdoor Adventure and Travel Show to put faces to the names and talk in person was simply marvelous. I would like to thank the Calgary Outdoor Adventure and Travel Show for inviting me and a huge thank you to all the fabulous folks that took the time to chat with me and share our love for adventure and exploring this beautiful country we call home.
https://www.ehcanadatravel.com/blog/wp-content/uploads/2018/04/blog-header-calgary-outdoor-adventure-show.jpg
300
640
Greg "Gug" Girard
https://www.ehcanadatravel.com/blog/wp-content/uploads/2020/01/ehcanada-logo-340x156-1.png
Greg "Gug" Girard
2018-03-28 12:35:45
2018-04-01 13:00:35
Calgary Outdoor Adventure and Travel Show