Fairmont Hot Springs w/ Mountainside Vacation Villas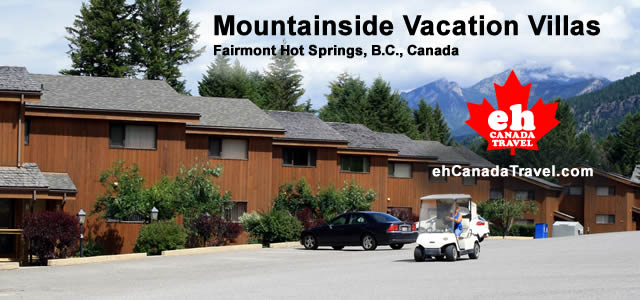 Fairmont Hot Springs w/ Mountainside Vacation Villas
"This was, by no means, our first trip to Fairmont Hot Springs, BC but it was our first stay with Mountainside Vacation Villas. And based on our stay we do hope we get invited back again and again and again!"
I arrived in the Columbia Valley region of British Columbia, Canada with great anticipation. My destination was the Village of Fairmont Hot Springs, BC. My accommodation feature, on this leg of my journey, was a fully equipped chalet at Mountainside Vacation Villas (www.mountainsidevillas.com).
Mountainside Vacation Villa resort includes 116 fully furnished 1-2 bedroom chalets offering privacy, comfort & plenty of green natural scenery. It is embedded in a forest of trees with birds chirping and singing their songs of joy. This was, by no means, our first trip to Fairmont BC but it was our first stay with Mountainside Vacation Villas. And based on our stay we do hope we get invited back again and again and again!
Fairmont Hot Springs is part of the East Kootenay region of British Columbia, Canada. The village is located on Highway #93 / #95, just south of the communities of Invermere and Radium BC and north of Canal Flats, BC. The Village of Fairmont is situated just north of Columbia Lake, the Columbia Lake Provincial Park and the headwaters of the 2400 KM long Columbia River.
In the region of Fairmont Hot Springs, BC are the canoe and birding adventures of the Columbia River Wetlands and some easy to challenging hiking trails like the Waterfall Trail, Geary Lookout and the Owl's Loop Trail. There are also some sightseeing destinations like the hoodoos near Dutch Creek and the views of the Columbia Valley from the Valley View Trail. In the winter there are the ski hills.
"But for many people it is the hot springs and the golf courses that attracts them to Fairmont Hot Springs, BC during the summer sunshine season."
Mountainside Vacation Villas is real close to the village services and smack-dab in the middle of a whole lot of golf courses. I must of passed 4-5 golf courses and Par 3's on the way to checking into Mountainside Vacation Villas. And many of the golf courses were sporting some absolutely stunning fairways and greens.
My unit at Mountainside Vacation Villas was large. It had lots of space and elbow room. My accommodation was fully equipped with all the amenities of home. All I had to do was show up with some clothes (that is a good thing), food and my knack for curiosity. I may forget some clothes on occasion but I never leave home without my curiosity.
My 2 bedroom chalet style villa could sleep up to 7-8 people. The kitchen was stocked with all the tools for preparing elaborate meals. The living area fully couched (sofa) with TV and a fireplace. There was a washer and dryer for scrubbing down clothes after an adventure or after sweating out a golf game. And… for those who make a living on the internet like us… yes, there is a strong internet signal.
Outside my sliding back door of my chalet was a wooden patio with sitting benches. In the corner there was a gas barbeque. My view from the patio you ask? I was sitting pretty over looking the Mountainside Golf Course. It was like having the golf channel 24/7 at my doorstep. I watched some great approach golf shots on the green and some not so great. I saw a few people rejoice after birdies and many who missed their bogey attempts and said some words we cannot repeat here. This is a family blog you know.
Some things to note about Mountainside Vacation Villas is that pets are not allowed. You are responsible for cleaning up after yourself (no maid service) and all units do not come with phones, however, cell service works and there is a pay phone available at the recreation centre. Most importantly, if you like your privacy, comfortable surroundings and the ability to come and go as you please, this accommodation may just be for you.
Mountainside Vacation Villas provides many extra services on-site. For one… all guests have access to the Mountainside Recreation Centre (9 AM to 11 PM). The Recreation Centre includes a swimming pool, hot tub, sauna, exercise room, and tennis, squash and racquetball courts. There is a main lobby/meeting room upstairs and, man, is it ever well furnished with a brick fireplace, pool table, library and shuffle board. The main room is ideal for group gatherings and social events. The staff also provides supervised activities for all guests. The sign-up boards are located near the pool.
Here is a heads up about staying with Mountainside Vacation Villas. It would be a big mistake to show up without your swimming trunks and golf clubs. Yes, you can rent clubs and buy swim gear but there is nothing like your own trunks for relaxing in therapeutic hot pools (not part of the resort but nearby) and playing golf courses with your own woods and irons for making par.
"The "eh Team" were welcomed by the staff of Mountainside Vacation Villas with smiles. The chalets were sparkling clean, well equipped, comfortable and provided lots of room.
The overall experience was heavenly. I just wish I was not traveling solo on this trip and I could of shared this wonderful accommodation with others. Better yet, kick their butts at golf too. Maybe we will have to do a golf feature next year and stay again so we can show off their hospitality once more. Crossing my fingers."
For those who like souvenirs like we do – there is a gift store at Mountainside Vacation Villas. I suited up with a t-shirt, baseball cap and a coffee mug. Watch the video attached and see me modeling when I thought the camera was off. Luckily I have a day job.
Today, we wear our cap and t-shirt during our travels and drink from our mug as we explore from community to community. We are happy to walk the streets of Canada in our Mountainside Vacation Villa apparel supporting a Member of ehCanadaTravel.com .
The "STARS OF TOURISM" program highlights Canadian accommodations, attractions and adventures the "eh Team" brothers explored during the summer of 2014 in the name of tourism and travel research for their ehCanadaTravel.com website, blog, social media channels and ehTV (YouTube).
Mountainside Vacation Villas : www.mountainsidevillas.com
5247 Fairmont Creek Road
Fairmont Hot Springs, BC
Canada, V0B 1L1
Toll Free: 1 (855) 345-6341 / Office: 250-345-6341
E-mail: info@mountainsidevillas.com
**********
The "eh Team" of ehCanadaTravel.com (eh Canada Travel & Adventure) are the brother team of Greg and Colin Girard. Together they are the brains behind the ehCanadaTravel.com travel website, blog, social media and ehTV which is the largest and fastest growing booking, planning and researching tourism and travel network for Western and Northern Canada – currently expanding into Eastern and Atlantic Canada.
**********
[google-map-v3 shortcodeid="3c403997″ width="80%" height="350″ zoom="12″ maptype="roadmap" mapalign="center" directionhint="false" language="default" poweredby="false" maptypecontrol="true" pancontrol="true" zoomcontrol="true" scalecontrol="true" streetviewcontrol="true" scrollwheelcontrol="false" draggable="true" tiltfourtyfive="false" enablegeolocationmarker="false" enablemarkerclustering="false" addmarkermashup="false" addmarkermashupbubble="false" addmarkerlist="5247 Fairmont Creek Road{}embassy.png{}Mountainside Vacation Villas" bubbleautopan="true" distanceunits="miles" showbike="false" showtraffic="false" showpanoramio="false"]
https://www.ehcanadatravel.com/blog/wp-content/uploads/2014/08/kicking-banner1.jpg
300
640
Greg "Gug" Girard
https://www.ehcanadatravel.com/blog/wp-content/uploads/2020/01/ehcanada-logo-340x156-1.png
Greg "Gug" Girard
2014-08-18 13:33:01
2016-04-25 14:40:33
Fairmont Hot Springs w/ Mountainside Vacation Villas