Canada Needs More Travel Influencers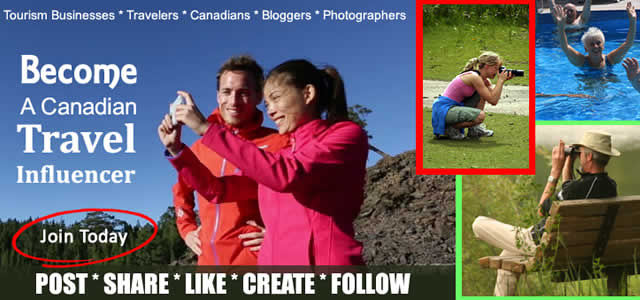 Canada Needs More Travel Influencers
Become a Canadian Travel Influencer.
Make a Difference in How Others View Our Country.
Imagine a travel website created by the people of Canada and not by corporations or associations. Imagine every photo, video, status update, event you post online assisting travelers and introducing you and/or your tourism business, art, adventures, hobbies and community to a whole new group of travelers across Canada, globally and on social media every day . Imagine every post promoting you, your website, blog and/or social media pages attracting new fans and followers. Now you can, whenever you want!
Who wins in this scenario? Well you do, travelers do and your community, your region, your favorite activity and Canada does.
Canada Travel (ehCanadaTravel.com) is the largest travel community for Canadians and for those who visit Canada. It is the only tourism website on the internet promoting travel, tourism and adventure in real-time – all by Travel Influencers. Every submission to the website promotes who you are, where you explore and what you love to do. Every submission includes your avatar and a link to your very own personal Social Travel Interactive Profile. Yes, no fooling, for every post you publish you get all the credit and as a bonus… the satisfaction that you are helping others book and plan travel, adventures and vacations in Canada.
Currently, the Canadian Travel Influencers participating online include tourism businesses, product manufacturers, photographers, artists, event planners, book publishers, media, transportation, every day travelers, Canadians and travel, foodie and adventure bloggers. So…. why not you?
Canada Travel has created, for the first time on the internet, 14 social travel posting tools providing you a medium to share your knowledge and expertise via your very own personal interactive profile page. From your personal profile page you can post daily, weekly or monthly status updates, photos, videos, stories, tips, specials and even create brand new content to be included in your community on the Canada Travel website. Once it is published the system takes over.
How does it work?
Write a few words of text, add a photo or video and then click post. This is referred to as a Status Update. It takes less than 2 minutes to complete.
You can create information pages about a park you visit, a trail you hike, a beach you explore, a lake you boat, a river you paddle, a historic site, lookouts and so much more. Write 500+ words, add a few photos and post it in the appropriate community. You will be the featured on the page as the author.
You can add an event, festival and/or a celebration.
You can create travel stories and provide advice with travel tips. Write 500+ words, add a few photos and post it. You will be the featured on the page as the author.
What happens after I post or create content?
This is where it gets good.
Your posts are published on all our scrolling Travel Community Walls on the front page of Canada AND on the front page of every province and territory thus reaching travelers from all four corners of Canada and globally.
Posts are rebroadcasted up to 19 times on Social Media introducing you to tens of thousands of new people every day (Facebook, Twitter, Google+, Pinterest, Tumblr, Instagram and others). All linking to your Social Travel Profile.
Top posts are identified and published again on Social Media as Top Canadian Travel Influencers every week.
Every month we feature the TOP 3 Canadian Travel Influencers on our website, social media pages and award them a badge.
Who should sign up?
Canadian Accommodations/Attractions/Tours/Artists/Guides/Transportation/Restaurants:
Create unlimited advertising when you want, as much as you want therefore attracting new travelers to your business every day. No more 1 static ad, 1 year and wait. With Canada Travel your business receives community, regional, provincial and category advertising listings, as well as, access to our Social Travel posting tools. With Social Travel tools you create ads when you want about your scenery, activities, specials, holidays, announcements, renovations, and pretty much anything during the year! All directs attention to your tourism business.
Canadians/Travelers: Post photos, videos, tips, stories (just like you would on Facebook and Twitter) except with us it gets featured across Canada, globally and up to 19 times on social media.
Photographers: We understand copyright issues is a problem on the internet. We also understand photographers want to be hired for photo shoots, make new contacts, promote their online shopping gallery and sell prints. Hence why every photo posted promotes you, your profile and your art. Credit is all yours.
Bloggers: You want to introduce your blog to new travelers. You want to establish yourself as a top adventure, foodie, community information source. You want to increase your online followers and fans. Now you can direct travelers to your blog and to your Social Travel Profile which promotes your blog.
Join Canada's Largest Travel Community Today.
Website | Social Travel Community | SIGN UP | 175+ Testimonials
https://www.ehcanadatravel.com/blog/wp-content/uploads/2016/12/banner.jpg
300
640
Greg "Gug" Girard
https://www.ehcanadatravel.com/blog/wp-content/uploads/2020/01/ehcanada-logo-340x156-1.png
Greg "Gug" Girard
2016-12-14 15:28:06
2017-12-30 14:28:46
Canada Needs More Travel Influencers