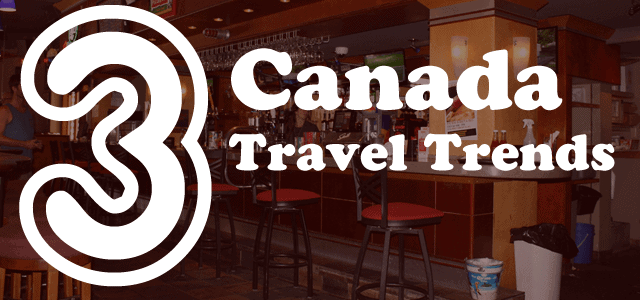 3 Canada Travel Trends
"Here are 3 upstart 2017 travel trends which will alter the landscape of the tourism industry"
As you know it is important for all of us in the tourism industry to follow trends and habits of travelers booking and planning travel to Canada. Our businesses depend on it. There are many forces that morph the trends of travelers every year. Some trends are self inflicted by the industry and some are spurn on by outside corporate tourism businesses and OTAs (Online Travel Agencies). Below are 3 trends which are emerging in the tourism industry.
Canada Travel Trends : Booking Sites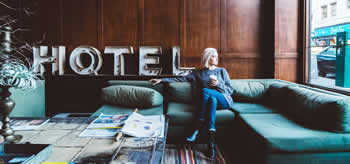 It is no secret what we think of OTAs. The harm that Booking.com, Expedia.com, Hotels.com and other OTAs are having on the travel industry may finally be coming to a head.
OTAs costs the Canadian tourism industry millions of dollars every year. Take into account that every booking generated from these sites costs hotel, motel, vacation home accommodations and transportation companies up to 15% on every booking. That equates to 15% of all revenues now leaving Canada for safe keeping in foreign banks. These are the same funds that would of stayed with the accommodation for reinvestment into their businesses, creating jobs and impacting local and regional tourism efforts.
There is already an underground movement between tourism businesses and OTAs. Airlines, hotels, and other travel companies are pushing back by posting cheaper fares and rates on their own sites. There is a marketing push to encourage travelers to book direct. For example, as of September this year, Lufthansa Airlines are now implementing a $17 fee on flights bought through third party OTAs. Expect more penalties and perks to come.
"ehCanadaTravel.com puts travelers in direct contact with businesses, no middle man."
OTA's are booking only websites. They do not educate the traveler on communities and regions. The result is shorter stays. It is well documented that an educated traveler books longer because they are aware of the adventures, attractions, activities, and entertainment opportunities operating in the community and within a day trip away.
Canada Travel Trends : Extra Fees is the Future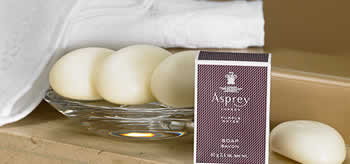 U.S. hotels generated a record $2.47 billion in 2015 by tacking extra fees onto their room rates, according to a report by Tisch Center for Hospitality & Tourism. They predict they will surpass that in 2017. More and more big business hotels are charging guests for everything from nonsmoking rooms to hair dryers.
For example, at the Bellagio in Las Vegas, you can request a nonsmoking (or smoking) room, but it won't be guaranteed unless you pay a $30-a-night surcharge. A Malaysian hotel group that goes by the name of Tune charges as little as $100 a night for a room in central London. But what is the catch? Rooms do not include television, daily maid service, or towels. They all come with extra fees.
Are the extra fees to compensate for the lost of income from OTAs?
Canada Travel Trends : Car-Rental Customer Swipe Card
The way you book a car rental is about to change. Soon there will be no more long lines, mixed up reservations, and excessive paperwork. Zipcar, a US based car rental upstart has quietly and quickly been beefing up its airport presence. The company is in more than 50 U.S. and four European airports. With Zipcar, you swipe your card to unlock a vehicle with gas and insurance included.
Many of the travel trends above refer to big business. The question we should be asking ourselves, "What is the impact travel trends are having on small businesses who do not have the same funding resources available to big business?" It is 2017… not 1985… print is out, the days of leaving your fate in the hands of a local tourism association are gone. The know-how and tools for self digital marketing are available. It is time for small businesses to take control of their own fate.
---
Canadian Travel Influencer post by :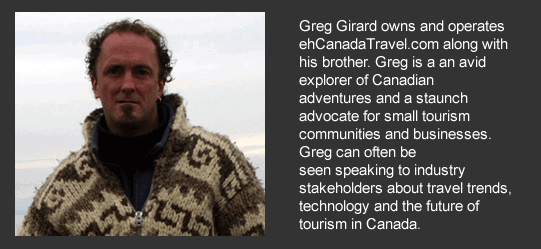 As Seen On:
CBC, Huffington Post, Canada.com, Nature Conservancy of Canada, Cottage Life Magazine, TravelTV.com, Travel Industry Today, Yukon Life, TAPS Magazine, HUB Magazine

Head Office
ehCanadaTravel.com
54-120 Finholm Street N.
Parksville, BC, Canada, v9p 1J5
https://www.ehcanadatravel.com/blog/wp-content/uploads/2017/11/travel-trends-header.png
300
640
Greg "Gug" Girard
https://www.ehcanadatravel.com/blog/wp-content/uploads/2020/01/ehcanada-logo-340x156-1.png
Greg "Gug" Girard
2017-11-01 15:40:17
2017-12-30 14:25:29
3 Canada Travel Trends