Cyber Monday-Black Friday Sale 2016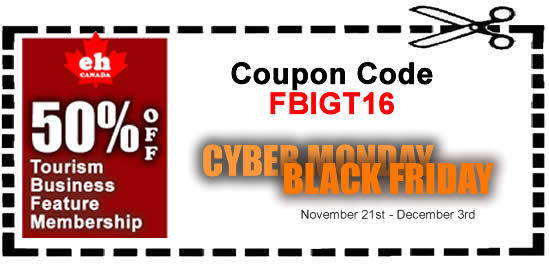 Cyber Monday-Black Friday Tourism Sale 2016
November 21st to December 3rd, 2016
(NEW MEMBERS ONLY – Sign Up Below)
Market your Canadian tourism business online when you want, how you want and as much as you want every day, week, month and/or season. Canada Travel has developed the first-ever real-time marketing system to assist tourism businesses in promoting themselves nationally, globally and socially instantly, as it happens. Now, you can try it for 1 year for only $34.50!
What You Get…
Interactive Social Travel Member Profile (with 14 live-action interactive marketing tools);
Live Scrolling Travel Wall (live updates of your business);
Advertising Listing Profile with Online Editor;
Category, Community, Provincial/Territorial and National Listings & Map Pins.
"I found other websites were just listings, no help. Your site was great for accommodations and activities. Found info and photos very helpful." T. Vondrasek
"45% of leisure & 57% of affluent travelers researched travel as a result of an online ad they stumbled onto and… 65% of leisure & 70% of affluent travelers began researching online before they have decided on where or how to travel," according to a recent Google and Ipsos MediaCT Poll. Travelers are up for grabs on the internet. The more ads, posts, feelers you have floating around on the world-wide-web the better.
"The ability to promote ourselves online on the best independent and interactive travel website has really grown our business in new and exciting ways." Toad Hollow
How Does It Work…
You Log In on ehCanadaTravel.com;
Go to your Business Social Travel Profile;
Interact

Make a status update.
Post a photo, video, press release, announcement, travel tip, travel story, special and/or event.
Add community content (parks, trails, beaches, historic sights, gardens, viewpoints, etc).
Like, share, comment and make connections with other tourism businesses, travel bloggers, photographers, event planners, travel media & travelers.
All interactions, posts, new content includes your company avatar (logo) and a link to your business.
All interactions are posted on the scrolling live travel community walls on the front page of Canada, provinces and territories, as well as, they are rebroadcasted up to 19 times on social media (Facebook, Twitter, Google+, Pinterest, Tumblr, Instagram, LinkedIn and more). We call this 2-Minute Marketing.
Click to view live scrolling travel community wall of posts
What Is The Difference…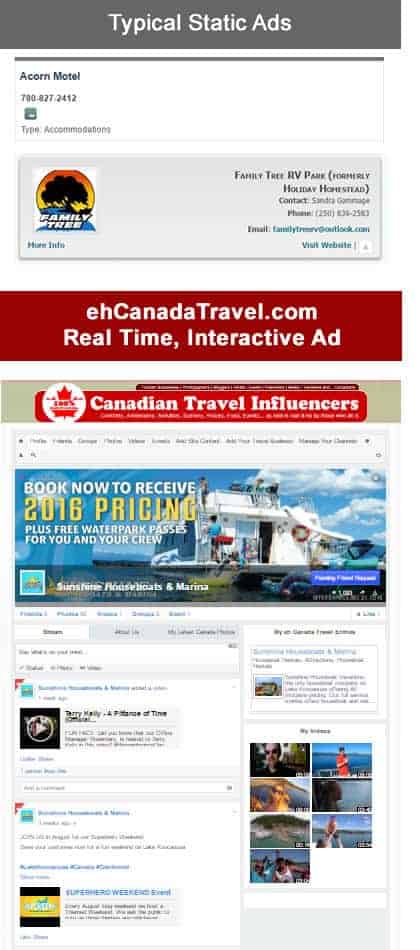 "This is not your usual travel site. ehCanadaTravel.com have produced a wonderfully eclectic, occasionally quirky and always informative mix of Canadian treasures, from urban to wilderness. eh Canada will appeal to the dedicated outdoor enthusiast looking for a new challenge, as well as, the casual visitor wanting to enjoy the scenery, the food, the activity or the stay, on and off, the beaten path." Lou Guay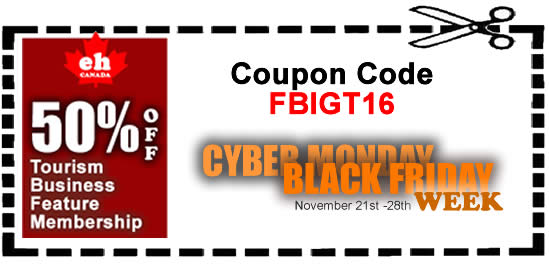 Sign up for our 1 year for %50 Off
(You pay only $34.50 with Coupon Code).
We are proud and humbled by the 175+ testimonials we have received. Curious? Click to View.
"eh Canada provides another great tool for advertising your tourism based event." SaskPower Windscape Kite Festival
https://www.ehcanadatravel.com/blog/wp-content/uploads/2016/11/blogheader-1.jpg
268
549
Greg "Gug" Girard
https://www.ehcanadatravel.com/blog/wp-content/uploads/2020/01/ehcanada-logo-340x156-1.png
Greg "Gug" Girard
2016-11-20 10:31:41
2016-11-23 13:49:21
Cyber Monday-Black Friday Sale 2016