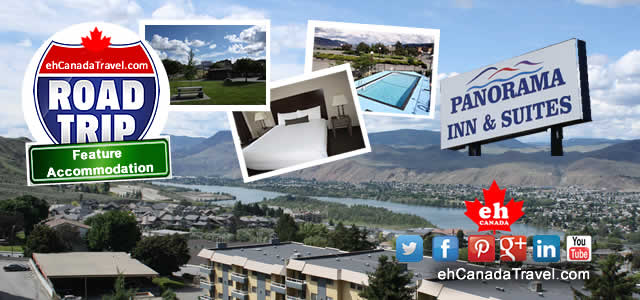 Panorama Inn Kamloops BC
"The highlight of my stay were the day time views, night time lights and Adarsh!"
Road trip! I am on my way to the community of Kamloops, BC in the Thompson-Shuswap region of British Columbia, Canada. My accommodation, during my stay, is the Panorama Inn and Suites and a gentleman by the name of Adarsh is my host. This will be my first visit with the accommodation.
Panorama Inn Kamloops BC Location
From my web research the location of the accommodation is in the centre of the city. It is a good choice if you need to be minutes away from services because it is within easy walking distance to a good selection of restaurants, services and retail. The closest eatery being Nandi's Flavours of India Restaurant which is located onsite, next door to the Panorama Inn.
My Panorama Inn Room
Every traveler has different needs based on the circumstances of their trip. For me, it all about a good working desk, a comfortable bed, a power shower and, a TV for background noise while I work. My Panorama Inn room was ideal for my upcoming week of working, researching & meeting with tourism businesses in Kamloops.
I had a large desk decked out with a real nice leather-looking office chair. It made working comfortable and productive. For background noise while I worked there was a large TV on a swivel. Next to me was a fridge for keeping my liquids cool. Behind me was my bed. As soon as I hit the pillow I was out like a light.
Panorama Inn Kamloops BC Night Lights
The highlight of my stay with The Panorama Inn and Suites were the day time views and night time lights from my patio. My room had an outdoor balcony serving up some draw-dropping views of the community of Kamloops and the Thompson River Valley. In my sight-lines were the North and South Thompson Rivers and the rolling hills of the Lac Du Bois Grasslands Protective Park.
Kamloops Panorama Inn is a 95 room accommodation perched high up on top of a hill (some call it a bluff). On the back end of the property are the accommodations with the best views. When booking I would suggest requesting a room with a view because, night and day, the view is what entertained me on many occasions.
There are rooms and self contained suites available at the Panorama Inn Kamloops BC. The various types of rooms include Standard Double, Family and Superior Double. The suites include kitchenettes which are ideal for longer stays. Other accommodation amenities include internet, in-room coffee, and air conditioning. Located onsite is a seasonal heated outdoor swimming pool. Lots of Parking is available.
The location of the Panorama Inn is ideal for quick access to many of the attractions, activity and educational destinations in Kamloops. The Thompson Rivers University is only 1 kilometre from the accommodation. Riverside Park, the most popular park in the community, is only a short 2.3 kilometres away. Downtown is a 3 minute drive.
Panorama Inn Kamloops BC Lookout
Next door to the motel is a spectacular sightseeing lookout and public picnic area with views of Kamloops and the Thompson Rivers. The information sign fronting the sightseeing lookout provides a bit of history about Kamloops.
Kamloops was founded as a fur empire in 1812 as Fort Kamloops. Then came the mining boom of the 1860's. When mining collapsed, some stayed and become ranchers. Then the railway came and changed Kamloops forever.
Panorama Inn and Suites provides comfort with great views in the beautiful community of Kamloops, BC, Canada. And they now are offering FREE continental breakfast too.
Update: In 2016, there are new owners and, therefore, it is important to note the comments made here may no longer apply.
---
Panorama Inn
610 Columbia Street West,
Kamloops, BC,
Canada
Local: 1-250-374-1515
Toll Free: 1-800-663-3813
https://www.ehcanadatravel.com/blog/wp-content/uploads/2016/07/banner2-3.jpg
300
640
Greg "Gug" Girard
https://www.ehcanadatravel.com/blog/wp-content/uploads/2020/01/ehcanada-logo-340x156-1.png
Greg "Gug" Girard
2016-07-23 13:58:28
2018-08-31 21:38:02
Panorama Inn Kamloops BC – Road Trip