Drumheller Alberta's Rustic Red Barn Antiques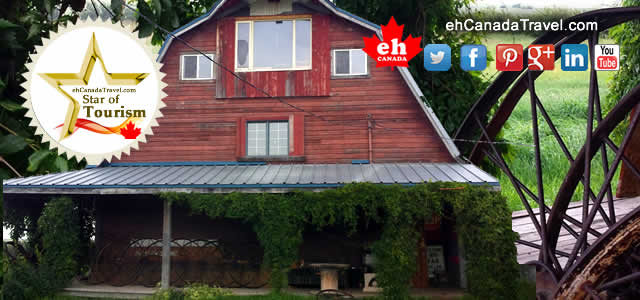 ~ANTIQUES GALORE ~ CEILING TO FLOOR
RUSTIC RED BARN ANTIQUES – Drumheller, Alberta
" Visiting the Rustic Red Barn is not just about antique shopping, it is also about fun and history."
This is a "Stars of Tourism" Promotion
Click to View Rustic Red Barn Antiques Member Profile
The Rustic Red Barn is an antique shopping experience located 15 minutes northwest of Drumheller, just past scenic Horse Thief Canyon in the southern part of the Province of Alberta known as the Badlands. The beautiful 2 story barn was built in the 1930's.
Today, it is home to over 50+ years of antiques, history and collectibles. Visiting the Rustic Red Barn is not just about antique shopping, it is also about fun and history.
Gord King, owner of The Rustic Red Barn, has been collecting antiques for over 50 years. His antique life started with a clock. One clock led to two and then it continued to grow and grow as did his passion for collecting "things".
At one time, Gord was the largest dealer at the local Flea Market with 20 stalls but that was before moving into the Rustic Red Barn. Today, you can find Gord along with his son Cory exploring the Province of Alberta seeking out wonderful treasures to stock their barn shelves with quality antiques and collectibles.
The moment you enter the antique barn you can see and feel the pride both Gord and Cory have in their collections. There are beautiful displays everywhere you look. The displays are categorized into sections for ease of browsing. There are sections of the barn dedicated to furniture, records, bottles, games, signs, photos, housewares, books, tools and games. There is so much to look at you could spend an entire day browsing the aisles and shelves.
Personally for me, picking through the vintage board games really took me back in time to game nights at my Grandparents cottage. I guess creating and recalling memories are just two of many benefits of shopping at The Rustic Red Barn. There are so many fabulous items to
see at the Rustic Red Barn it's truly an excellent way to spend a few very enjoyable hours or an entire afternoon.
Gord and Cory really know their antiques and are happy to share their knowledge and stories with the many visitors who come by each day. The father & son team indicated that three to four thousand travelers from all around the world come to visit the Rustic Red Barn each year from such far away destinations as New Zealand, Australia, Germany and Dubai just to name a few.
Looking for a certain piece to add to your collection? Gord and Cory have a 'Looking For' book where you can add your email and what antique piece you need and they will do their best to find it for you.
Shopping at the Rustic Red Barn is an experience not to be missed while visiting the Drumheller Valley in Alberta, Canada. Shop in person or on-line. World wide shipping is available. Cash and e-trsf only.
Written By Cary Horning
Canadian Tourism Ambassador
---
Contact Rustic Red Barn
North Dinosaur Trail,
Drumheller, Alberta,
Canada T0J 0Y1
Local: 1 403-821-1948
Email:  rusticredbarnantiques@hotmail.com
Canada Travel Member Profile : Rustic Red Barn Antiques
---
Click link to start booking, planning, researching and interacting with Drumheller Alberta, Canada
The "eh Team" of eh Canada Travel & Adventure are Canadian explorers called Tourism Ambassadors.  They travel & research Canada – all the popular, unique and unknown destinations – and make notes, write articles, take photos, create videos sharing the many opportunities in travel, tourism, activities and adventures in Canada that you know of and not know of.
ehCanadaTravel.com (eh Canada Travel & Adventure) is the largest tourism website for interacting, booking, planning & researching travel opportunities in Western and Northern Canada.
We are currently expanding into Eastern and Atlantic Canada.

"The future of tourism is social interaction and content marketing. Our website brings your advertising to life with your content. Your content develops a personality with social interaction. We talk with people, not down to people."
Greg Girard – co founder
https://www.ehcanadatravel.com/blog/wp-content/uploads/2016/07/banner2-2.jpg
300
640
Greg "Gug" Girard
https://www.ehcanadatravel.com/blog/wp-content/uploads/2020/01/ehcanada-logo-340x156-1.png
Greg "Gug" Girard
2016-07-23 13:04:07
2016-07-23 13:04:07
Drumheller Alberta's Rustic Red Barn Antiques