Travel Canada with No Boundaries – 2013 Research Road Trip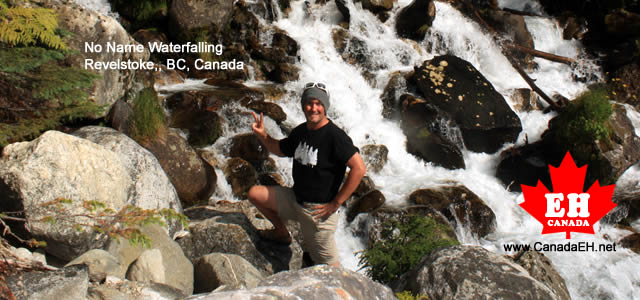 Travel Canada without blinders on. Travel Canada outside your personal borders. Travel Canada with no prejudice and there are always natural wonders around every corner to cherish.
Take a right turn and you may bump into a no-name waterfall. Take a left and you could find yourself crossing over a historic covered bridge. Look up and you may quiver at the sight of an oncoming mountain range. Look down and you see that you have wandered into a meadow of wildflowers. It is when you close your eyes and heart that you miss the simple pleasures of travel and everything that is around you.
A game we, sometimes, play helps us to be extra observant when traveling the roads of Canada. The game we play to pass time and to heighten our awareness is called "Wildlife Radar".
It is a simple game to see who can spot the most wildlife while driving from adventure to adventure – community to community. The game forces us to have our head on a swivel at all times and to scan the whole country side once, twice and three times over. I cannot tell you how many times we have discovered a secret gem of an adventure by accident or – better yet – by playing "Wildlife Radar". And man…. it can get really competitive.
A special note to all "Wildlife Radar" future players…. horses, cows, sheep and pigs do not count in the game of "Wildlife Radar." I have tried?!?! Nope according to the unofficial, non logical rules these animals are part of another game called "Farm Animal Radar." We do not play that game.
Just recently our awareness paid off.
In Revelstoke, BC, Canada while driving from point to point we discovered two kayakers alone on Revelstoke Lake and we finally committed to seeking out a hidden waterfall behind some trees.
The lake surface of Kootenay Lake showed no ripples. It was as smooth as glass. The wind seemed confused, all muffled by nature. The sun showing its prowess pushed the wind aside and was the super hero of nature on this day. The only sounds echoing off the lake today were the slap of the kayakers paddles on the water and the voices of the two kayakers echoing off the lake. They shared stories, emotions and excitement. At least those were the only sounds we were hearing at that time.
We sat back in the trees hidden from the kayakers. We watched them in envy cheering them on silently. We watched them paddle and heard them chatter for what seemed like hours until they disappeared out of sight. Little did the kayakers know we were right there with them in spirit all the way, side-by-side, in body and mind. Together we paddled Kootenay Lake that day overwhelmed by the surrounding natural landscapes and waterscapes.
The same day we went waterfalling!
Every time coming back from an adventure we would pass what we thought was a waterfall. Every time we would say lets check it out but plans would always get in the way.
The waterfall has no parking and tons of tree cover. Because of the tree cover we were not sure if it was a river or a waterfall? Curiosity always wins when exploring. So we parked down the street and bush whacked through the trees and – low and behold – there was a beautiful waterfall. Not sure if it had a name as it could be seasonal run-off created by mountain glaciers.
No matter… because on this day the waterfall was a waterfall – our little piece of paradise. We worshipped it with photos. Some photos included our scratched and bruised "mug shots" in them spoiling the photo too. LOL.
https://www.ehcanadatravel.com/blog/wp-content/uploads/2013/08/revelstoke-waterfall-banner.jpg
300
640
Greg "Gug" Girard
https://www.ehcanadatravel.com/blog/wp-content/uploads/2020/01/ehcanada-logo-340x156-1.png
Greg "Gug" Girard
2013-08-17 16:15:22
2013-08-17 16:16:14
Travel Canada with No Boundaries – 2013 Research Road Trip