"It's All Shuswap!"
Interview – The Inn at the Ninth Hole B and B,  Salmon Arm, BC
"We love to highlight the quality of the Shuswap area in all that we do."
Rene Vanderkraats
Recently I had the pleasure of sitting down with, Rene Vanderkraats, the owner / operator of The Inn at the Ninth Hole B and B in the community of Salmon Arm, British Columbia, Canada. As I pulled in to the parking lot, Rene was ready to welcome me at the front door with a smile and a hand shake. Minutes later we proceeded to the backyard, under the orange-red sun, to continue our conversation in the company of gardens, trees and an orchestra of singing birds.  The accommodation, the backyard and especially Rene, made a positive impression on me. My kind of meeting.
One of the many highlights of this journey exploring tourism in Canada is the opportunity to put a face to every tourism business we meet.  In any industry you learn to spot and appreciate quality people.
I am happy and honored to provide our readers (that is you) with some insight into the workings of  The Inn at the Ninth Hole B and B in Salmon Arm, BC, Canada. We are lucky to have Rene as our guest today in our online swanky lounge for our "Friends of Tourism" Promotion.
(eh) Hello Rene! Thank you for joining us online. 
1. Please tell us a little about The inn at the ninth hole B and B  and what you do?
Awarded many times by tripadvisor, Trivago top hotel 2015 #6 in BC #13 in Canada. The Inn at the Ninth Hole is a luxury bed and breakfast and offers a quiet comfortable stay, accommodating mostly couples or small groups. The rooms are comfortable, complete and cozy and all looking out over the gardens. The Inn offers 6 rooms, breakfast lounge, patio for the guests with BBQ and seasonal a veggie garden that can be used by the guests. We are proud to serve a local, fresh and mostly organic healthy and tasty breakfast. We love to promote local food and inform our guests about all the things you can do in the Shuswap and what to visit on your way to…..
Canada Travel Profile: https://www.ehcanadatravel.com/travel-community/659-the-inn-at-the-ninth-hole-b-b/profile.html
The Inn at the Ninth Hole Website: www.ninthhol.com
Phone: 250-833-0185
Toll Free: 1-800-221-5955
Email: info@ninthhol.com
Location: 5091 20 Ave SE, Salmon Arm, BC, Canada
2. What makes you different from other B&Bs in the region?
The Inn is a larger bed & breakfast operating year round, it is a family run accommodation, which gives the Inn a more personal atmosphere, but giving the guests privacy because the rooms and private part is separate. The Inn is located away from busy downtown, train and highway, surrounded by forest and the Salmon Arm golf course, but only a short drive to downtown Salmon Arm with many restaurants, theatre and cinema. Because our family run accommodation and the wish to offer a comfortable stay to all guests (and we need some down time too) our check in times are restricted to 3 to 7 PM, only when road conditions are asking for it we will be flexible.
(eh) We enjoyed our visit.  
3. Why did you decide to work in the tourism, travel and/or adventure industry?
In the Netherlands we owned and operated an outdoor and camping store, so we were already for 20 years involved in tourism, this is just a different site of tourism; we love to highlight the quality of the Shuswap area in all that we do. Serving breakfast and meeting all the guests from all over the world makes our job not only interesting but also pleasant.
(eh) It is all about the people and the life long memories we leave with them to take back home and share over and over and over again.   
4. What are your future plans, projects or goals for The inn at the ninth hole B and B? 
We hope to build on our experience and the many awards given by our guests, to make the Inn even better than it is today, working to grow tourism in the Shuswap as a year round destination. Make the Shuswap a destination for guests and not only a overnight stop. Constantly improving the interior and exterior of the Inn to offer a comfortable, relaxing environment to the guests. Improving our commitment to operate a green accommodation, LED lightning, water saving shower head and flushing, recycling and reusing save on packaging materials and so on.
(eh) Your appreciation for your region and the industry plus your efforts to minimize your foot print on the environment are all quality traits to have in this industry and traits, quite frankly, we admire. 
5. Share with us a funny story about The inn at the ninth hole B and B?
A funny story? There are so many funny and touching stories that it is hard to choose one, but here we go, our son in law is helping out with the breakfast in the morning and talking to one of the guests, "Where are you from?" and "What are you doing here?", you know the daily small talk. The funny thing was they came from the same area as Cody's family is from, so next question, "Do you know?"…….. Yes I think so, that is my aunt and that is an uncle. So as it shows they are related to each other. Small world EH.
(eh) You know it, eh! 
6. In your opinion what is the #1 reason tourists should pick Salmon Arm to travel to?
Tourist mostly travel to Salmon Arm because it is nicely halfway between the coast and the Rocky mountains, in the last few years many of our guests start to see what the Shuswap has to offer in outdoor activities, great weather, scenery, international restaurants and high quality stores in our downtown area. Guests are coming back for a second visit and staying more and more for multiple days.
(eh) We so agree. Every community can create a year round industry. There are some great examples in Canada of communities who have created tourism seasons attracting niche markets and using niche activities. 
7. What Makes your B&B breakfast special?
Our personal relation to the guests, our local real food breakfast, as well as the quiet location.
8. In your experience where do most visitors come from when visiting Salmon Arm and why?
Most visitors to the area are very surprised of the many things that are here to see and do, from the high quality golf, the 750+ Km trails for hiking and biking, the lake, cross country skiing and so much more. Visitors from all over the world, as close as Kamloops or Kelowna to the USA, Australia, New Zealand, Europe and Asia.
(eh) Agreed! So much to do. So beautiful. We must all work together to educate the traveler. 
9. Please give us some insight on what, you see, as the biggest mistake visiting travelers do?
Many travelers make the mistake to start traveling without knowing what to expect, what to visit, driving distances and driving times. In BC there are so many places that are well worth visiting. We usually advise to travel no more than 350 to 400 km per day and plan many visits to places of interest. On our web site we offer 8 different and we mean totally different routes from Vancouver to Salmon Arm. Take time to explore your trip before you travel and enjoy by slowing down and book your accommodation for more than an overnight stop, that way you will have a better experience and story for when you come home. Visitors to our country to begin with, but become ambassadors for us when they go home with great experiences.
(eh) Sadly, we hear that the lack of knowledge of the geography, activities, seasons and travel distances are all common reasons why traveler stays are shorter and seasons are misunderstood in many small to mid-size tourism communities all across Canada. 
10. What do you see as the biggest challenges for B&Bs in British Columbia?
We don't know if B&B's have more challenges than other tourism related businesses, what most tourism businesses have to learn is that the travelers are changing and they demand a professional approach, they like to book earlier all things from room to activity.
Thank you for your time The Inn at the Ninth Hole! We are proud to showcase your talents to the world as a Featured Tourism Accommodation in BC, Canada on our ehCanadaTravel.com website.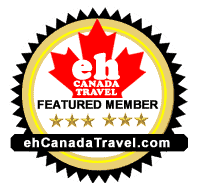 How Does Your Business Get Interviewed? Businesses must be advertising on the ehCanadaTravel.com website, as well as, have the FEATURED BUSINESS BADGE posted prominently on their website. When exploring Canada for quality experiences make sure to seek out the businesses posting our 100% Canadian Featured Business Badge!
Sign up your business starting at $69 / year.  More Information
******************************************

ehCanadaTravel.com (eh Canada Travel & Adventure) is the largest travel and adventure website for booking, interacting and planning travel in Western and Northern Canada. The "eh Team" of eh Canada Travel & Adventure are a group of travel explorers, called Tourism Ambassadors, who research and write articles, take photos, create videos researching the many opportunities in travel, tourism, history and adventure in Canada.
We are currently expanding into Eastern and Atlantic Canada.
"Our website brings your advertising to life with content. Your content develops a personality with interaction."
Greg Girard – co founder

*********
https://www.ehcanadatravel.com/blog/wp-content/uploads/2016/07/banner2.jpg
300
640
Greg "Gug" Girard
https://www.ehcanadatravel.com/blog/wp-content/uploads/2020/01/ehcanada-logo-340x156-1.png
Greg "Gug" Girard
2016-07-02 00:19:42
2016-07-04 14:21:46
"It's All Shuswap!" The Inn at the Ninth Hole B and B Interview