Interview – Okanagan Foodie Tours, Kelowna BC

Interview – Okanagan Foodie Tours, Kelowna BC
"Food lovers, food enthusiasts, food explorers, and regular people – if you like to eat, you're a foodie!" Nancy Quinton
Canada is an emerging culinary tourism destination. Helping to set a spotlight on our food and spirits industry are people like Nancy Quinton of Okanagan Foodie Tours. Nancy's company provides foodie sightseeing and tasting tours visiting with some of the best and more unique restaurants in the Okanagan Valley.
Canada is home to award winning chefs, tasty dishes and many internationally recognized culinary favorites like Atlantic lobster and crab, PEI potatoes, Pacific salmon, Alberta beef, Saskatchewan wheat, craft beers, BC and Ontario wines and the list goes on and on and on.  Our reputation is on the "foodie" map.
Recently, we had the opportunity to ask Nancy some questions about the past, present and future goals of Okanagan Foodie Tours and the culinary industry.  She was kind enough to share some of her insight and experiences with us and you. This is what we like to call our "Friends of Tourism" Interview.
(eh) Good D'eh Nancy! Thank you for doing this interview. Maybe we can start by sharing with our travelers – What is a foodie?
(OFT) A foodie is an affectionate term for anyone who enjoys food! Food lovers, food enthusiasts, food explorers, and regular people – if you like to eat, you're a foodie!
(eh) We eat. We explore. We experiment with food. I guess we fall into the foodie explorer category. 
(eh) Please tell us a little about who you are and what you do?
(OFT) Okanagan Foodie Tours is a walking food tour company offering locals and visitors to Kelowna a unique "foodie" experience. Tours are a great way to experience the culture of the area, enjoy fantastic meals from local hidden gems, and to meet people. We offer participants a guided 3-hour walking and tasting tour packed full of amazing foods from local artisans, cultural commentary, and historical (and fun) facts.
Canada Travel Okanagan Foodie Tours Member Profile:
https://www.ehcanadatravel.com/travel-community/658-okanagan-foodie-tours/profile.html
Okanagan Foodie Tours Website: www.okanaganfoodietours.ca
Phone: 250-808-9890
Email: info@okanaganfoodietours.ca
Location: Kelowna, BC, Canada and the Okanagan Valley
(eh) What roads did you travel? What led you to the tourism and/or culinary industry??
(OFT) After over 20 years managing the delivery of customer excellence in the telecommunications industry I chose to venture in a totally different direction. Since returning to Kelowna I have taken this opportunity to try something new – operating a food tour. After participating in food tours in Vancouver and Arizona I knew I was hooked! This was something I could really 'sink my teeth into'. I decided to take my passion to the streets of Kelowna in order to share my love of the culinary experience. My insight into the history of the area coupled with a genuine fondness for customer service was the natural genesis for Okanagan Foodie Tours.
(eh) What is the #1 Bucket List travel item on your To Do List for Canada?
(OFT) British Columbia is absolutely stunning and I consider myself very fortunate to be living in the gem of the Okanagan – Kelowna. If I did have a travel item on my bucket place, it would be to make my way right across the country trying traditional dishes along the way.
(eh) Take it from us who took 7 years to cross the country and back… that is one awesome Bucket List item.
(eh) Tell us a funny story about Okanagan Foodie Tours?
(OFT) I had a family contact me for a private tour – no problem. They needed the tour to end a little early – no problem. They mentioned they do not eat meat – no problem (my great partners were willing to accommodate). Then at the first restaurant, the young son looked up at me and asked if they had anything other than vegetables – problem!
(eh) Funny who you "meat" in this industry? LOL. 
(eh) In your opinion why should tourists select Kelowna as their culinary destination?
(OFT) Kelowna is a food mecca. Not only is it the host city for the Canadian Culinary Championships every year, we are also home to more than one "Chopped Canada" winning chef!
(eh) See this why we love these interviews. We learn something new every time. Thank you for sharing. 
(eh) What surprised you about Kelowna that you did not know before?
(OFT) I always thought of Kelowna as western Canada's sunshine destination (which of course it is). However, Kelowna is so much more. Agriculture, high tech, tourism, the arts, these are just a few of the components of a rich tapestry that makes up this great community.
(eh) Agreed! We need to continue to educate the traveler in both, the primary and secondary tourism sectors. By promoting an experience we increase length of stay and can extend our seasons.   
(eh) In your experience what countries visit Kelowna the most and why?
(OFT) I have personally met visitors from Japan, the USA and Australia, but believe fellow Canadians make up the largest group. Why? Why not – the beautiful scenery, great weather, wonderful wineries and orchards, lots of outdoor activities, and of course, the delicious foods!
(eh) Please give us some insight on what, you see, as the biggest mistake visiting travelers do when visiting Kelowna?
(OFT) Don't limit yourselves to the obvious. Yes, visit the great wineries, orchards, restaurants, golf courses and beaches scattered throughout the region. But then dig a little deeper, there are so many hidden gems of things to see and do that many times get overlooked. There is truly something unique for everyone.
(eh) Agreed. And, low and behold, sometimes those hidden gems become a highlight of the trip.  
(eh) What do you see as the biggest challenges ahead for culinary tourism?
(OFT) I see Culinary Tourism as an emerging industry. As the demand for innovation and creativity in the food sector increases the onus then falls on restaurants, chefs and industry professionals to meet the expectations of this new demographic. The end result of course is a terrific product for everyone along the way.
(eh) Thank you for your time and for sharing your insight into Okanagan Foodie Tours and the culinary industry.
We are happy to showcase your talents to the world as a Featured Culinary Tour in BC, Canada on our ehCanadaTravel.com website.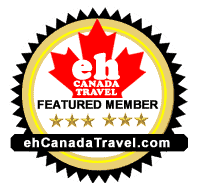 How Does Your Business Get Interviewed? Businesses must be advertising on the ehCanadaTravel.com website, as well as, have the FEATURED BUSINESS BADGE posted prominently on their website. When exploring Canada for quality experiences make sure to seek out the businesses posting our 100% Canadian Featured Business Badge!
Sign up your business starting at $69 / year.  More Information
******************************************

ehCanadaTravel.com (eh Canada Travel & Adventure) is the largest travel and adventure website for booking, interacting and planning travel in Western and Northern Canada. The "eh Team" of eh Canada Travel & Adventure are a group of travel explorers, called Tourism Ambassadors, who research and write articles, take photos, create videos researching the many opportunities in travel, tourism, history and adventure in Canada.
We are currently expanding into Eastern and Atlantic Canada.
"The future of tourism is social travel and content marketing techniques. Our website brings your advertising to life with content. Your content develops a personality with social interaction."
Greg Girard – co founder

*********
https://www.ehcanadatravel.com/blog/wp-content/uploads/2016/07/banner2-1.jpg
300
640
Greg "Gug" Girard
https://www.ehcanadatravel.com/blog/wp-content/uploads/2020/01/ehcanada-logo-340x156-1.png
Greg "Gug" Girard
2016-07-10 11:20:54
2016-07-10 11:33:33
Interview – Okanagan Foodie Tours, Kelowna BC