May 2016 New Product, Announcements, Marketing Tips – ehCanadaTravel
New Product, Announcements & Tips
Hope you had a great May Long Weekend! For many of our clients this is the "real" start of the summer tourism season. No better time to bring you up to speed. We are excited to share with you some new toys and updates for your tourism marketing tool box.  Details below. Have fun!
What is New With Us.
Broadcasting Update: There is a 24 – 48 hour delay for approval when setting up for authorizing your Member Profile to re-post your entries on to your own Facebook, Twitter and LinkedIn social media pages. This is to avoid the spamming of some and the creation of fake accounts. So to set your automatic posts up go to "Manage My Channels" on your Member Profile and click authorize and then wait and you will be connected in no time.
Messaging: Your Membership Profile now has a "Messaging" Button so to communicate one-on-one with other tourism businesses, bloggers, media, photographers, artists, events, etc. and us throughout Canada. Make connections and brainstorm new ideas, ask questions, share solutions, create strategies and sweepstakes, announce you are coming to a community, extend personal invites and more.
Website Button: Your website is important to us and you so we bumped it up a notch and highlighted it on our ehCanadaTravel.com website. There is a new feature website button which links to your business website on your Advertising Profile and a quick website link has been added to your Advertising Listings.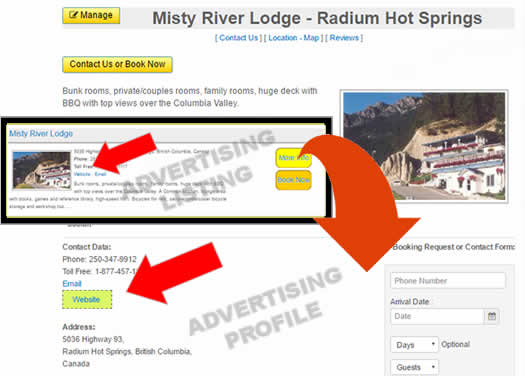 Social Media Logos: Social media logos are now posted on your Advertising Listing and Profiles. Set yourself up. Go to your ad edit box on your Membership Profile and add your social media pages and then click save.
How To Create Effective Posts: We do social media blasts on the internet all day, many times a day, promoting photos & videos posted on our website's scrolling interactive community walls by travelers and businesses. It is one of the unique ways we market tourism using today's most popular technology trends. Here is how to maximize your posts.
(1) Use (#) hashtag phrases when creating descriptions for status updates, photos and/or videos. Do not over do it. One hashtag at a time creates a chain reaction of sharing and therefore increases your chances of attracting a specific target group. This keeps your posts relevant for a longer period of time.
(2) Tag your status updates with your Twitter handle @yourtwitterhandle so you are notified on your personal and/or business Twitter page if and when Canada Travel publishes your posts online using a social media blast. Retweet it and keep the chain reaction going.
Example: #HikingTrails in the #OkanaganValley by Samuel Smith @samuelsmith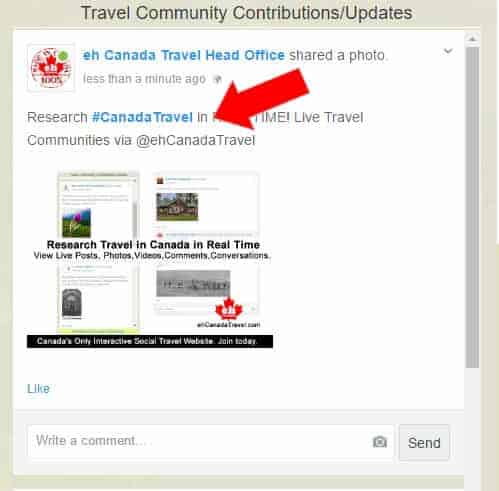 Community Parks, Trails & Places: When you make a comment on a park, trail, waterway and/or place your business is included in the comment. Another tool to promote yourself throughout the site and associate your business to specific places and waterways.
Writing Content: Become part of the planning process and your business has a better chance of becoming part of the vacation.  Any new website content written by you will now appear on your Member Profile identifying you as the author and for editing at any time as you see fit.  This is a great tool to showcase your expertise and knowledge of the area, region and/or country. Dress up your Member Profile with your published content. All content advertises your business.  New content must be approved by Canada Travel. A 24-48 hour spammer protection policy is in place.
Marketing Tip – Turning Guests into Great Advertising:
Case Study: One client told us she logs in during breakfast and has it open on her computer ready for quick guest posts and stories. Sounds like a great idea. Guests and Travelers love to talk.  They need an outlet for their excitement and great stories. Why not let their stories create advertising for you. Let them create content by writing about a hike they did, a bike path they explored, a picnic site or about an adventure destination they visited for boating, golfing, hiking, birding, wildlife touring, etc. Everything they do markets you. All you do is point the way.  Just log in, go to your Member Profile, go to the right section of your profile then turn the lap top around and ask the guest /traveler to go for it.
How many travelers have visited your profile? What does your Eyeball Tracker read?  This client has attracted 78.000+ traveler visits to his Member Profile in 4 months. Click to see who?
ehCanadaTravel.com

 Canada Travel with an "eh" is the only booking, planning & interactive social travel and adventure website in Canada, and on the internet. Featured On : CBC (3X), Canada.com, Huffington Post, Nature Conservancy of Canada, TravelTV.com, Travel Industry Today, Cottage Life Magazine, TAPS Magazine, Nature Conservancy of Canada and many local publications.
https://www.ehcanadatravel.com/blog/wp-content/uploads/2016/05/blogBANNER2-2.jpg
300
640
Greg "Gug" Girard
https://www.ehcanadatravel.com/blog/wp-content/uploads/2020/01/ehcanada-logo-340x156-1.png
Greg "Gug" Girard
2016-05-24 13:56:17
2017-12-30 14:28:54
May 2016 New Product, Announcements, Marketing Tips – ehCanadaTravel