Comfort In Shuswap Lake, BC – Salmon Arm Comfort Inn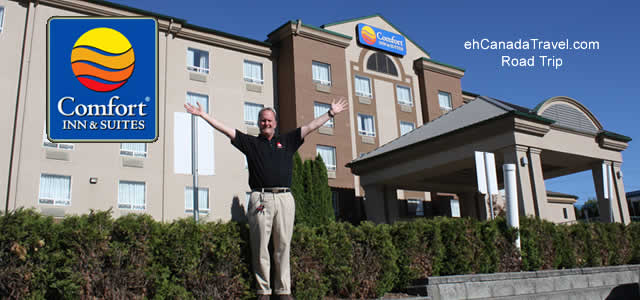 Comfort In Shuswap Lake, BC
"Personality, hospitality & comfort makes the Comfort Inn & Suites in Salmon Arm special"
I am driving the Trans Canada Highway on my way to Salmon Arm, BC. The windows are down, the breeze is blowing me a new hair style and on the radio was "(Sittin' On) The Dock of the Bay" by Otis Redding. I am big on some of the older classics. Anyway, I had my mojo going. I was out and about exploring on a hot summer sunshine day in May. Sweet!
Salmon Arm, B.C. is located on the shores of Shuswap Lake in the southern interior of British Columbia, Canada. My hosts during this visit were the staff of the Comfort Inn & Suites. The hotel was to be my home base while I do my thing in Salmon Arm talking tourism, adventure and travel trends.  I have never stayed with the Salmon Arm Comfort Inn before. I felt a new adventure was waiting for me around the corner.
What comes first – the accommodation or the host? I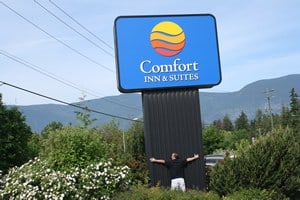 believe people skills, hospitality and personality of the host comes first. A great accommodation with poor hosts makes for a not so great experience. How much an accommodation exceeds expectations is directly related to the people skills of the host and/or staff.  You can have a great accommodation, but when the hosts are lacking people skills you are doomed. To be effective in the tourism industry you have to like people unconditionally – the good and the bad. When you become cynical of people it is time to move on.
The personality, friendliness and openness of the front line staff and Jill Power, the General Manager of the Salmon Arm Comfort Inn, made my stay very enjoyable therefore leaving me with a very positive impression from my Comfort Inn experience. The staff smiled, they said hello, they interacted, they laughed. Being you are dealing with a corporate hotel chain this is exceptional. Good on you Jill and Comfort Inn for sharing your personalities in a positive light.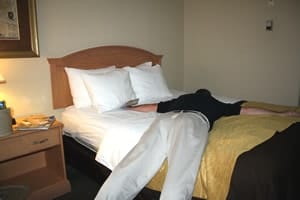 I arrived in Salmon Arm later in the day. I was exhausted after my drive and all that singing. Ug! I immediately dropped my luggage. I scanned the room. I took a quick inventory. I saw there were 2 Beds! Eeny, meeny, miny, moe. I fell face first on the winning bed. The real comfortable and soft winning bed.
I could tell the beds and I were going to become very close friends for the next few days. Well I was comatose on the bed my hand felt something. "What is this," I asked? It was a card reading "Firm or Soft". The card was referring to my pillow selection on the bed. Nice! There are few things which make my day when I travel and they are firm pillows, good bed, power showers, fun people, and a computer desk.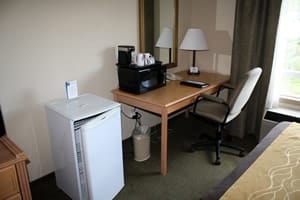 First things first, I start by taking photos of the room and some selfies of me for social media and the website. I do a quick walk-about of the room. I found another card. These things are like the hotel version of sticky-notes. This one said the fridge is unplugged to save energy while the room is not in use. Nice one.
The main room checked out fine. I had a computer desk so I can spread my wings at night and pound some keys on my laptop. I knew that the pop machine was down the hall in case I needed a caffeine jolt late at night. I made sure the coffee maker was stocked and ready to fire on all cylinders. There was a TV and radio to relax or for background noise. Looks like I was good to go.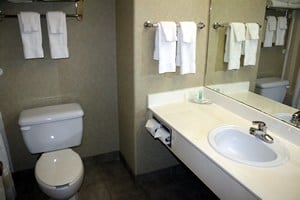 Bathrooms are a good barometer to cleanliness when in an accommodation. I took a peak in the bathroom and everything sparkled. No hairs laying around. No bugs dead in the corner of the bathtub. No rust stains. No spider webs. No dust. All I saw in this bathroom was cleanliness decorated with soaps, shampoo, conditioner, clean towels and a blow dryer. I turned the shower on. Yes! It was a power shower too!
Mind you lets be clear here. I also like dirt, rustic, rough and rugged accommodations with spider webs too. But an accommodation has to decide on their brand and who their target market is going to be. Comfort Inn is not going for the rustic backcountry cabin with no services look. No, the Comfort Inn is going for clean, comfortable and convenient. The same traveler market which appreciates a good selection of hotel amenities and services, close proximity to city services and access to good transportation routes and systems.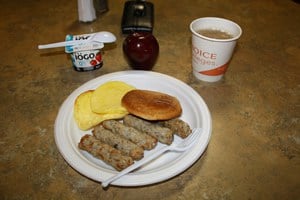 Every morning Comfort Inn served breakfast downstairs. The breakfast totally exceeded my expectations. It was a full on spread with waffles, breads, eggs, sausages, hash browns, pancakes, cereal, yogurt and… some of my personal favorites in the morning… COFFEE and JUICES! I was pleasantly impressed.
Some hotels provide just a simple bun, cereal and bad coffee and then send you on your way. The Comfort Inn & Suites made sure I was well fed in the morning. Every morning I felt I was ready for my day and all the adventures ahead.
Being that I am a self-proclaimed Sherlock Holmes of Tourism I can often be seen walking around the lobby and the main floors of hotels and resorts talking with the people and getting a feel for things. At the Comfort Inn people seemed very pleasant and happy. The pool and the water-slide was a big hit with the kids.  The hot tub… that is a given… you know us adults will eat that up. Also there was a small gym and next to that, a laundry room. It seems the  convenience angle was all covered.
Personality, hospitality & comfort makes the Comfort Inn in Salmon Arm special. When visiting Salmon Arm and you decide to stay with the Comfort Inn please say Hi to Jill and her staff from Canada Travel with an "eh". Well done gang!
Comfort Inn & Suites
1090 22 St NE
Salmon Arm, BC, Canada, V1E 2V5
Canada Travel Profile:  www.ehcanadatravel.com/travel-community/647-comfort-inn/profile.html
Website:  www.comfortinnsalmonarm.com/
Email: cisa@shaw.ca
Phone: (250)-832-7711
https://www.ehcanadatravel.com/blog/wp-content/uploads/2016/05/blogBANNER1.jpg
300
640
Greg "Gug" Girard
https://www.ehcanadatravel.com/blog/wp-content/uploads/2020/01/ehcanada-logo-340x156-1.png
Greg "Gug" Girard
2016-05-20 15:37:35
2016-05-22 12:04:12
Comfort In Shuswap Lake, BC – Salmon Arm Comfort Inn