September Road Trip Schedule – ehCanadaTravel.com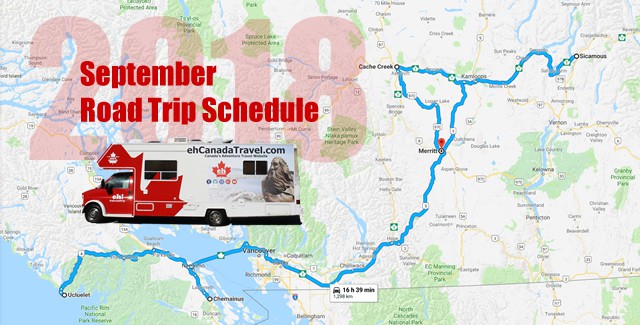 2018 September Road Trip Schedule
The Next Chapter Of Our #ehRoadTrip
"The Maple Leaf RV is covering some big kilometres for the wrong reasons in 2018. We are going to correct that in September."
Below is our 2018 September Road Trip revised travel schedule for researching, public speaking, consulting and visiting clients in our Maple Leaf RV in British Columbia, Canada. It is important to us to go where we are asked to assist in the tourism discussion and, at the same time, try to connect with some of our clients before we embark on our cross Canada #ehroadtrip.
In Travel Stuff Happens And We Deal With It
The Maple Leaf RV is covering some big kilometres for the wrong reasons so far in 2018. We are going to correct that in September. Heavy smoke and forest fires in some parts of British Columbia this summer had forced us to change our itinerary. Changing our plans, in so many ways, is sad as we were looking forward to visiting with some very special clients and communities. However, not is all lost as there is always next year and with an early start we should be able to make up for lost ground. Below is the new revised 2018 September Road Trip schedule and the reason for our visit.
2018 September Road Trip Schedule
** subject to change without notice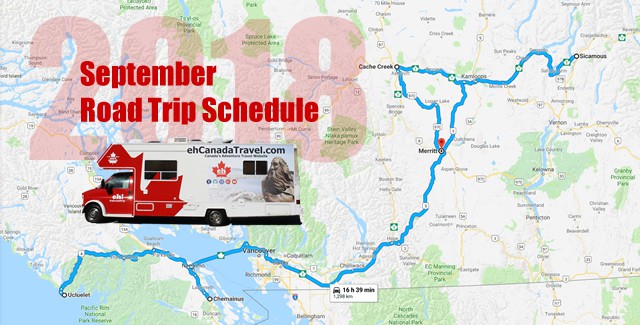 Contact Us For Our 2019 Road Trip
We are currently taking requests for the 2019 Road Trip Season. If you would like to arrange a Maple Leaf RV visit, please contact us to discuss details further.
Give Us A Shout
If you are in the area and would like to arrange a meeting with ehCanadaTravel.com please feel free to drop us a line.
Contact us:
eh Canada Travel
Home to the Maple Leaf RV
1.250.818.1925
media@ehcanadatravel.com
2018 September Road Trip
https://www.ehcanadatravel.com/blog/wp-content/uploads/2018/09/travel-schedule2018.jpg
325
640
Greg "Gug" Girard
https://www.ehcanadatravel.com/blog/wp-content/uploads/2020/01/ehcanada-logo-340x156-1.png
Greg "Gug" Girard
2018-09-05 21:14:55
2018-09-05 21:14:55
September Road Trip Schedule – ehCanadaTravel.com