Interview with Toad Hollow Photography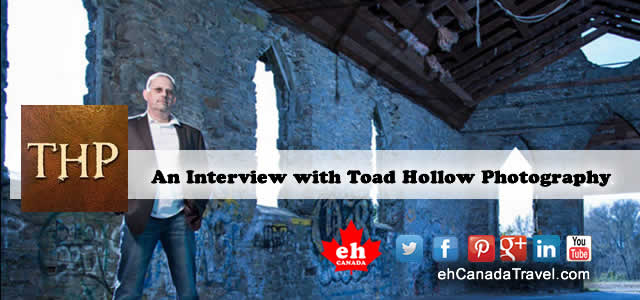 Interview with Toad Hollow Photography
An interview with Scotty & Laurie of Toad Hollow Photography in Duncan, British Columbia, Canada
"Since they signed up 5 months ago their photography has caught the attention of many travelers, Canadians and tourism businesses to the tune that their Membership Profile on eh Canada Travel has been visited over 35,000 times!"
The tourism industry provides us an opportunity to meet many interesting people from all walks of life. We take great pride in working with such quality people. We do our best to always listen and learn from their experiences, expertise and skills as they have much to teach and share with us.
Two people we have had the opportunity to meet online are Scotty and Laurie from Toad Hollow Photography based out of Duncan, BC, Canada on Vancouver Island. They have brought us many smiles via their photos and they have resurrected cherished memories far more than we can count. So you can imagine our excitement when they agreed to sit down with us in our swanky online studio for a "Friends of Tourism" interview.
Toad Hollow Photography have been with us for a short period of time, however, through their photo posts and content marketing they have made a huge impact online promoting the Cowichan Valley, Vancouver Island and Canada. Since signing up, their work has caught the attention of many travelers, Canadians and tourism businesses to the tune that their Membership Profile page with us has been visited over 35,000 times!

It brings us great pleasure to introduce you to Scotty and Laurie of Toad Hollow Photography.
1. Please tell us a little about who you are and what you do?
My wife and I own Toad Hollow Photography, a full service photography company based on Vancouver Island. We love to work with our clients whether they are commercial businesses looking to build an image portfolio they can draw on for years to come, or whether we are shooting someone's event to create memories that will last forever. We also really love to shoot all sorts of things on Vancouver Island with an eye towards capturing moments that reflect our unique culture and our diverse history. (eh) Many of your photos provide us joy so it is easy to share them with our travelers on our 6 community travel walls and social media channels.
Toad Hollow Photography
2. Tell us an interesting story about Toad Hollow Photography?

Many of the most profound projects we work on are driven by our volunteer work. Our biggest project to-date has to be our "Anglican Church Project", which came about as a result of hard work and a few serendipitous coincidences. As we move forward with our practice, we see the real and tangible value in connecting and networking with people who share similar interests, and as a result of these relationships, the wonderful doors they open. Our "Anglican Church Project" started out with us photographing the exterior of one particular church one Saturday afternoon that caught our eye. Through a series of events we were finally put in touch with someone who could help us launch this project in earnest, and as of today we find ourselves roughly halfway through documenting all the Anglican Churches inside and out here on Vancouver Island. Later down the road we plan to fold all these images into a photo essay book. (eh) Nice to see hard work and passion for your craft paying off.
3. What makes you different from other photographers in the region?

We have a deep love for everything that is Vancouver Island and British Columbia. That's not to say that we wouldn't be delighted to travel elsewhere to work with a client on a project, but when left to our own devices you will likely find us traveling the highways and byways of Vancouver Island forever in search of that next great image. We also use HDR as a technique in our image processing, especially for our fine art pieces, that really allows our work to reflect the vision we have in the field and deliver an image that tends to stand out from the rest. (eh) We believe a passion for travel is one of the main reasons we connected with you right off the get go. 
4. What do you like the most about living in Duncan?
There is no doubt about it, the small town feel you have when living in a tight community is second-to-none. Our network is growing quickly in Duncan, and we are meeting new and exciting people constantly. As such we are finding new opportunities for projects and issues that are meaningful to us. Not to mention the ocean and some of the most beautiful landscapes in BC are just at the end of our street! (eh) Being that we, Greg and Colin, grew up in Duncan we understand your love for the area. Often your photos create sentimental goose bumps. 
5. In your experience why do people take up photography as a profession?

A lot of photographers work hard their entire careers without finding that million dollar paycheck some seek. For those who are in it for the long-haul, as we are, it's a passion to capture a moment in time and freeze it forever that drives us to continue working. Those moments when you see the final product of your work and you are happy are some of the most fulfilling moments you can have as an individual, and this is definitely a driving force for us personally. (eh) "If you do what you love, you'll never work a day in your life." Marc Anthony. 
6. Please give us some insight on what, you see, as the biggest mistake photographers do?

Losing your passion for the craft is the number one killer of careers in this field as far as we can see. Some days are harder than others, just like in any practice in the world today, and you must work through those days to find your inner joy and satisfaction in the work you create. Sometimes your internal and personal feedback is the only positive feedback you get, and this has to be enough to keep the flame lit and the hunger to learn and master the art form. (eh) So can relate to this being that we are a private tourism association in a shark tank of government associations.
7. In your opinion what is the #1 reason photographers should pick British Columbia to travel to for photos?
That's a very easy question to answer. Our landscapes are amazing!! We have oceans, beaches, rich forests, rivers, waterfalls, mountains and so much more to discover here. We've been shooting here on the Island for years now and haven't even begun to scratch the surface of what's out there to discover. It is a constant delight. (eh) Looking forward to sharing your photos of things to come. 
8. Why did you decide to work in the photography industry?
My father was an avid amateur photographer who had a great eye for composition, and my mother instilled in me a great love of the arts in general. By seeing the inherent and dramatic beauty of Vancouver Island through her eyes, we have come to appreciate this island on a deep and personal level. Our location was the perfect place to take my father's penchant for photography and apply it against some of the most amazing scenery, and then in turn to share this with the world. As such we decided we really wanted to do this all the time and made the easy decision to turn professional to follow our dreams. (eh) We are, both, the lucky ones to have been blessed with parents who are role models and who support us in whatever we do.
9. What are your future plans, projects or goals for Toad Hollow Photography?

Our long term plans are to work with art collectors and gallery curators in delivering limited edition pieces that people want to collect and display, whether they are private or public entities. Our focus always has been and always will be on utmost quality, and we are hoping to deliver this to an avid base of clients who expect more out of what they buy and exhibit in their spaces. (eh) We will be the first in line when this day comes. Many of your photos would look nice on our eh Canada Travel office walls. And we look forward to doing our part to assist you in achieving your goals.
10. What do you see as the biggest challenges in the future of photography in British Columbia?

I think the biggest challenge for professional photographers in general is finding a way to navigate the ever-changing world we find ourselves operating within. With the advent and rise of point-and-shoot and cell phone cameras, it's becoming increasingly more difficult to share your value proposition with potential clients. This requires photographers to be constantly vigilant on emerging trends and ready to respond regularly to a changing client base. Standing out from the crowd is key in this bustling industry, and finding unique ways to do so is paramount to any long-term success story in this field. (eh) "Together we can face any challenges as deep as the ocean and as high as the sky." Sonia Gandhi. 
Toad Hollow Photography is a Featured photographer posted on our ehCanadaTravel.com website serving Vancouver Island, British Columbia, Canada.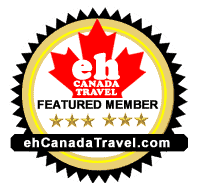 How Do You Get Interviewed? To qualify for this "Friends of Tourism" Interview Program businesses must be advertising on the ehCanadaTravel.com website, as well as, have the FEATURED BUSINESS BADGE posted prominently on their website. Look for the badge for quality Canadian businesses. Keep it Canadian.
Sign up your business starting at $69 / year.  More Information
******************************************
ehCanadaTravel.com (eh Canada Travel & Adventure) is the largest travel and adventure website for booking, interacting and planning travel in Western and Northern Canada. The "eh Team" of eh Canada Travel & Adventure are a group of travel explorers, called Tourism Ambassadors, who research and write articles, take photos, create videos researching the many opportunities in travel, tourism, history and adventure in Canada.
We are currently expanding into Eastern and Atlantic Canada.
Let businesses know you saw them on eh Canada Travel.
And if they are not advertising on eh Canada Travel you gotta ask them why?

*********
https://www.ehcanadatravel.com/blog/wp-content/uploads/2016/03/banner.jpg
300
640
Greg "Gug" Girard
https://www.ehcanadatravel.com/blog/wp-content/uploads/2020/01/ehcanada-logo-340x156-1.png
Greg "Gug" Girard
2016-03-05 13:04:06
2016-03-05 13:34:30
Interview with Toad Hollow Photography