Interview with Nick's Steakhouse & Pizza

Interview with Nick's Steakhouse & Pizza
An interview with Mark of Nick's Steakhouse & Pizza in Calgary, Alberta, Canada
We enjoy working with the restaurant industry on so many different fronts. We get to enjoy their food on occasion, learn more about the different types of cuisine from around the world, meet the many personalities in the industry and, most importantly, introduce you to some of the best food in Canada.
Recently we invited Mark of Nick's Steakhouse & Pizza in Calgary, Alberta to have a sit down with us in our swanky online studio for a chit chat interview about everything restaurant, Calgary and industry. We wanted to share their story with you and their successes as Nick's Steakhouse & Pizza has been a recipient of many awards including being recognized as a "Featured Tourism Business in Canada" by ehCanadaTravel.com.
Our reputation as hard hitting journalists didn't deter Mark from answering some tough questions. Well that is not entirely true, we are bush overs when it comes to talking tourism with clients and far from hard hitting. The exception to the rule may be when we are talking about tourism associations and industry. Thank you Nick's Steakhouse & Pizza for taking some time out of your day for this fact-finding online interview and for sharing your insights with our followers, travelers and participating tourism businesses.
1. Please tell us a little about who you are and what you do?
Family owned & operated for over 37 years. Classic 70's steakhouse with a real throw back vibe! 11 year winner of Consumer Choice Award for Southern Alberta's Best Steakhouse! Top Choice award winner for Calgary's Top Steak House! (eh) and you are a "Featured Tourism Business in Canada" too.
Restaurant: Nick's Steakhouse & Pizza
2. What makes you different from other restaurants in the region?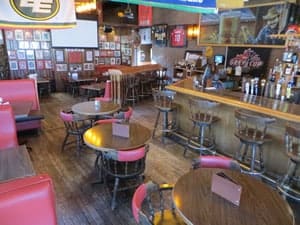 We use only the best local ingredients available. We hand make our pizza dough daily & it is so fresh you'll want to slap it! We treat every customer as if we are entertaining in our own home! We are not fancy schmancy. We pride ourselves on being THE classic '70's steakhouse, complete with our retro interior. We are a family restaurant serving hearty portions of wholesome food, with impeccable service, at reasonable prices. (eh) OK, our Tourism Ambassador raved about your restaurant on her visit so we want to slap it too.
3. Why did you decide to work in the restaurant industry?

Nick left his family behind in Greece when he, at the age of 18, came to Canada (Calgary) by boat with only $10.00 in his pocket. He knew zero English, but was able to find work washing dishes in a small coffee shop. From that point on, for the past 62 years, Nick has always worked in the restaurant business. Myself, Mark, currently owns Nick's Steakhouse & Pizza. I purchased the business from my parents over 15 years ago. I have worked at Nick's from the day it first opened, except for the few years I was away at UBC. In fact, Nick's is the ONLY job I have ever had! (eh) You must be so proud of your father. We can see where you get your determination and work ethic from. Great role model from the sounds of things. 
4. Tell us an interesting story about Nick's Steakhouse & Pizza?
Years ago, a bunch of "long-haired hippies" came in to Nick's in the middle of a Saturday afternoon and asked to be seated way up in the back beside the fire exit.  They were virtually the only table in the restaurant, and proceeded to order the most expensive items on the menu. Nick became extremely nervous and was preparing to call the police on these guys. Luckily, my sister Kim recognised these "long-haired hippies" and persuaded Nick not to be ridiculous. This was a very good thing as the group of men turned out to be the mega-famous band, Supertramp! We have served countless celebrities over the years, but this story is the most entertaining! (eh) "Good By Stranger" from their Breakfast in America Album may just apply here. 
5. In your opinion what is the #1 reason tourists should pick Alberta to travel to?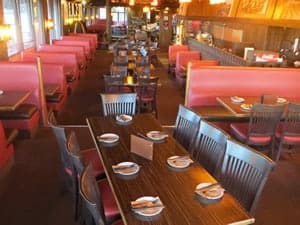 The number one reason for travellers to visit Alberta is the people! Albertans are always warm and welcoming. Combine this with our World-renowned Alberta Beef, and the most spectacular scenery and diverse climate anywhere in the world, it's a wonder why more people don't move here to stay! (eh) Our co founder lived the good life in Alberta for 5 years while an International Marketing Manager.  He can relate to the people and beauty you refer to here. 
6. What do you like the most about living in Calgary?

We are such a diverse population…from cowboys to business executives, anyone can find their niche and be celebrated here in Calgary. (eh) You guys have such great events too like the "Greatest Show on Earth" aka The Calgary Stampede.
7. In your experience where do most visitors come from when visiting Calgary and why?
Most visitors came from our closest neighbor, USA. We are lucky enough to have visitors from all over the world. At Nick's we not only welcome foreign tourists, but many athletes from around the world. We have athletes who come to Calgary to compete in tournaments and World Cup events as well as train at our Olympic venues. (eh) That is so cool. You must have met some really good people. 
8. Please give us some insight on what, you see, as the biggest mistake visiting travelers do?
Most visitors do not spend enough time here in Calgary. They do not take the time to really experience the local establishments. (eh) Sad but true. It is common throughout Canada. Our  tourism associations need to educate more effectively and efficiently. If the traveler were educated they would make the proper arrangements to stay longer. 
9. What do you see as the biggest challenges in the future of restaurants in Alberta?

The increase in minimum wage has a hugely negative impact on small, local businesses. (eh) Interesting to know.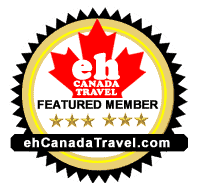 Nick's Steakhouse & Pizzas is a Featured Restaurant posted on our ehCanadaTravel.com website serving Calgary, Alberta, Canada.  To qualify for this "Friends of Tourism" Interview Program businesses must be advertising on the ehCanadaTravel.com website, as well as, have the FEATURED BUSINESS BADGE posted prominently on their website. Look for the badge for quality Canadian businesses. Keep it Canadian.
Sign up your business starting at $69 / year.  More Information
******************************************
ehCanadaTravel.com (eh Canada Travel & Adventure) is the largest travel and adventure website for booking, interacting and planning travel in Western and Northern Canada. The "eh Team" of eh Canada Travel & Adventure are a group of travel explorers, called Tourism Ambassadors, who research and write articles, take photos, create videos researching the many opportunities in travel, tourism, history and adventure in Canada.
We are currently expanding into Eastern and Atlantic Canada.
Let restaurants know you saw them on eh Canada Travel .
And if they are not on eh Canada give them heck.

*********
https://www.ehcanadatravel.com/blog/wp-content/uploads/2016/02/banner.jpg
300
640
Greg "Gug" Girard
https://www.ehcanadatravel.com/blog/wp-content/uploads/2020/01/ehcanada-logo-340x156-1.png
Greg "Gug" Girard
2016-02-27 15:49:38
2016-02-27 15:49:38
Interview with Nick's Steakhouse & Pizza