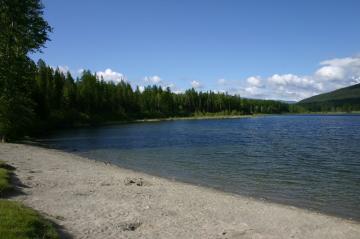 Park Size:
13.70 hectares
Park Amenities
:



Jimsmith Lake Provincial Park is a campground and day use park located near the south end of the community of Cranbrook, BC in the East Kootenay region of British Columbia, Canada. The park campground is set in a forest of Douglas fir and larch trees while the day use area consists of grass lawns and a small sandy beach.

The Jimsmith Provincial Park is 13.70 hectares and is popular for many activities. During the summer visitors enjoy camping, swimming, picnicking, canoeing, birdwatching, kayaking and boating. Only non-motorized boats are permitted on the lake. During the winter, after the snow has fallen and temperatures have dropped, the lake freezes over and transforms itself into an ice skating rink while the nearby hills become toboggan runs.

The campsites in the Jimsmith Lake Park include picnic tables, fire pits and pit toilets. There is no sani station or showers in this park. Beach access from the campground requires walking down to the lake. The day use park, located below the campground, consists of a group picnic section with picnic tables, a sandy beach, large grass lawns and a roof top boat launch.

Fishing on the lake is mostly done by trolling. Fishing on Jimsmith Lake provides an opportunity to catch bass, brook and rainbow trout.
Address:
Jimsmith Lake Provincial Park, Cranbrook
How To Get ToJimsmith Lake Provincial Park, Cranbrook
:
How to Get Here:
Travel Highway #3/95 to the south side of the community of Cranbrook. Turn onto Jim Smith Lake Rd and continue driving east for 4 kilometres to the park entrance. At the park entrance turn left to go to the campground or right for the day use area.
No reviews yet for Jimsmith Lake Provincial Park, Cranbrook.