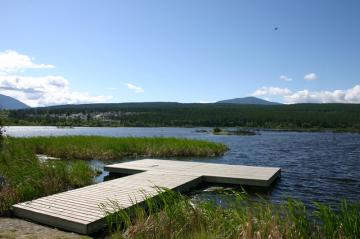 Park Size:
6 hectares
Trail Length:
3.7 kilometres
Difficulty:
Easy - Family
Park Amenities
:









Elizabeth Lake Sanctuary in Confederation Park is where many visitors start their exploring hiking, birding, picnicking and sightseeing when visiting Cranbrook, BC in the East Kootenay region of British Columbia, Canada. The lake is located at the southwest entrance of the community.

The park is a 6 hectare wildlife reserve consisting of wetlands, grasslands, a lake and forest popular for birdwatching, wildlife viewing, hiking, biking, jogging and dog walking. Elizabeth Lake is on a migratory bird flight path therefore attracting many to the area. Every year the wetlands and lake become a nesting and feeding grounds for many birding populations. The best way to view some of the birds visiting the park is via the loop trail systems that navigate the shoreline of the lake.

In the park the trails are broken down into three loop routes. "A Loop" is 0.76 kilometres, "B Loop" is 1.23 kilometres and "C Loop" is 0.76 kilometres. The entire distance, from start to finish and back, is 3.74 kilometres. Along each hiking and biking route are various viewpoints - some with sitting benches, picnic tables and floating piers.

Services in the park include a canoe launch, washrooms, information signs on the local habitat and at the main entrance to a tourist info centre.

Some of the birds viewed in the park include the Ring-necked duck, Common Goldeneye, Ruddy Duck, Mallard Duck, Northern Pintail, Killdeer, Spotted Sandpiper, Horned Grebe, Yellow Headed Blackbird, Tree Swallows, Canada Goose, Common Yellowthroat, Yellow Warbler, Red tailed Hawk and American Kestrel. Other wildlife that have been spotted in the park include the Western Painted Turtle (the only fresh water turtle in BC, Canada).
Address:
Elizabeth Lake Sanctuary
How To Get ToElizabeth Lake Sanctuary
:
How to Get Here:
Travel to the community of Cranbrook, BC. The main entrance is located at the southwest entrance of the community on Highway #3/95. Look for the parking lot with a tourist info centre. Park and go here.
No reviews yet for Elizabeth Lake Sanctuary.