10 Photos : Youth Defying Nature Deficit Disorder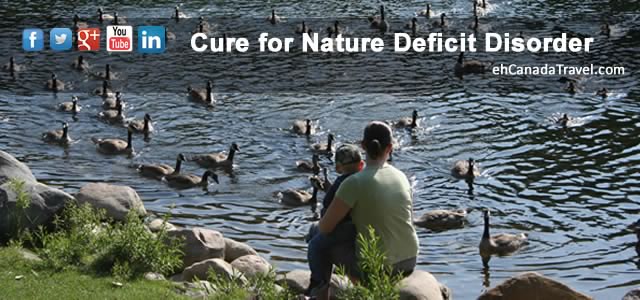 10 Photos:  Nature Deficit Disorder
"Canada has the opportunity to be the last one standing with a green conscience."
While researching, writing and photographing Canada for our tourism website, blog and social media channels we have noticed a drastic decline in the number of youth enjoying nature and the outdoors. What is most disturbing is that a scary percentage of the youth we have encountered outdoors have their heads buried into their phones texting or are plugged into an iPhone totally oblivious to their surroundings.
"Could we be in for a national Nature Deficit Disorder epidemic?"
It seems technology is taking over a whole generation of people. What will the result be? Are we on a collision course where the casualties will be conversation skills, obesity and the ability to no longer effectively interact with each other? If texting is the new norm it looks like typing skills will vastly improve and spelling will take a big hit.
What will happen if no one appreciates the outdoors in the future? Will nature become an endangered species if there is no one to care for it – to give it a voice? If youth do not care now, how can we expect them to care in the future? How serious is Nature Deficit Disorder?
If nature is neglected in the future Canadian tourism will pay a big price. Because in the future – if we continue, as a world,  in the same direction –  there will be less nature. However, if we educate our youth now to appreciate the outdoors, our lifestyle and the natural environment…. then Canada has an opportunity to be a global leader in responsible tourism, when other countries have passed the-point-of-no-return.
"Canada has the opportunity to be the last one standing with a green conscience."
There is a time and place for technology. We are not knocking technology. How could we… we make a good living because of technology and technology has afforded us a quality life in the outdoors. But there is a time and place for technology as there is a time and place for the outdoors. Do not fret all is not lost. We did uncover youth who get it – who understand the power of play. Here are 10 photos of youth enjoying the outdoors with no technology in sight.
Vermillion Lakes are three large wetland lakes located just west of the community of Banff, Alberta, Canada. The three lakes and the surrounding tributaries combine to create the largest wetland area in the Bow Valley.
Skipping stones on Lake Superior (the largest freshwater lake in the world) at Gros Cap Bluffs in Northern Ontario near the community of Sault Ste Marie.
A school group on a day trip exploring  the Centre plein-air Bec-Scie trails near Saguenay Quebec, Canada.
A summer day filled with laughs and many taking a leap of faith at Basin Head near the community of Souris on Prince Edward Island, Canada.
Real music, not iTunes, entertaining crowds playing fiddle in Dawson City, Yukon Territories, Canada.
Brothers biking trails in Whiskers Point Provincial Park located on McLeod Lake north of the community of Prince George in British Columbia, Canada.
Two friends have the whole lake to themselves as they splash and swim at Wye Lake in the community of Watson Lake in the Yukon Territories, Canada.
Exploring wetlands, watching birds and frogs, in Charbonneau Park near the community of Sherbrooke, Quebec, Canada.
Crocodile adventures on the sandy beaches in Rowans Raven Park . Rowan's Ravine Provincial Park is a recreation and beach destination situated on the shores of Last Mountain Lake located northwest of the City of Regina, Saskatchewan, Canada.
Families who play together, grow together. Lake Minnewanka is recreation and activity lake destination located east of the Village of Banff. Alberta, Canada in Banff National Park. It is the longest glacial lake in the park system measuring 28 kilometres long and 143 metres deep.
There is hope we can find a cure for Nature Deficit Disorder.
**********
The "eh Team" of ehCanadaTravel.com (eh Canada Travel & Adventure) are the brother team of Greg and Colin Girard. Together they created, researched and developed ehCanadaTravel.com travel website, blog, social media and ehTV which is the largest and fastest growing booking, planning and researching tourism and travel network for Western and Northern Canada – currently expanding into Eastern and Atlantic Canada.
"Mention eh Canada Travel and Adventure in your travels. It is the Canadian thing to do."
**********
https://www.ehcanadatravel.com/blog/wp-content/uploads/2015/01/kids-banner1.jpg
300
640
Greg "Gug" Girard
https://www.ehcanadatravel.com/blog/wp-content/uploads/2020/01/ehcanada-logo-340x156-1.png
Greg "Gug" Girard
2015-01-21 01:40:02
2015-01-21 01:40:02
10 Photos : Youth Defying Nature Deficit Disorder