True Blue Lodge in Kaslo, BC, Canada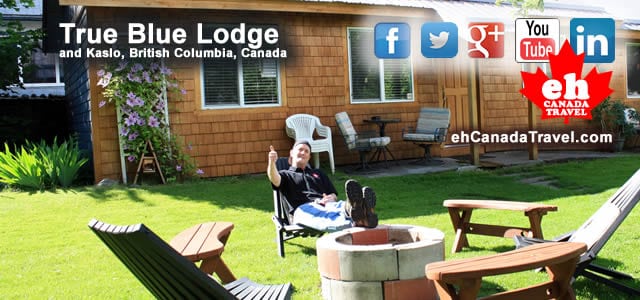 True Blue Lodge in Kaslo, B.C., Canada
"You just know you are in a good place when people wave you down and say, "Hi!" out of the blue and they actually mean it."
I arrived in Kaslo, British Columbia, Canada with big plans and an, ever growing, excitement about my stay with True Blue Lodge. I scanned their website and I liked what I saw. True Blue Lodge looked so suited for eh Canada Travel and Adventure. The cabin like accommodations and the green surroundings decorated with trees and flowers looked right up our alley. And to compliment my visit with what I had in mind was getting me pretty excited.
Kaslo is located on the shores of Kootenay Lake in the Kootenay region of British Columbia, Canada. The lakeside village is one of those story-book type, small picturesque communities, where the streets are decorated with  flowers, the heritage buildings are dressed in pastels and the waterfront is lined with sightseeing benches & water activities.
I may be inclined to say that in Kaslo, British Columbia, Canada everybody knows your name. You just know you are in a good place when people wave you down and say, "Hi!" out of the blue and they actually mean it. It was pleasant.
Which brings us to our accommodation in Kaslo, BC. What a joy! Tammy – my host – at the True Blue Lodge greeted me in the yard with smiles and her full attention. My gracious host was very pleasant, accommodating and easy to talk with.
There is a lesson here for tourism accommodations. A host can make an accommodation and a host can break an accommodation. I have been to both.
First things first… I proceeded to check into my accommodation. Got my key and was ready to settle in when….  my beautiful surroundings side tracked me into taking photos and video. I did not reach my accommodation as I was coerced by nature to get to work. You probably figured out by now that I am easily distracted.
All the units at True Blue Lodge circle a common court yard. It is a yard embellished with trees and flowers complimented by a BBQ area, fire pit and picnic tables.
The smell of fresh cut grass and budding flowers high jacked the air. Above my head the trees provided shadows and shade protecting me from the elements. The combination of flowers and trees created an environment calling out the birds and the bees. All were sounding off like an orchestra with a chirp – chirp here and a buzz-buzz there.
Finally! I made it to my accommodation. My one bedroom unit welcomed me with open arms. So much so, the bed called me out for some company but it was premature to shut down my brain now. First, I must focus and research, document and take notes about my accommodation.
My unit was well furnished. The living area couch (sofa for non Canadians) stared me down and threatened me with relaxation. I fought off the urge once again. The kitchen, to my left, served up a full plate of cooking gadgetry ideal for preparing big meals. The "Little Boys Room" (bathroom) was stocked with good linens and had a great shower. I am a big fan of showers with pressure… especially after an adventure when I am, usually, covered with dirt, sweat, bumps and bruises.
Not done yet. Packed everything up and off I went to the two bedroom unit next door and pressed the repeat button – research, document and make notes. Photos were clicked and videos were captured. (Please check it all out on the video included with this post.)
Darkness was falling fast. My day was done. Time to settle into my unit and enjoy the True Blue Lodge experience. I cooked me up a dinner. Yum. I sat me down on the couch and did some work. Comfortable. And I slept like a kitten. Lights out.
The next day and the morning after I spent most of my time exploring the Village of Kaslo, some of my favourite activity destinations and heritage sites like the S.S. Moyie. In the evening I had the pleasure of meeting  up with some of the tourism operators in the community at the Kaslo Golf Course.
These are the special moments of any trip when you connect with good people in the industry like True Blue Lodge.
Kaslo BC in the Kootenays is not a one day stop or drive-by. Do yourself a favour and spend a few days, a week even, to experience the region in its fullest glory. Kaslo can also make for a great base camp for day trips to surrounding areas like Nelson and Balfour.
There are places to eat. There are more than enough activities to do in the region including golfing, kayaking, stand-up boarding, canoeing, biking, caving, birding, boating, swimming, hiking, fishing, sailing, rafting, camping and relaxing or as we like to call it "chillaxing".
Some of the adventure destinations and sightseeing attractions in the Kaslo BC region which we recommend adding to your "Travel Itinerary" include :
Buchanan Lookout: Kaslo, BC Parks, Trails & Places
Fletcher Falls : Fletcher Falls Hiking Trail & Campground
Kaslo River Trail : More about Kaslo River Trail
SS Moyie Heritage Site : More about the SS Moyie
Kokanee Creek Park : More about Kokanee Creek
Pilot Bay Park : Pilot Bay Provincial Park
Thank you Kaslo for entertaining me and thank you to True Blue Lodge for your hospitality!
The "STARS OF TOURISM" program highlights selected Canadian accommodations, attractions and adventures the "eh Team" brothers explore during the summer of 2014 in the name of tourism and travel research for their ehCanadaTravel.com website, blog, social media channels and ehTV (YouTube).
True Blue Lodge : www.truebluelodge.com
412 B Ave,
Kaslo BC
Phone: 1-250-353-7599
Email: truebluelodge@gmail.com
**********
The "eh Team" of ehCanadaTravel.com (eh Canada Travel & Adventure) are the brother team of Greg and Colin Girard. Together they are the brains behind the ehCanadaTravel.com travel website, blog, social media and ehTV which is the largest and fastest growing booking, planning and researching tourism and travel network for Western and Northern Canada – currently expanding into Eastern and Atlantic Canada.
**********
[google-map-v3 shortcodeid="77a9a121″ width="80%" height="350″ zoom="12″ maptype="roadmap" mapalign="center" directionhint="false" language="default" poweredby="false" maptypecontrol="true" pancontrol="true" zoomcontrol="true" scalecontrol="true" streetviewcontrol="true" scrollwheelcontrol="false" draggable="true" tiltfourtyfive="false" enablegeolocationmarker="false" enablemarkerclustering="false" addmarkermashup="false" addmarkermashupbubble="false" addmarkerlist="412 B Ave, Kaslo, British Columbia, Canada{}home.png{}True Blue Lodge" bubbleautopan="true" distanceunits="miles" showbike="false" showtraffic="false" showpanoramio="false"]
https://www.ehcanadatravel.com/blog/wp-content/uploads/2014/07/banner-true-blue-lodge.jpg
300
640
Greg "Gug" Girard
https://www.ehcanadatravel.com/blog/wp-content/uploads/2020/01/ehcanada-logo-340x156-1.png
Greg "Gug" Girard
2014-07-30 12:29:06
2016-10-29 13:42:47
True Blue Lodge in Kaslo, BC, Canada