Nelson Adventures with The Adventure Hotel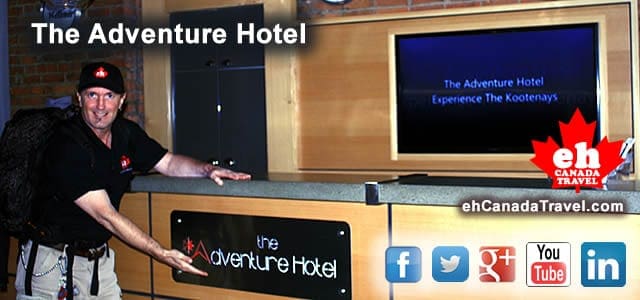 Nelson Adventures with The Adventure Hotel
"The adventures entertained me and the Adventure Hotel accommodated me in every way. I am a believer and supporter. We at ehCanadaTravel.com are happy to be working with the Adventure Hotel promoting Nelson, B.C. as a top destination in the Kootenays."
I arrived on the shores of Kootenay Lake in Nelson, British Columbia, Canada seeking history, adventure, culture and scenery. It just happens Nelson is rich in all four. Lucky for me and lucky for many of you.
Our accommodation during this visit to Nelson – The Adventure Hotel – is located in the heart of Downtown Nelson. Ironic don't you think? We love adventure and we are staying in The Adventure Hotel for the next two days. A perfect location for starting my first adventure – walking the streets of historic Nelson.
I checked into my room, unloaded my gear and hit the streets fast and hard. I walked up one street and down another, bisecting my journey with back alleys and side streets along the way. During my exploratory walk I took photos of everything and I ventured into many shops of culture decorated with art, crafts, jewelry and sculptures. One shop, operated by a local artist caught my attention enough that I treated myself to a leather bracelet. Now, I live with Nelson on my wrist every day.
"I arrived back at The Adventure Hotel and, as always, I was greeted with smiles and warm hospitality by the front desk. "
I then meandered my way back to my room and immediately set up shop in my accommodation. My room is advertised as a Budget Room. It was furnished with a bunk bed (option available for a double bed), side table and lamp, television, wi-fi and a desk looking out over the waterfront and across the roof tops of buildings. My bathroom was a 2 piece (sink & toilet) and down the hall there was a shared shower.
The Adventure Hotel provides a selection of rooms fitting all price points from $69 a night to $129 a night. The other rooms available in The Adventure Hotel include the Economy and Deluxe Rooms. The Economy Room comes with a queen / double or twin bunk bed plus extras like air conditioning and alarm clocks. The Deluxe Room, much larger, comes with king / queen or 2 double beds plus extras like private ensuite, sitting chairs, fireplace. hair dryers, iron and more.
All rooms are of a European style. Because there are various types of rooms it is important to ask when confirming your booking what amenities are included. Why? Because if you want to access to certain services like the gym and sauna you better find out if it is included with your room.
On the main floor of the hotel visitors have easy access to other services within the building including a sports bar (Uptown Sports Bar), restaurant (Louie's Steakhouse) and meeting rooms, conference facilities, board room, and ballroom for special events. Next door is a liquor store for nights filled with laughter and spirits. The Adventure Hotel has services and rooms for everyone. To many it is an ideal accommodation for pleasure, business, or both.
While in Nelson, BC, Canada there are plenty of parks and trails to explore. The "eh Team" have explored many of the top adventure destinations. Some of the sightseeing and adventure highlights in the community explored during their travels include Cottonwood Falls, Grohman Narrows, Gyro Park, Kokanee Glacier Park, Kokanee Creek Park, Old Growth Trail, Waterfront Pathway and Whitewater Mountain. All can be found with information and photos on ehCanadaTravel.com.
Nelson, B.C., Canada is not far from many other day trip destinations including such adventures like Ainsworth Hot Springs, Doukhobor Village, Fletcher Falls and Pilot Bay Park.
The adventures entertained me and the Adventure Hotel accommodated me in every way. I am a believer and supporter. We at ehCanadaTravel.com are happy to be working with the Adventure Hotel promoting Nelson, B.C. as a top destination in the Kootenays.
The "STARS OF TOURISM" program highlights selected Canadian accommodations, attractions and adventures the "eh Team" brothers explore during the summer of 2014 in the name of tourism and travel research for their ehCanadaTravel.com website, blog, social media channels and ehTV (YouTube).
The Adventure Hotel : www.adventurehotel.ca
616 Vernon Street
Nelson, BC
V1L 4G1
Phone: 1-250-352-7211
Toll Free:  1-888-722-2258
Email: info@adventurehotel.ca
**********
The "eh Team" of ehCanadaTravel.com (eh Canada Travel & Adventure) are the brother team of Greg and Colin Girard. Together they are the brains behind the ehCanadaTravel.com travel website, blog, social media and ehTV which is the largest and fastest growing booking, planning and researching tourism and travel network for Western and Northern Canada – currently expanding into Eastern and Atlantic Canada.
**********
[google-map-v3 shortcodeid="458ca52d" width="80%" height="350″ zoom="12″ maptype="roadmap" mapalign="center" directionhint="false" language="default" poweredby="false" maptypecontrol="true" pancontrol="true" zoomcontrol="true" scalecontrol="true" streetviewcontrol="true" scrollwheelcontrol="false" draggable="true" tiltfourtyfive="false" enablegeolocationmarker="false" enablemarkerclustering="false" addmarkermashup="false" addmarkermashupbubble="false" addmarkerlist="616 Vernon Street, Nelson, BC, Canada{}home.png{}The Adventure Hotel" bubbleautopan="true" distanceunits="miles" showbike="false" showtraffic="false" showpanoramio="false"]
https://www.ehcanadatravel.com/blog/wp-content/uploads/2014/07/banner-adventure.jpg
300
640
Greg "Gug" Girard
https://www.ehcanadatravel.com/blog/wp-content/uploads/2020/01/ehcanada-logo-340x156-1.png
Greg "Gug" Girard
2014-07-10 20:55:03
2015-03-12 09:20:23
Nelson Adventures with The Adventure Hotel