Quidi Vidi Village Newfoundland Luxury Winter Getaway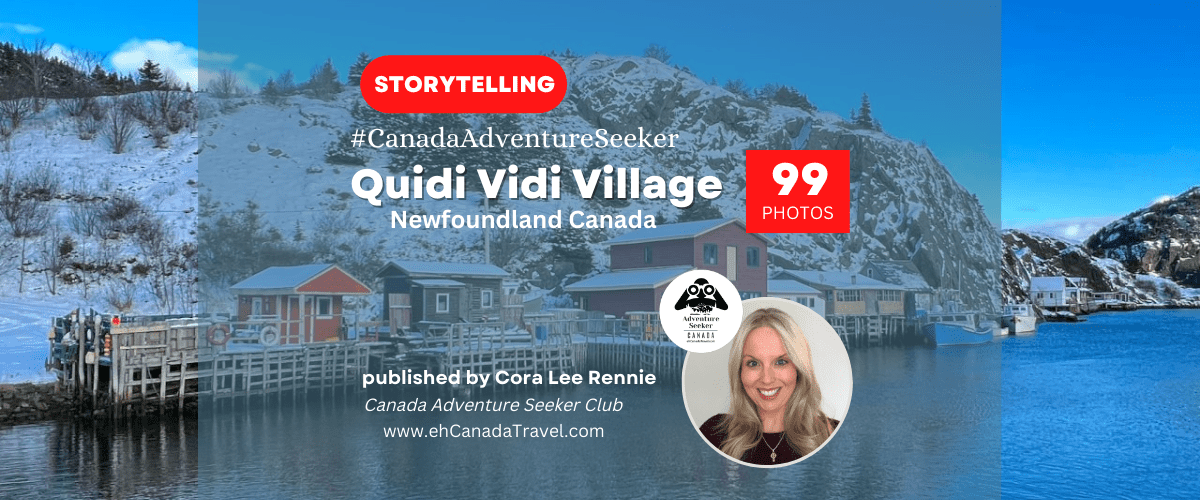 Historic Fishing Village of Quidi Vidi is Short Day Trip From Downtown St. John's
Quidi Vidi has been described as "One of Newfoundland's Prettiest Villages" with colourful architecture, luxury vacation rentals, artisan studios, fine dining, coastal hiking and a craft brewery
A Quidi Vidi Village Newfoundland Luxury Winter Getaway was just what my soul needed to get me through until the warmer months. In collaboration with Gordon Martin, owner and CEO of NL Vacation Rentals, I was given the opportunity to spend time at 2 unique Airbnb properties and explore all the charming fishing community had to offer. The vacation homes featured include the QV Stage Boutique Couples Retreat and the Quayside Quidi Vidi Village. Additionally, I sampled refreshing craft beer at Quidi Vidi taproom and the Chef prepared local fares at historic Mallard Cottage restaurant.
People of Quidi Vidi Village Newfoundland Canada
"Kiddy Vitty" harbour is known by locals as "The Gut" and is home to picturesque fishing stages, sheds and boats. Once a vibrant fishing community , it's sad to see the traditional way of life here fading. According to local boat tour operator, Skipper Dan, Quidi Vidi was settled by fisherman in the 1600's but there is currently only one boat that actively fishes out of Quidi Vidi. Dan operates his business "Strait Wash Boat Tours" from his well known red and yellow two-story fishing stage in Quidi Vidi. In season he offers cod jigging, whale watching tours and iceberg viewing. Furthermore, his island life, fun personality and storytelling are what Newfoundland and Labrador culture is truly all about. Don't be shy to mingle with locals when visiting as you may find yourself in some exciting places and off the beaten path destinations.
Quidi Vidi Village Plantation

An Additional attraction to check out when visiting the area includes the Quidi Vidi Village Plantation. Inside is a collection of local artists working on their products and crafts. You can watch artisans, such as "Wooly Tops" for example, create handicrafts such as quilts and shop for local handmade goods. In Summertime, the old wharf in Quidi Vidi Harbour has been reinvented as peaceful place by the sea where you can purchase ice cream and enjoy it from an Oceanview picnic table. Various food trucks make an appearance in the warmer months and it is great place to grab lunch and a refreshment. Be sure to make time for a hike on the rugged East Coast Trail which follows the coastline around Newfoundland's Avalon Peninsula offering stunning panoramic ocean views.
QV Village Newfoundland is a Great Winter Travel Destination Close to Downtown St. John's
QV Stage Boutique Luxury Couples Retreat - Day 1
The Quidi Vidi Stage Boutique Couples Retreat is a restored historic fishing home in the heart of the village. The space was created by award winning designers from SAM Design, heritage restoration experts Malcom Design and the talented Trim Design Team. The vacation property embraces a Danish Hygge style which embodies a feeling of coziness and well-being. In fact, a Jotul natural wood burning stove sits in the middle of the main floor adding to the relaxed atmosphere of the luxury Airbnb.
Luxuries of Boutique Living
The boutique style retreat accommodates 2 people with an open concept main floor and second floor spa master bedroom and ensuite. Additionally, added luxuries can be found throughout the property such as locally made soap and lotion by Tval Skincare, seal fur pelts, Newfoundland art and great reads by local authors. I made time to cuddle up and relax by the fireplace to read "Food, Culture, Place" by local icons Lori McCarthy and Marsha Tulk. The book features cultural stories, traditions and recipes of Newfoundland.
Embracing the Hygge lifestyle in Newfoundland Canada
Furthermore, the upstairs loft suite offers a romantic hideaway with an oversized modern glass shower, lux wardrobe and walk out patio surrounded by the rugged coastal cliffs of Quidi Vidi. During my stay I fully embraced the Hygge lifestyle and curled up in a cozy blanket and listened as the birch crackled and burned in the wood stove. In my opinion, there is nothing quite as comforting as the heat of a natural wood burning stove. Additionally, I made use of the Chef inspired kitchen and prepared a tasty seafood dinner to enjoy with a glass of chilled Pinot Grigio from the wine fridge. The Jotul wood stove was the perfect place to fry up some Newfoundland cod fish cakes for breakfast in the morning.
Hot Tub at Quayside Quid Vidi Vacation Rental while Enjoying Local Newfoundland Art Collection
QuaySide Quidi Vidi Village - Day 2
Winter in Newfoundland and Labrador is much more enjoyable with a quality hot tub. As a matter of fact, hot tubs boost physical and mental health by relieving stress, muscle aches, lowering blood pressure and improving sleep. As you pack your bags to enjoy a Quidi Vidi Luxury Winter getaway, don't forget swim wear for hot tubbing under the island stars. The back yard oasis and ample parking make this property the perfect Airbnb property in the heart of Quid Vidi.

More about Quayside Quidi Vidi Vacation Rental

The Quayside Quidi Vidi Vacation Rental boasts 3 bedrooms, 2 full baths and is suitable for groups of up to 6 people. The private fenced back yard with fire pit and hot tub is perfect for families with children or gatherings of friends. Furthermore, the beautiful vacation home showcased an impressive local art collection. For example, the handmade quilts were provided by local artisan "Wooly Tops", table runners by "Newfoundland Quilting Ninja", driftwood art by "White's Emporium", wooden quilt art by Jessica Waterman and sea glass designs by "She Sells Sea Shells".
Hot tub with a View

During my stay at the Quayside I took advantage of the beautiful spacious kitchen and cooked myself a nutritious meal. The high end Apple computer in the basement was a surprising added touch allowing guests the opportunity to stay connected to the world while enjoying some rest and relaxation in Newfoundland. After dinner I retreated to the back deck hot tub where I sipped on locally crafted beer while enjoying a massage in the luxury Hydropool Spa. The property even offers a heated walkway to the tub to ensure your feet stay warm before diving in. As a result, I became very relaxed and proceeded to curl up in the library with one of many great local historical books before calling it a night.

Beer Tasting With an Ocean View at Quidi Vidi Brewery and Taproom Newfoundland Canada
Sampling Beers at Quidi Vidi Brewery Newfoundland Canada
Founded in 1996 by David Fong, Quidi Vidi Brewing Co. is a former fish plant and popular tourist destination. With an extensive craft beer menu, the brewery is best known for its blue bottled Iceberg Beer, which is made from 20,000 year old iceberg water harvested from icebergs off the coast of Newfoundland. Quidi Vidi Brewery is the 3rd largest brewer in the province and products can be purchased province-wide in liquor stores and convenience stores such as Marie's Mini Mart. At the present time, my favourite local beer is Quidi Vidi Dayboil IPA. "Dayboil" is a Newfoundland phrase meaning to make the most of nice day and offers aromas of mangoes and peaches with a grapefruit citrus taste.
Quidi Vidi "Gut" and Beers

Additionally, the Taproom has a food truck on site and pub grub such as chickens wings and fries can be purchased for a snack. Enjoy the breathtaking views of Quidi Vidi "Gut" while you sip a cold beer from the heated ocean view patio. Furthermore, the brewery also doubles as a live music venue and the most current entertainment schedule can be found by contacting the business or with an easy google search. Notably, Songwriter's Circles with local folk musicians have been hosted at the establishment in the past and offer an intimate musical experience.
My Flight of Beer Tasters
During my Quidi Vidi Village Newfoundland Luxury Winter Getaway I sampled a flight of tasters as recommended by friendly and informative server Dawson. Chosen brews to sample included "Margarita Cerveza", "Pink Lemonade Sour", "Blackberry Black Currant Black Cherry Sour" and "Passionfruit and Pink Guava Pale Ale". As a result, top pick went to the "Margarita Cerveza" - a Mexican Lager ABV 4.5 %. The local beer offered a little taste of Mexico with tart and refreshing flavours of lime, light tequila and sea salt. Second choice, would have to be "Pink Lemonade Sour" - a fruited sour with ABV 5.4 %. Think of it as a sparkling lemonade for adults. As a matter of fact, there isn't a bad beer to be had at the Quidi Vidi Brewing Co. in Newfoundland, Canada.
Mallard Cottage Restaurant Offers World Class Local Cuisine Prepared by World Class Chefs in Restored Historic Fishing Home

Fine Dining at Mallard Cottage Restaurant Quid Vidi Newfoundland

Mallard Cottage restaurant is located in the heart of Quidi Vidi Village. The 300 year old structure is recognized as one of the oldest wooden buildings in North America. In 2011 the property was purchased by Chef Todd Perrin and team where it was converted to a unique dining facility showing the provinces vase array of wild game, seafood and produce. As a result, the team were presented with the Southcott Award for Excellence in the preservation of the built heritage of Newfoundland and Labrador.
Sourcing Locally for Menu
Inside the traditionally styled dining room antlers and animal taxidermy pieces are on display throughout. The original double-sided fireplace was preserved in the restoration and divides the space providing a sense of warmth and ambience. It is important to note that the menu at the Cottage is constantly changing as the Chef is committed to sourcing locally and working with what food the island gives us on a day to day basis. The daily menu is written out on a chalkboard in the restaurant and menu items may include seasonal fish, moose, rabbit and other varieties of wild game.
Enjoying A Newfoundland Restaurant
During my visit to Mallard Cottage I enjoyed the cozy rustic atmosphere while gazing outside at the falling snow. I ordered a glass of red wine, crispy cod cheek bites and fresh baked ciabatta bread to start. The warm, hot out of the oven, bread melted in my mouth and paired perfectly with the house made honey infused butter. Additionally, the corn-fried cod cheeks were a treat for the taste buds and were presented with Mallard aioli and apple mustard slaw. Unfortunately, I filled up on delicious appetizers with little room leftover for an entree or dessert. Another tasting trip to Mallard Cottage is high on my Spring adventure agenda! This is one of the finest restaurants in Newfoundland and Labrador.
QV Village Newfoundland is a Great Winter Travel Destination Near Downtown St. John's
Luxurious modern vacation rentals featuring hot tubs and wood burning stoves making Quidi Vidi a relaxing Winter travel destination. With art studios, gourmet dining, hiking on the East Coast Trail and a craft brewery - it was a peaceful adventure paradise! However, be mindful of off season business hours as they differ greatly from Summer hours. Double check with the establishment or do a simple internet search for the most up-to-date information on activities in Quidi Vidi Village Newfoundland. Most importantly, slow down and enjoy the highly desired East Coast Lifestyle.
---
Quidi Vidi Village Newfoundland Luxury Winter Getaway is Just What the Doctor Ordered
Embrace the Laid Back Seaside Lifestyle in Quidi Vidi Newfoundland and Labrador Canada
Stay Informed
When you subscribe to the blog, we will send you an e-mail when there are new updates on the site so you wouldn't miss them.
Comments
2

Reading this article made me feel all cozy, like reading a cozy mystery where adventures unfold along with luxurious meals. I marvel at the heated walkway to the hot tub and heated patio of the brewery. I am definitely, returning to Newfoundland someday!
Reading this article made me feel all cozy, like reading a cozy mystery where adventures unfold along with luxurious meals. I marvel at the heated walkway to the hot tub and heated patio of the brewery. I am definitely, returning to Newfoundland someday!

Cora Lee, I've really enjoyed reading about the two luxury winter getaways you visited. What a lovely way to embrace winter and relax! I'd go there in a heartbeat!
Cora Lee, I've really enjoyed reading about the two luxury winter getaways you visited. What a lovely way to embrace winter and relax! I'd go there in a heartbeat!