Iceberg Season "Iceberg Alley" in Newfoundland and Labrador Canada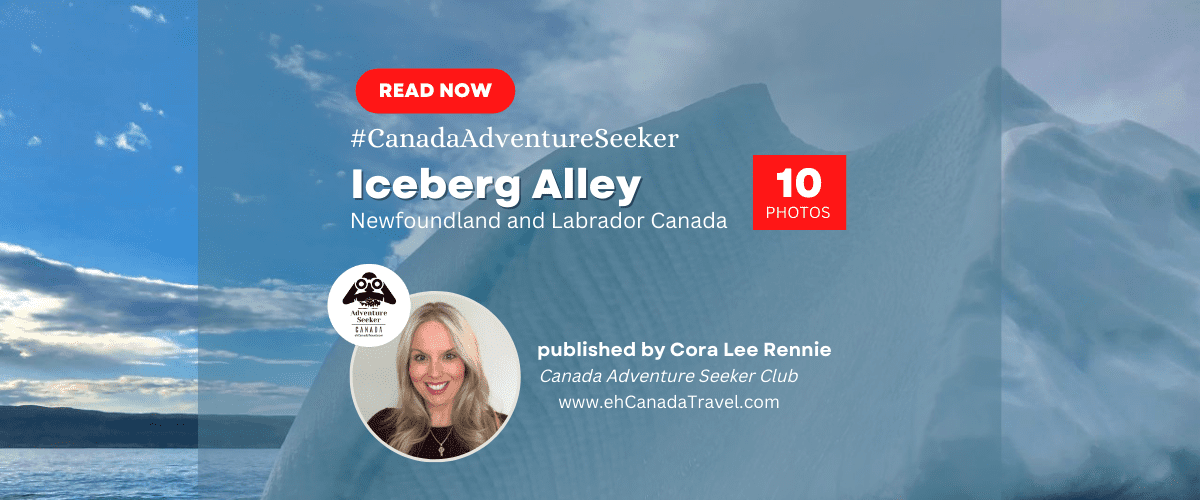 "Iceberg Alley" Offers Breathtaking Views of Ancient Glacial Bergs Floating Down From Greenland and Canada's Arctic
Iceberg Viewing is a Popular Attraction on the Island in the Spring and Early Summer Months, With Bergs Visible From Land or Sea
Iceberg season "Iceberg Alley" in Newfoundland and Labrador, Canada, usually peaks in late May and early June. Bergs are actually most plentiful in April and May but are often trapped in sea ice that prevents tour boats from operating. During berg season ancient glacial ice floats down the coast from the north along the ocean channel termed "Iceberg Alley".
The majority of icebergs seen in the waters of Newfoundland and Labrador come from Greenland (90%) while the remainder come from Canada's Arctic (10%). Iceberg viewing is a bucket list activity that must be experienced by all adventure seekers when visiting Canada's scenic East Coast.

Characteristics of Icebergs to Look Out For During Iceberg Season "Iceberg Alley" in Newfoundland and Labrador Canada.
An iceberg is a piece of freshwater ice more than 15 metres long that has broken off from a glacier or ice shelf and is floating freely in open water. In fact, this process is called "calving" and smaller chunks of floating glacially-derived ice are called "growlers" or "bergy bits". Additionally, as little as one eighth of an iceberg is visible above water leaving most of the ice mass below the surface of the water. As a result, this is where the phrase "tip of the iceberg" came from, meaning only part of an idea or problem is known.
What is an Iceberg?
Furthermore, bergs come in a variety of different shapes, sizes and colors with unique features such as glacial sediment deposits, striations, caves, tunnels, pools and fossils. Black deposits within an iceberg could be volcanic ash from an eruption years ago. The average life span of a berg is 3000 years. Finally, it is very important to remember that icebergs are very unpredictable and can break apart or roll at any time. Therefore, it is critical to remain a safe distance away when viewing bergs at sea.
The Best Locations in Newfoundland and Labrador Canada to View Icebergs is During the Spring and Early Summer Months
"Iceberg Alley" stretches from the coast of Labrador to the southeast coast of of the island of Newfoundland. The town of Twillingate has unofficially become known as the "Iceberg Capital of the World". Specifically, Long Point lighthouse offers incredible panoramic views of Notre Dame Bay making it the ultimate spot to enjoy iceberg season along "Iceberg Alley" in Newfoundland and Labrador, Canada.
Berg Watching Destinations
Additionally, other popular berg viewing locations include Bonavista, Fogo Island, Change Islands, St. Lewis, St. Anthony, La Scie, Battle Harbour, Red Bay, Point Amour, Bay Bulls, Witless Bay and St. John's. Cape Spear and Signal Hill National Historic Site are popular viewing locations on the Avalon Peninsula. Iceberg Finder is a popular website and app currently being used in the province to track icebergs, share photos, locations and information.
Iceberg Viewing by Land and by Sea in Newfoundland and Labrador Canada

The best way to view ancient glacial ice during berg season along "iceberg alley" in Newfoundland and Labrador, Canada, is by boat, kayak, Sea Doo or jet ski. As a result, many coastal communities - including St. John's, the capital city- have boat tours or kayak tours available. Larger tour boats offer shelter, warmth and comfort, but more adventurous travellers may want to consider a Zodiak or kayak tour. Additionally, Zodiac tour companies often provide flotation suits for safety and comfort.

Prepare for Newfoundland Iceberg Exploring
Speaking of comfort, the North Atlantic Ocean is often very cold and rough so remember to pack warm clothes, appropriate footwear, a hat, mitts and an anti-emetic such as Gravol if you are prone to sea sickness. In this case, ensure to take the anti-nausea medication 30 minutes prior to departure.
Weather in Newfoundland can Change Quickly
The island of Newfoundland has a humid continental climate and is influenced by coastal currents and icebergs. Therefore, the weather can change in the blink of an eye so be prepared for all four seasons. If you are not keen on the sea you can also view icebergs from hiking trails, lighthouse locations, lookouts and more across the province. For example, the popular East Coast Trail , on the Avalon Peninsula, offers stunning views of bergs, growlers and bergy bits in season.
Wildlife to Look Out For While Taking an Iceberg Viewing Boat Tour in Newfoundland and Labrador , Canada

When boating in Newfoundland and Labrador keep your eyes peeled and be prepared for amazing wildlife encounters. Common sightings on iceberg viewing boat tours include humpback whales, minke whales, bald eagles, puffins, gannets, osprey, seagulls, seals and dolphins. Hopefully, if you are lucky you may spot a beluga, orca or even a shark! Humpback whales can often put on quite a playful show and may breach close to the boat or begin slapping the ocean surface with their tail. Observe the magic and do not be scared of these amazing creatures.
Feeding Marine Life
The waters of "iceberg alley" are rich ecosystems that feed many different forms of marine life. When large icebergs scrape the bottom of the ocean - they release the rich nutrients. When they melt, the freshwater creates small currents which are excellent conditions for zooplankton and phytoplankton. The presence of this plankton makes the waters of "Iceberg Alley" prime feeding grounds for many aquatic animals.
Iceberg Season "Iceberg Alley" in Newfoundland and Labrador Canada is an Incredible Experience for World Travellers
In closing, iceberg viewing in coastal Newfoundland and Labrador has continued to draw visitors from around the globe. However, an increase in bergs floating down from the north is not exactly all positive. The effects of climate change and rising sea temperatures pose considerable risk to polar animals and ecosystems worldwide. The world's glaciers are melting at a very fast pace so be sure to check this epic Atlantic Canada adventure off your travel bucket list while you can!
Iceberg Season in Newfoundland and Labrador Canada is a MUST SEE!
''Iceberg Alley" Carries Thousands of Bergs South From Greenland and Canada's Arctic Each Year
Stay Informed
When you subscribe to the blog, we will send you an e-mail when there are new updates on the site so you wouldn't miss them.