eh! What About Us?

Two Brothers. Two Feet. Too Curious. Too Canadian.
"Your hard work and amazing dedication to Canadian tourism is over the top!! Greg, you and Colin, as well as your team need an extremely huge amount of praise from every Canadian you've ever shaken hands with along your adventures!! I hope you both know how appreciated you both are!!" Tammy B.
Philosophy of Brother Tourism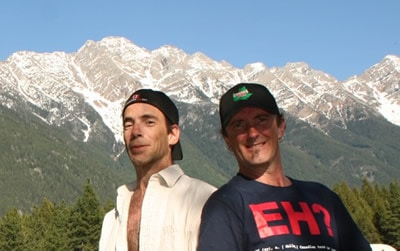 The brothers believe in boots-on-the-ground tourism research. They encourage others to do so as well. This is no suit and tie company nor is there much appreciation for third and forth hand travel information or tourism advice. Corporations have that market cornered. Big Corp is looking at your wallet, and have no interest in your adventures or activities. Yeah, you got a room, now what?
eh Brothers Brand of Tourism
That is where the brothers brand of tourism, travel and adventure comes in. The brothers want to educate the traveler using stories and adventures via their 18,000+ page ehCanadaTravel.com website and blog. Plus, they encourage, train and work with tourism businesses, non profits, groups and, small and rural communities, via their new "Experience Community Program". To the brothers it is simple. When you educate the traveler stays longer. In return the brothers ask that the traveler book with one of the participating tourism businesses advertising on their website.
"Internet marketing entrepreneurs, innovators, leaders, community focused, reliable, and authentic. They are in the business of helping communities build up their tourism and travel industry skills." Randy Oliwa, Ucluelet BC City Councilor, Little Beach Resort Owner.
Our History
Colin Girard started the ball rolling when he built a community website in Sidney BC Canada. Advertising clients, frustrated with government tourism politics, encouraged the 2 brothers, Colin and Greg Girard (Greg joined in 2002), to expand. So they did, one community, one park, one trail, one lake, one historic site at a time, all the way across Canada. It was a 10 year survey of small, rural and urban Canada. In 2017 the brothers did full circle and arrived back on Vancouver Island where it all began. Now, they have developed the first Canadian small and rural revitalization community marketing platform.
Because of their knowledge & experience the brothers are now asked to public speak for Canadian communities." This email address is being protected from spambots. You need JavaScript enabled to view it.for our public speaking package.
Colin Girard (website ninja / co founder)

Colin worked in the tourism industry. Today he is the lead computer programmer (website ninja) responsible for all website design and internet functionality. Colin is a computer wiz kid, but don't tell him that. Colin is the soul of the operation.

Colin loves Chinese Food, peanuts, bananas but is not a big fan of sugar and rude people.

Colin's favorite outdoor hobbies and interests include hiking, camping, fishing, golfing, snowboarding and driving the Maple Leaf RV.
Greg Girard (tourism whisperer / co founder)

Greg worked as an International Marketing Director in the software and publishing industries for many years. Today, he is marketing lead for ehCanadaTravel.com. Greg is the voice of the operation.

Greg loves pasta, vegetables, grapes but is not a big fan of milk, seafood and materialistic people. Greg is a believer in quality over quantity.

Greg's favorite outdoor hobbies and interests include backpacking, wilderness camping, hiking, photography, golfing, snowboarding, off roading and road tripping.
Contact Us
media(at)ehcanadatravel(dot)com
1.877.923.3764 (Canada) for more information.