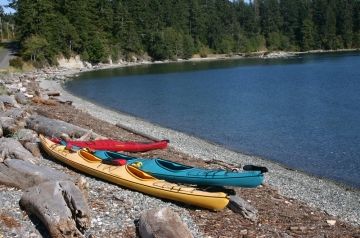 Park Amenities
:







Shelter Bay Regional Park is located on Texada Island, BC. Hikers, mountain bikers, campers, bird watchers, kayakers and photographers should make an effort to explore this beautiful park on the southern part of the island.

The Shelter Bay Regional Park is well decorated in pebbled and sandy beaches, rocky cliffs, forests and grassy knolls. The Shelter Bay Park is abundant in trails and logging roads which make for great hiking and mountain biking.

One of the most notable hiking trails is the route up Mount Pocahontas (1,745 ft.) leading explorers to a peak and some jaw-dropping spanning views of Vancouver Island, Georgia Strait, and the Coast Mountain range on the BC mainland.

The Shelter Bay Park on Texada Island has a day use are and 52 campsites with access to many important campground amenities like washrooms, hot showers, and a concession opens for business in the summer time.
Shelter Bay Regional Park, Texada Island, BC on the Sunshine Coast.
ADDRESS
Shelter Bay Regional Park
,