Interview with Pursuit Sport Fishing Charters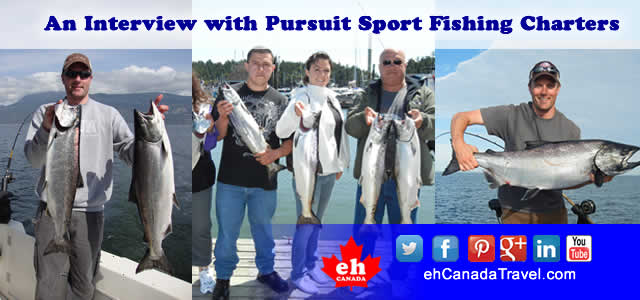 Interview with Pursuit Sport Fishing Charters
An interview with Dan MacLeod of Pursuit Sport Fishing Charters
We talked fishing, guiding, salmon, rod and reel recently with Dan MacLeod of Pursuit Sport Fishing Charters from Vancouver, BC in our swanky online coffee house. We wanted to learn more about fishing and guiding on the westcoast of Canada near the communities of Vancouver, Ucluelet and the Fraser Valley, BC by asking Dan some hard hitting questions.

OK… maybe not so hard hitting.. but Dan is an expert and we pride ourselves on educating travelers on the who, what and where to go fishing in BC … our travelers deserve to be educated and informed. Thank you Dan for taking some time out of your day for this fact-finding online interview and for sharing your insights with our followers, travelers and participating tourism businesses. So lets get the show on the road.
1. Please tell us a little about who you are and what you do?
I am a proud B.C. boy born and raised here in South Western, B.C. in beautiful Canada. I grew up fishing all over B.C. with my grandfather and grandmother during the summer and fall months.  I was bitten by the fishing bug very early in my life and it continues today with a passion for fishing and sharing with my guests the beauty and bounty of Vancouver, Ucluelet and the Fraser Valley.
Guide:  Dan MacLeod
Fishing Outfitter: Pursuit Sport Fishing Charters
Online Business Profile:  https://www.ehcanadatravel.com/travel-community/530-pursuit-sport-fishing-charters/profile.html
Website:  http://www.pursuitsportfishing.ca/
2. What makes you different from other fishing charters in the region?
Pursuit Sport Fishing is different because I don't rely solely on this company to put food on the table for my family. I do this because I love it. Most charter companies need to fill boats and the calendar days to pay all the bills. This puts tremendous pressure on the owners to take people out fishing on bad weather days or mislead people about the fishing. We don't sacrifice quality for quantity and that is reflected in the product we offer and the condition of our boats and equipment.
3. What do you like the most about living in Vancouver?

I love the abundance of recreational activities at my finger tips each and every day of the year. I can hike and fish all year long. There is no excuse not to be active all year long, even in the rain.
4. In your experience where do most fisherman come from when visiting Vancouver and why?

We are lucky to meet people from all over the world on our charters. We book a lot of trips from people from China, Japan, Australia and the U.S., but most of our business is from home grown Canadian folk from coast to coast. I have a fella coming from Nova Scotia next week and I look forward to sharing the beauty and bounty of Vancouver with him and his family.
5. Please give us some insight on what, you see, as the biggest mistake visiting fisherman do?
They don't book longer trips or multiple days on the water to see various locations and experience more of what Vancouver and area have to offer. We cannot possibly show them all the beautiful fishing spots in just 6 hours.
6. In your opinion what is the #1 reason fisherman should pick British Columbia to travel to?

The amazing unspoiled scenery, the incredible value and the abundance of organic, healthy seafood available to them.
7. Why did you decide to become a guide in the fishing industry?

I am passionate about fishing and I really enjoy meeting people and showing off my home.
8. What are your future plans, projects or goals for Pursuit Sport Fishing Charters?
To continue to build and maintain a small, passionate team of friendly, professional guides, a manageable fleet of specialized charter boats and offer amazing fishing trips to create lifetime memories for our valued guests. A cozy B&B and fishing charters from Ucluelet is my retirement plan. I look forward to creating more friendships with my guests so they come to see me every year for some fun and fishing.
9. What do you see as the biggest challenges in the future of fishing in British Columbia?
To get the Canadian and B.C. government to value this amazing, renewable resource and industry. We need the governments to contribute money and resources to salmon enhancement and take some notes from out American cousins doing some wonderful enhancement and protection projects. I would venture to guess that over 90% of the salmon we catch on the west coast are U.S. destined fish. Our fishery would be dismal if it was just Canadian fish we were catching.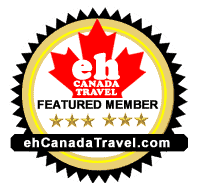 Pursuit Sport Fishing Charters is a Featured Fishing Guide & Outfitter posted on our ehCanadaTravel.com website serving Vancouver, Ucluelet and the Fraser Valley in BC, Canada.  To qualify for this "Friends of Tourism" Interview Program members must be advertising on the ehCanadaTravel.com website, as well as, have the FEATURED BUSINESS BADGE posted prominently on their website. Look for the badge for quality Canadian businesses.
Sign up your business starting at $69 / year.  More Information
******************************************
ehCanadaTravel.com (eh Canada Travel & Adventure) is the largest travel and adventure website for booking, interacting and planning travel in Western and Northern Canada. The "eh Team" of eh Canada Travel & Adventure are a group of travel explorers, called Tourism Ambassadors, who research and write articles, take photos, create videos researching the many opportunities in travel, tourism, history and adventure in Canada.
We are currently expanding into Eastern and Atlantic Canada.
Let your guides, attractions, parks, accommodations know you saw them on eh Canada Travel .

*********
https://www.ehcanadatravel.com/blog/wp-content/uploads/2016/02/pursui2t.jpg
300
640
Greg "Gug" Girard
https://www.ehcanadatravel.com/blog/wp-content/uploads/2020/01/ehcanada-logo-340x156-1.png
Greg "Gug" Girard
2016-02-23 12:58:46
2016-02-23 13:07:41
Interview with Pursuit Sport Fishing Charters