Road Trip Games : Wildlife Radar
Counting Wildlife Focuses Your Attention On Canadian Scenery
"Colin, has been spotting some big 3 pointers on this trip while I am nickle-and-diming it with 1 pointers. "
Everybody has a road trip game they played as a family or during their childhood. In our family it was the sign game. You know the game. Spot a word in the sign which starts with the the letter you are seeking as you work your way from A to Z of the alphabet.
Family Road Trip Games
It goes like this. Go through the alphabet spotting road signs that start with each letter. The first one to reach the letter "Z" wins. Simple right. But here is the dig. The whole car, except maybe the driver, are looking at road signs all the time looking for letters and, as a result, are missing all the natural beauty.
Watch Nature Not Signs
As adults, my brother and I asked ourselves, "Why are we playing signs when it is the wildlife all around us that we are getting excited about?"
I can see the sign game working in cities and areas where there is nothing but road, neon, and blinking lights. But in most parts of Canada you are driving through wilderness and vast spaces of nature. Why watch for signs when you can watch nature.
Who Is Better At Spotting Wildlife?
Our game started with bragging rights. Colin, my co-founding brother of eh Canada Travel, and I would always argue who has the best wildlife radar?! Who was better at spotting wildlife on our road trips?
Canada Is So Beautiful To Watch
Regardless of who was better, the goal was to spot the wildlife. We soon found out that we both were noticing more and more of the landscape and how beautiful it was because we were looking for wildlife. Sooo…. now a days, when we hit the road for work or research our Wildlife Radar game kicks in right away.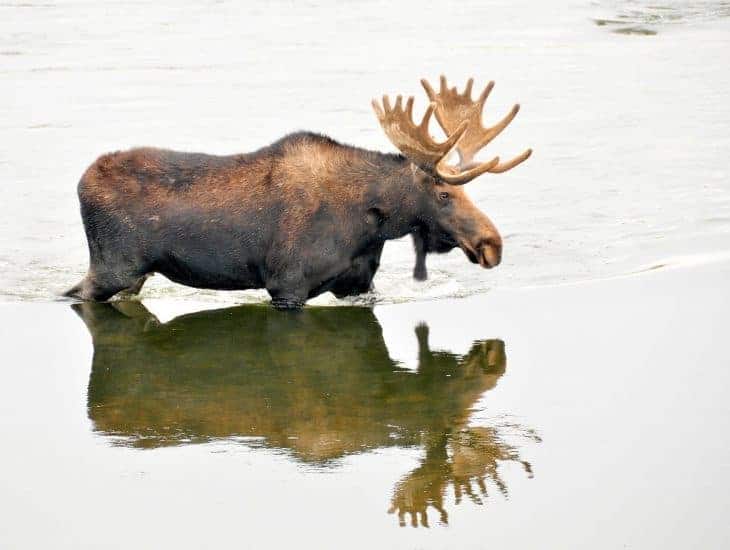 Let The Games Begin
Let the games begin! And the game lasts for the duration of the road trip too. However, there are some rules.
Can only count wildlife sightings while in the vehicle. Once you stop the vehicle the game is on hold, while everyone does there thing.
This is an honor system. No fake wildlife sightings. Always try to get someone in the vehicle to see it too so to confirm your sighting and no questions asked.
Some wildlife, because they are elusive or because they are just so beautiful, receive 3 points. Some animals do not qualify because they are humanized. Here, I explain it all below.
Road Trip Games : Wildlife Radar
Points System
Bigfoot or Ogopogo 25 (you never know?)
Lynx 5
Bears 3
Moose 3
Whales 3
Caribou 3
Buffalo 3
Skunk 3
Porcupine 3
Owls 3
All other wildlife 1
Groups of the same wildlife counts only as 1
Wildlife That Does Not Count
Crows
Seagulls
Song Birds
Chipmunks / Squirrels
Dead Wildlife (Road Kill)
Animals Do Not Count As Wildlife
Cows
Horses
Sheep
Stray Cats
Dogs
Wildlife Radar Is On Right Now
Currently we are on a BC Road Trip in Canada and the Wildlife Radar road trip game is in full swing. Luckily we are in a heavily populated wildlife corridor with lots of wildlife to spot. Good for my team as we are getting whooped. In fact I am getting shellacked at the moment. Colin, has been spotting some big 3 pointers on this trip while I am nickle-and-diming it with 1 pointers.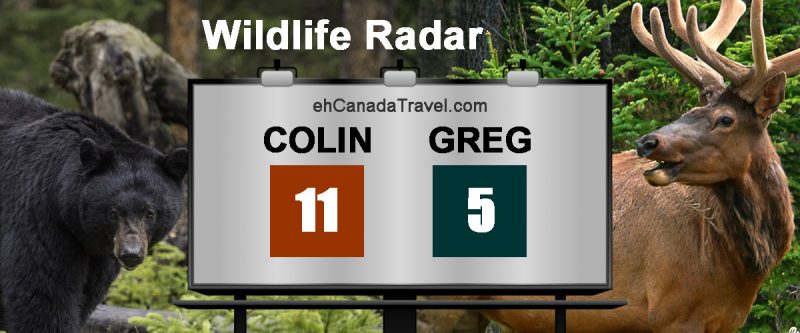 Hope this helps your next road trip and encourages your group to take in the scenery just a little bit more. Put the phones and laptops away and try out our Wildlife Radar game and just watch how much more of the scenery you notice.
I have a couple questions for you ….
Keep us in the loop if you make any additions or alterations to the game. Love to hear how it is morphing?
Come back and fill us in on how you did when you played the game? What did you see?
Wildlife Radar Road Trip Game
Please share. Sorry for asking. Thank you.
It is a Canadian Thing
https://www.ehcanadatravel.com/blog/wp-content/uploads/2019/07/wildlife-radar.jpg
500
1200
Greg "Gug" Girard
https://www.ehcanadatravel.com/blog/wp-content/uploads/2020/01/ehcanada-logo-340x156-1.png
Greg "Gug" Girard
2019-07-26 12:35:46
2019-07-26 13:28:52
Road Trip Games : Wildlife Radar