Highway 5 North – BC Road Trip – Part 2
Exploring parts of the Thompson-Okanagan, North BC and the Cariboo Chilcotin regions of BC, Canada
"The most interesting stop on the trip was the Beaver Creek pull-out on Highway 5. Not because of the scenery or that it had a washroom. No. It was because…"
Today, on our 2019 BC road trip, we are going to put some distance between us and Kamloops BC exploring Highway 5 North. This segment of our journey connects with the remote small communities of Barriere, Little Fort, Clearwater, Avola, Blue River, and Valemount, BC, Canada.
The BC Road Trip Plan
Totally stoked, my brother and I set off into the wild blue yonder seeking scenery, wildlife sightings, traveler connections and good tourism people. Tonight we hoped on staying in Valemount, BC and do some exploring. Our end game is to set up base camp with our clients (now more like friends) at Canyon Creek Campground in Hixon, BC, Canada.
Mobile Has Benefits
Being that we can operate our business fully from our mobile Maple Leaf RV office, the only must-have is internet on any road trip, including this BC road trip. Luckily, we are also set up with a smart phone package so, under certain situations, we are functional as long as their is cell service. The business and clients always come first right.
Highway 5 North – What To Expect
This section of our BC road trip follows the North Thompson River through remote backcountry with the odd small community breaking up the scenery providing road warriors like us souvenirs, coffee and gas. What does this all mean? It means a couple things when traveling remote highways like Hwy 5 North.
The route will have a good selection for pull-outs. Pull outs are a must for a rig like ours and for people who enjoy sightseeing. More importantly, there must be room to turn around. Because of this, our pull-out selection just got a lot smaller.
There are large swaths of highway where it is just you and nature and nothing else. So enjoy it and breath it all in.
There are long sections of highway where you will have no company. However there are also sections where you will have a long line of company. You know them too. The drivers who like to ride your bumper tailgating. So before you get mad, or speed up and something happens we would suggest that on the next straight away, if there is no traffic coming from the other way, turn on your blinker and drive the shoulder and let them all pass.
Watch for wildlife. In this neck of the woods there are free roaming wildlife. Some of the best wildlife sighting species too like black bears, hawks, and moose.
Take your time. Do not let other drivers tailgate force you to speed up so you miss the beauty surrounding you. Pull over lots on pull outs. Stop and visit the small communities. Shop them too.
And always have your camera ready.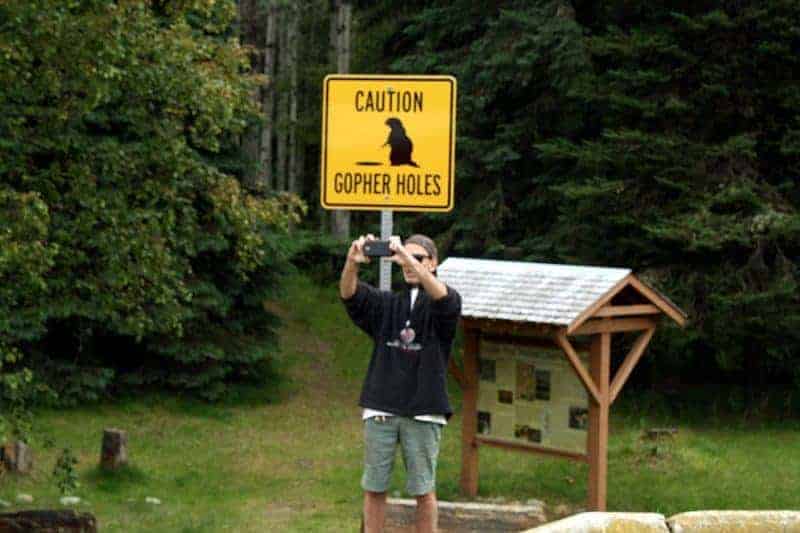 What Is This?
The most interesting stop on the trip was the Beaver Creek pull-out on Highway 5. Not because of the scenery or that it had a washroom. No. The reason was the "Beware of the Gopher Holes" sign. That was a first for us. Never seen a sign like that one before. And there are not many things we have not seen in Canada which says a lot.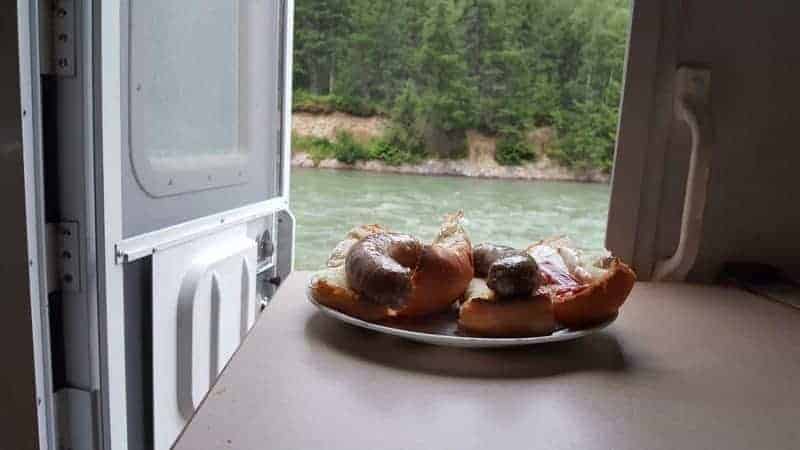 Our Piece of North Thompson River Paradise
We did not make it to Valemount, BC. Are you surprised? But… we did make it to a beautiful large pull-out on the North Thompson River between Blue River and Valemount.
It was getting too late to check into a campground. So what did we do? We found somewhere to hunker down for the night and we rustled up some blueberry sausages that we picked up at a butcher shop along the way in one of the small towns and proceeded to enjoy our North Thompson River view.
Beautiful BC Scenery
This BC road trip route so far entertained us with lots of beautiful scenery. We drove Highway 5 to Barriere, Little Fort, Clearwater, Avola, Blue River, and then to, almost, Valemount, BC. All in all, we saw one black bear and zero moose. Our road trip game Colin and I play called "Who Has The Best Wildlife Radar" was off to a slow start. Watch for a blog on this road trip game coming soon.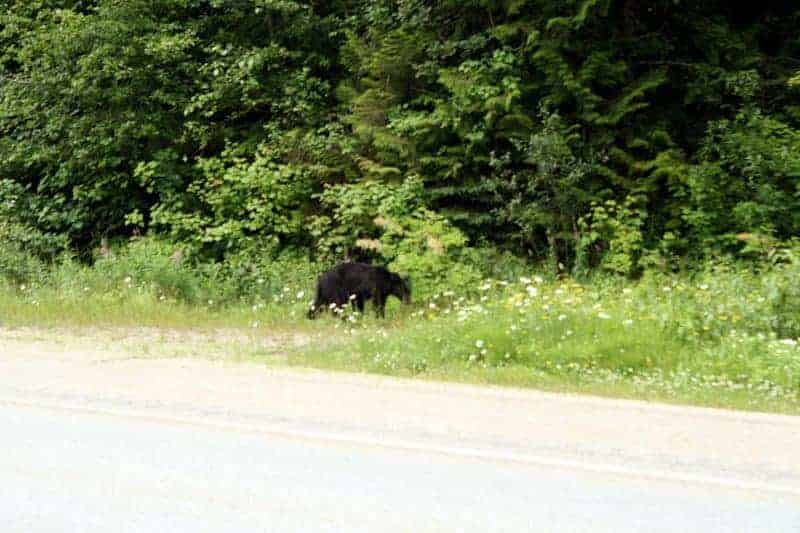 eh! Who Left The RV Door Open?!?
Sometimes when road tripping from year to year you forget to do things. One such thing happen to us. While enjoying our North Thompson River scenery we left the Maple Leaf RV door wide open. Oh Oh! Guess what happened?
Mosquitoes is what happened! Lots of them too! The result was a constant thumping and slapping sound all night as Colin was whacking, swinging and slapping himself all night trying to squash these buzz hounds. Slowly, I could hear him, he was knocking them off one-by-one. I was in the back of the RV, in a mosquito free zone.
Consequently, Colin did not get a lot of sleep that night and woke up with a head ache from slapping himself silly in the head as mosquitoes were attacking him. How funny is that! Brothers can say that.
Questions I Have For You?
Have you driven this route? What was it like for you?
What was your favorite while exploring this route?
BC Road Trip On Hwy 5
PLEASE Share. SORRY For Asking. THANK YOU.
It is a Canadian Thing.
https://www.ehcanadatravel.com/blog/wp-content/uploads/2019/07/snowmobile-staging-area-pull-out-colin-2.jpg
600
900
Greg "Gug" Girard
https://www.ehcanadatravel.com/blog/wp-content/uploads/2020/01/ehcanada-logo-340x156-1.png
Greg "Gug" Girard
2019-07-18 13:20:02
2019-07-19 14:48:24
Highway 5 North – BC Road Trip – Part 2