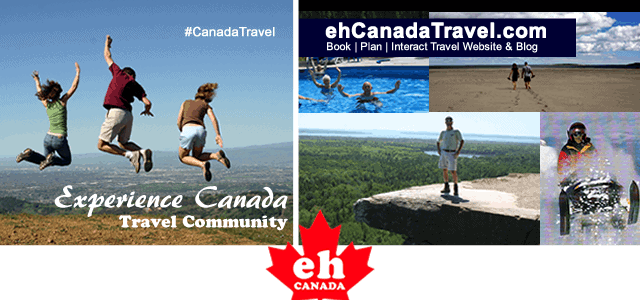 How to Create Free Content and Advertising
"Once you are a signed up and a Member you have free access to unlimited advertising! It is easy using Status Updates and our 15 Free Content Marketing Tools to promote your adventures, activities, community, blog, photography and/or your tourism business… and get this, selected posts are promoted on many of our 12 eh Canada Travel social media channels including Facebook, Twitter, Google+ and Instagram. It is all free with Membership!"
Training Video: How to Create Free Content & Advertising


Watch video on ehTV (You Tube) : https://youtu.be/U-WidAiVky0
eh Canada Travel is the first and only national website to offer Canadians, travelers, businesses, blogs, photographers, artists, Realtors, transportation and others free unlimited access to content marketing tools and social travel features designed to recognize enthusiastic travel influencers, tourism businesses and to encourage travelers to interact, book, plan and visit Canada.
eh Canada Travel is Canada's only #SocialTravel website with interactive features including  multiple live travel community walls, status updates and 15 Content Marketing tools for posting current, reliable real-time information including photos, videos, parks, trails, events, travel specials, travel tips, travel stories, beaches, historic sites, waterfalls and more.
Sign up, log in and post free content, and we do the rest.
Status Updates: Real time text, video, event and photo posts which instantly are published throughout the website on the live Community Walls located on the front pages of Canada and on every province and territory.
Content Marketing: Create park, trail, waterfall, historic site, beach, lake, river, etc. informational content pages to be posted in the communities therefore becoming part of the travel information on the website assisting travelers… and for your efforts, you are the featured business, travel influencer with links and avatar highlighted on that page.
Travel Stories: You, your business, your guests, your friends can post travel stories about your community, adventures, activities, events, road trips and pretty much anything to do with travel in Canada and it is featured on the front pages of Canada and on every province and territory.
Travel Tips: Post advice, tips, trends and hints on how to better enjoy exploring your community, province, and country including "How to …" , "Top 10 …" , "What to…" , "Why…", When is…", Where to…", and on and on we go.
Events: Why wait for your tourism association to post an event? You can post 100s of events and every single one you post highlights your business and your business only. Start posting events you attend and all the events in your community a year in advance and receive a full year of event content marketing.
For Tourism Businesses the days of paying for 1 ad and waiting for results are over. Now tourism businesses can reach out to travelers every day. As for travel enthusiasts we provide you an international platform to voice your knowledge and experiences with the world. Now, with eh Canada Travel, you can advertise, boost, brag, share, encourage 100's of times based on your content contributions and submissions. Their is no limit to how effective, how visible you want to be… the only thing stopping you, is you.
"Selected posts are promoted on many of our 12 eh Canada Travel social media channels including Facebook, Twitter, Google+ and Instagram. It is all free with Membership!"
Also watch these videos: 
How to Create Your Account (Membership Profile)
How to Create, Edit your Advertising
*********
ehCanadaTravel.com (eh Canada Travel & Adventure) is the largest travel and adventure website for booking, interacting and planning travel in Western and Northern Canada. The "eh Team" of eh Canada Travel & Adventure are a group of travel explorers, called Tourism Ambassadors, who research and write articles, take photos, create videos researching the many opportunities in travel, tourism, history and adventure in Canada.
We are currently expanding into Eastern and Atlantic Canada.
PLEASE mention eh Canada Travel during your travels.
Travelers sign up for free.
Tourism Businesses sign up starting at $69 / year.  More Information

*********
https://www.ehcanadatravel.com/blog/wp-content/uploads/2015/09/blog-banner.png
300
640
Greg "Gug" Girard
https://www.ehcanadatravel.com/blog/wp-content/uploads/2020/01/ehcanada-logo-340x156-1.png
Greg "Gug" Girard
2016-02-11 13:16:26
2016-02-13 13:17:09
How to Create Free Content and Advertising