Canada Top 10 – Travel Stories April 11th-17th, 2016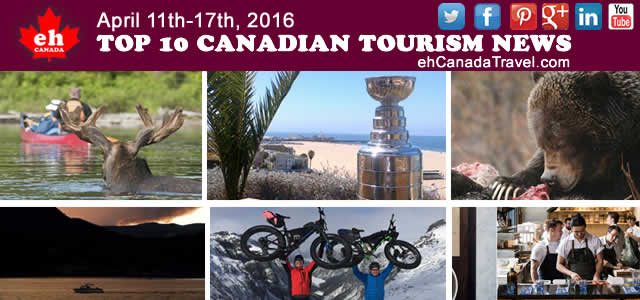 Canada Travel & Tourism Stories
Canada Top 10 – Travel Stories April 11th-17th, 2016
Travel Tips / Tourism Trends / Travel Experts / Tourism Business / Good Vibes
Kelowna Chamber of Commerce accused of working with U.S. companies (Tourism News)
The Stanley Cup Travels More Than You Do (Travel News) 

"Travel tour agencies in Kelowna are accusing their local chamber of commerce of not shopping locally, instead they say the chamber is signing deals with companies in the United States." via Christina Low, Tina Lovgreen, CBC News

"The oldest trophy in North American professional sports travels approximately 300 days a year, more than even the most accomplished jet-setters. " via Chris Abell, Travel & Leisure, @TravelLeisure
Canada Top 10 – Travel Stories April 11th-17th, 2016
Canada Top 10 – Travel Stories April 11th-17th, 2016
Answering the call of the wild: Canoeing in Algonquin Park (Travel Story)
'The Boss' was first to emerge from hibernation in Banff, roams over 2,500 sq. km (Travel Story)

"Covering almost 3,000 square miles, Algonquin Provincial Park is much bigger than Devon. The wealth of enticing possibilities for exploration can be overwhelming, from off-grid back-country canoeing to luxurious loafing. " via Susan Griffith, Independent, @Independent

"The biggest, baddest bear in Banff National Park doesn't just eat other bears and impregnate females to demonstrate his dominance, he also gets struck by a train and lives to tell the tale. " via Tricia Lo, CBC News, @CBCNews
Canada Top 10 – Travel Stories April 11th-17th, 2016
Ottawa trade trip to India aims to draw business, tourists (Travel News)
Epic fat bike adventures in Gros Morne (Travel Story)

"Ottawa's mayor flies to India Friday to lead three dozen people in a trade delegation to New Delhi, Mumbai and Bangalore, aimed at opening doors for local businesses and drawing tourists for Canada's 150th birthday celebrations." via Kate Porter, CBC News, @CBCNews

"One of the most iconic landscapes used to advertise Newfoundland and Labrador is a shot of Gros Morne National Park, overlooking Western Brook Pond. " via Gary Moore, CBC News, @CBCNews
Canada Top 10 – Travel Stories April 11th-17th, 2016
Checking out the newest holiday spots across Canada (Travel Story)
Narcisse Snake Dens
(Tourism Story)
"It's time to start planning your summer holiday and there has never been a better time to explore what's close to home. There are new attractions, hotels, festivals and events springing up across the country." via Loren Christie, Canada AM's Travel Expert
@LorenChristie

" Here, the largest population of overwintering red-sided garter snakes in the world gather together in writhing, tangled masses as they perform their spring mating ritual." via Tanya Moffat, Pegasus Media @PegasusMags
Canada Top 10 – Travel Stories April 11th-17th, 2016
"We bring your advertising to life with content? We give your content a personality with interaction." Greg Girard – eh Canada co founder
This Week in April Canada Tourism Newsletter created by ehCanadaTravel.com.
April Canada Tourism News
*********
ehCanadaTravel.com (eh Canada Travel & Adventure) is the largest travel and adventure website for booking and planning travel in Western and Northern Canada and the largest social media interactive website in the tourism industry worldwide. The "eh Team" of eh Canada Travel & Adventure are a group of travel explorers, called Tourism Ambassadors, who research and write content, take photos, create videos promoting the many opportunities in travel, tourism, history and adventure in Canada.
*********
https://www.ehcanadatravel.com/blog/wp-content/uploads/2016/04/blogBANNER-2.jpg
300
640
Greg "Gug" Girard
https://www.ehcanadatravel.com/blog/wp-content/uploads/2020/01/ehcanada-logo-340x156-1.png
Greg "Gug" Girard
2016-04-16 13:51:33
2016-04-16 13:51:33
Canada Top 10 – Travel Stories April 11th-17th, 2016