Horseshoes in Cranbrook, BC, Canada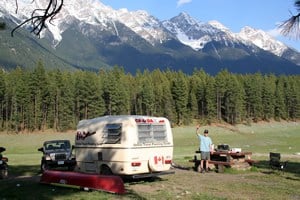 Camping on Horseshoe Lake
Cranbrook, British Columbia, Canada is situated in a river valley surrounded by lakes and mountain ranges like the Purcell Mountains to the west and the Rocky Mountains to the east. The region is a mecca for adventures, history and activity.
Cranbrook is home to one of my favorite challenging situations and home to one of my favorite wilderness campsites in the Kootenays. Cranbrook has given me a story about when bad meets good.
Long ago, the community of Cranbrook was a major gateway for the railway. The railway was the lifeline for people and supplies in and out of the Kootenays. Technology changed and time passed by and soon the railway was replaced by the automobile and Trans Canada Highway. The community continued to thrive and grow and to this day is still a major hub of commerce servicing the region.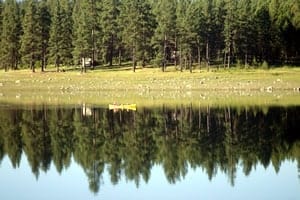 As some of you know when we enter a community to research we look to set up a base camp. A base camp is where we set up operations making it convenient for traveling to all corners of the region so we may document adventures, accommodations and attractions.
Prior to arriving in any region we, usually, have already made a short list of wilderness camps, government campgrounds and privately owned campgrounds to select from. On arrival comes the hard part – selecting a campground.
Being that we love the outdoors and remote wilderness surroundings we often select a camping site located off the beaten track. In British Columbia many of the remote wilderness sites (forestry sites) are free of charge and provide a million dollar view.
That view comes at a cost. Camping remotely means being far away from services like water and groceries making it a long ride into town for restocking supplies. This is generally not a concern for us as we are on the road all day researching and that we have two vehicles.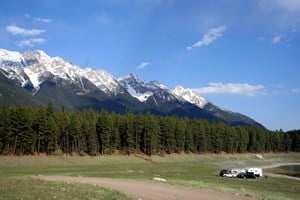 But sometimes things do not go according to plan.
For example on our last working road trip into Cranbrook one of our jeeps up and died on us because of the wear and tear of climbing rough gravel roads, swashbuckling through swamps and climbing mountain peaks.
Usually this would not be a problem as my brother would be around with his jeep. But on this occasion, as luck has it, my brother had already left for the next town. I stayed behind so to finish up researching the parks, trails and historic sites. At that very moment my trips into town just got allot longer.
Luckily I had completed all my research and I was mostly playing around being an explorer.
Prior to the collapse of transportation I was able to explore much of the region including such amazing destinations as Elizabeth Lake, Fort Steele Town, Idlewild Park, Isador Canyon Trail, Jimsmith Lake Park, Lakit Lake, Moyie Lake Park, Norbury Lake Park, North Star Lake, Tie Lake and Wapiti Lake.
However, ironically enough, my luck ran out while camping at Horseshoe Lake. Can you believe it! It was Horseshoe Lake where we decided to set up our base camp. Who said a horseshoe was good luck because in my case my luck had just run out. You see after a fun filled day of bushwhacking the gravel roads in the mountains the jeep had said, "… that it had had enough.. I am done… you are on your own now." My jeep was giving me push back.
Do not get me wrong – we try to be cautious (most of the time) when on the backroads but you cannot avoid every bump and rattle. When researching the sounds of "pinging" and "banging" rocks against the jeep is all part of the researching package.
It just happen that on this research trip a rock smashed into my gas tank underneath the vehicle busting up the fuel tank and pump. Minutes later the jeep "sputtered" and "choked" to a halt.
I was forced to tow the jeep into Canadian Tire. I was told they would have it fixed in 3 days. I phoned in 3 days and they told me to come in and they would have it put back together later that day.
I loaded up my backpack and prepared to hike and hitchhike 18 kilometres into town. When I arrived I was informed the tank would not go back together and they would have to order me in a new gas tank.
Ugh…
A week later, after I hiked into town 3 times on false news, I finally got the jeep back.
As sad and discouraging as it sounds it was really not a bad experience at all. Yes… the repair bill was hard to swallow being that we are on a tight budget but the experience at Horseshoe Lake was a welcomed reprieve.
I enjoyed my time in the sun, reading my books, writing articles, working on the computer and relaxing on the shores of Horseshoe Lake.
I made other trips to town to get gas for the generator and to fuel up on water and food. Life was good, music playing in my ears and I was finding myself dancing into town. How I looked at it.. to me.. it was all part of an adventure.
After awhile the Horseshoe Lake became known as Cranbrook Island because by all accounts it seemed like I was stranded on an island. I had no contact with the outside world (out of cell reach) and I had no means of transportation. I was in the wilderness with the Steeples Mountains staring down at me.
This was just a shout out – a tap on the shoulder – reminding me that what some people call a bad adventure can be a really good adventure. A bad situation can morph into a positive experience with the right attitude.
I hold no grudge to Canadian Tire for their misguided news. They did their best. And… if anything I thank them for assisting in creating a memorable adventure which I shall never forget. An adventure I can laugh at today and share with my friends for many decades to come.
For photos and more information about Cranbrook, BC please visit our Kootenays EH Travel Website at : Cranbrook British Columbia, Canada
https://www.ehcanadatravel.com/blog/wp-content/uploads/2012/07/main.jpg
307
640
Greg "Gug" Girard
https://www.ehcanadatravel.com/blog/wp-content/uploads/2020/01/ehcanada-logo-340x156-1.png
Greg "Gug" Girard
2012-07-02 16:22:45
2016-12-29 03:26:14
Horseshoes in Cranbrook, BC, Canada