Selkirk Tangiers Heli Hiking, Flightseeing, Revelstoke, BC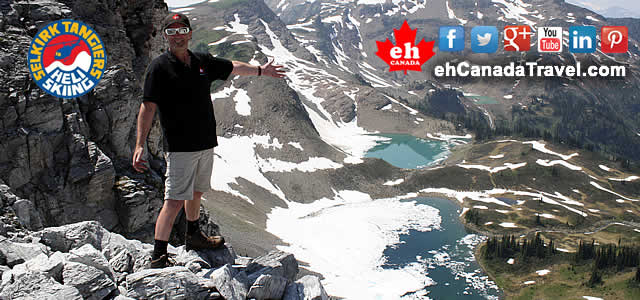 Heli Hiking, Flightseeing, Revelstoke, BC
"The heli hiking experience was well worth the effort. It was a photo gallery of memories which will leave people speechless. We would highly recommend this self transforming adventure to all who visit the Kootenays and especially Revelstoke, BC Canada."
Imagine being dropped off by a helicopter in the middle of nowhere on a remote mountain range.  Before you realize it the helicopter is gone and you find yourself standing on a mountain plateau surrounded by a 360 degree view of jaw dropping scenery. Your group, led by an experienced mountain guide, is tasked with finding a hiking route connecting you to your next staging area on a neighboring mountain peak for pick up.
No trails, no crowds…
nothing but postcard-like mountain scenery surrounds you.
This is what we call heli hiking and flightseeing in Canada!
Recently, Revelstoke Mountain Resort reached out to us, here at ehCanadaTravel.com, and invited us on a heli hiking adventure with Selkirk Tangiers Heli Skiing. The invitation was presented as a media tour. Nice! It was an opportunity for photos, video and adventure rolled up all in one. The tour was an introduction to their summer schedule and to the launch of their new heli hiking adventures exploring the Selkirk Mountains near Revelstoke, British Columbia, Canada. A great opportunity to experience nature and meet new people.
The sun was out, the skies were blue, and it was projected to reach a high 35 degrees. How perfect was that! Our group consisted of about 11 of us. We started with a breakfast and then we proceeded off to an orientation meeting led by our fearless guide for the day, Jeff Honig.  We signed some paperwork. We weighed in for the helicopter shuttle. And before you knew it we were in a helicopter being whisked off to our staging area in the Selkirk Mountains.
Today, we enjoyed the best of both worlds – flightseeing and heli hiking. The flightseeing part of the adventure, the helicopter shuttle, took only 8 minutes from pick-up to drop-off. However, it was 8 minutes jammed packed with wilderness scenery – scenery which stretched forever – scenery which just did not want to stop impressing.
At the mountain staging area we began our heli hiking trek. There are no trails when it comes to  heli hiking in the Selkirk Mountains in the Kootenays. Instead our guide followed the contours of the terrain, picking his route, leading us up the mountain slopes and then back down the mountain slopes from valley to valley.
We hiked along rocky ledges, over patches of alpine snow, on top of loose rocks while carefully tiptoeing amongst the wildflowers. Leave no trace behind means so much more when exploring untouched wilderness regions.
It is important to show respect to the flora, fauna and wildlife on these types of trips as you are now a guest in Mother Nature's backyard.
Our first real stop was on a mountain ledge overlooking the Ghost Lakes. Below us we could see a series of aqua-blue alpine lakes. Beautiful! Quickly realizing we are on a tight schedule,  and that rest stops do not provide lots of time for setting up tripods for photos, video and commentaries I quickly whipped out the video and started hand panning the scenery. Below I could see that the lakes were still partially dressed in a blanket of snow, however the intense heat of the day was determined to strip them of their cool comforts.
It was here, at the Ghost Lakes, we as a group made a choice. Do we want to go down to the lakes or continue up to Ghost Peak. The group voted for Ghost Peak. So up we hiked, higher and higher, with the summit as our goal. There was never a dull moment. Scenery was always on full alert. I knew from experience that my photos and video were not going to do it justice.
To fully appreciate the magnitude of the mountain scenery
and of this heli hiking experience one must go in person.
During the heli hiking adventure we came across evidence of mountain goat and bear… but, to my dismay, we did not see any wildlife unless you call black flies wildlife. At around the 4 hour point of our heli hiking adventure our group reached the plateau of Ghost Peak. There we all stood in awe of the view. A view we earned as the hike was mostly all up hill. It was not an extreme hike but it was a good work out.
To any who love to hike wilderness this trip is for you. I overheard many words describing this heli hiking trip including beautiful, epic, captivating, scenic, heavenly, sweet, sick and wicked.  Not a negative word in the bunch. I have done many hikes across the country – solo and with guides – numbering in the thousands. This one had some of the best mountain scenery ever. It ranks right up there with some of the Rocky Mountain hikes and backpacking adventures I have been on.
On many of my past media tours, not all, the pace was a bit slower more suited for us to stop and set up equipment and take photos and video. I find that setting up tripods, filming 360 degree views, holding interviews, creating commentaries, special effects, and switching up lenses is all part of the experience therefore creating a better marketing product.  I was caught off guard a bit on this adventure.
For groups of tourist the pace was great. However…  for a travel website guy like myself  a slower pace would of resulted in more video and commentary and interviews. I would not always be trying to catch up to the group. I guess I am just spoiled.
The heli hiking experience was well worth the effort. It was a photo gallery full of memories which will leave people speechless. We would highly recommend this self transforming adventure to all who visit the Kootenays and especially Revelstoke, BC Canada. Thank you to Revelstoke Mountain Resort for reaching out and a big thank you to Selkirk Tangiers Heli Skiing for a fantastic day in the mountains. Jeff and Emma you rock!
Selkirk Tangiers Heli Skiing
2100 Oak Dr, Revelstoke, BC V0E 2S1
(250) 837-5378
www.selkirk-tangiers.com
*********
ehCanadaTravel.com (eh Canada Travel & Adventure) is the largest travel and adventure website for booking and planning travel in Western and Northern Canada. The "eh Team" of eh Canada Travel & Adventure are a group of travel explorers, photographers and videographers, called Tourism Ambassadors. They travel Canada and they research and write articles, take photos, create videos promoting the many opportunities in travel, tourism, history and adventure in Canada.
We are currently expanding into Eastern and Atlantic Canada.
100% Canadian Vacations
Spread the Love of Travel and Adventure in Canada!
Refer eh Canada Travel & Adventure.
THANK YOU!
*********
https://www.ehcanadatravel.com/blog/wp-content/uploads/2015/07/banner.jpg
300
640
Greg "Gug" Girard
https://www.ehcanadatravel.com/blog/wp-content/uploads/2020/01/ehcanada-logo-340x156-1.png
Greg "Gug" Girard
2015-07-12 17:16:20
2016-02-07 12:35:37
Selkirk Tangiers Heli Hiking, Flightseeing, Revelstoke, BC