Guest Blog: Travel Guide to Algonquin Provincial Park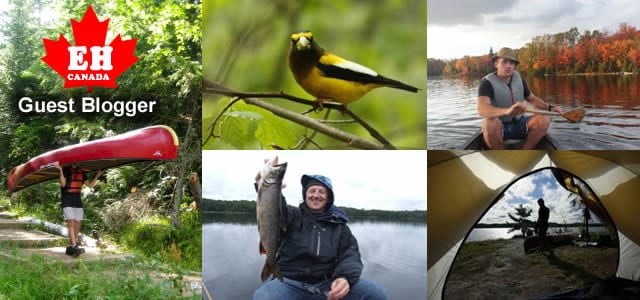 Algonquin Park is a fun-filled adventure waiting to be discovered. Each season provides a number of diverse activities for people of all ages and levels of desired outdoor adventure. The park provides training sessions, family programs, guided tours, and more. Regardless of the season, you are certain to find excitement at every turn.
Spring
Spring in Algonquin Park is a delightful time of year. Explorers will still be subject to snow without the frigid temperatures of winter while the trees and flowers begin to bloom and the wildlife returns and awakens throughout the park region. For those of you seeking to take advantage of springtime cross-country skiing, you are reaching the end of the season. Conditions around Fen Lake and Leaf Lake are typically fast and icy in the morning before the temperature rises above freezing. Once the sun begins to heat the region, you will be exposed to slower conditions and skiers should be mindful of potential hazards on trails such as debris and dry patches. The area around Minnesing should only be approached with proper equipment and training.
In addition to cross-country skiing, Algonquin Park visitors will be able to enjoy a number of activities this spring. As the rivers begin to clear of ice and snow, you might start planning an Algonquin Park canoe trip for a backcountry canoe adventure starting in April or to take advantage of the quiet waters for trout fishing before the summertime masses descend upon the lakes and rivers. It is important to note that you will be required to abide by special regulations pertaining to trout fishing.
Many of the developed campgrounds will begin to open throughout April, as well, such as Achray, Brent, Kiosk, Mew Lake, Rock Lake, Tea Lake, and Whitefish Group. Additional campgrounds will open for the long weekend at the end of May and others will officially open at the start of July. Algonquin Park provides Spring Safety advice for all visitors seeking to ensure their stay during the seasonal transition is fun and safe at all times.
Summer
Summer in Algonquin Park is filled with laughter, excitement, and a contagious energy you will not find in any other region. Even if you were to visit the park each day during this most opportune season, you may never be able to explore all of the activities and events planned throughout the season. You will be able to participate in a number of canoe adventures for a day trip or a three or four-day excursion. You will be able to go backpacking in the backcountry or explore interactive trails with guided tours.
People who visit during the summertime will be able to take advantage of a number of park-sponsored programs to enhance your journey each and every time. This summer, the park will host the art exhibit, "Algonquin Palette and Experiencing Algonquin." Children will be able to enjoy any number of summer camps to make new friends and learn new skills or they can even be a junior park ranger for the day. Everyone will be able to enjoy swimming and boating activities on hot summer days. And, at night, the entire family will be able to attend thrilling and interactive discussions about various outdoor themes at the Outdoor Theatre.
The fall and winter are ideal times of the year for individuals who are not bothered by a bit of snow or colder temperatures. You will be able to explore the park region by a number of alternative methods. The winter is the ideal time for dog sledding, snowmobiling, and cross-country skiing; whereas, the fall is ideal for hunting and fishing throughout the 1,200 plus rivers and streams. Keep in mind that while the Highway 60 Corridor is open throughout the year, many secondary roads will remain closed during periods of heavy snow.
While each season brings special events to the park, everyone is able to enjoy wildlife watching, trekking, and fishing throughout the year. Much of the year allows for visitors to be able to camp, have a picnic, and bicycle throughout the region. And, without fail, each season will bring a new favorite activity only to be enjoyed during a few months out of the year making each trip more memorable than the last.
Author Bio
Josh Stone is an adventure traveler at heart, he spends his working days planning his next great adventures and writes about his experiences. He always make an effort to get back and go on an Algonquin Park canoe trip every year with his father
https://www.ehcanadatravel.com/blog/wp-content/uploads/2013/04/banner4.jpg
300
640
Greg "Gug" Girard
https://www.ehcanadatravel.com/blog/wp-content/uploads/2020/01/ehcanada-logo-340x156-1.png
Greg "Gug" Girard
2013-04-20 07:05:27
2013-05-26 02:59:18
Guest Blog: Travel Guide to Algonquin Provincial Park