Last Spike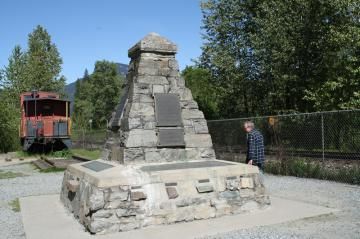 Detailed Description:
The Canadian Pacific Railway Last Spike located in Craigellachie, British Columbia, Canada is where CPR railroad financier Donald Smith gathered on November 7th, 1885 to drive in to the ground the last spike marking the completion of 3000 miles of railroad tracks connecting eastern and western Canada. The act remains a symbol of national unity in Canada.

The Last Spike historic site is the feature attraction located at a major rest stop located on the Trans Canada Highway, east of Sicamous BC and west of Revelstoke, BC. Marking the historic event is a large stone monument accompanied by a rail car.

Down the pathway from the last Spike monument is a gift shop. Welcoming visitors in the parking lot is a well maintained washroom and plaque briefing visitors of the history of the area.

The reason the Last Spike is such significance is that Canada was built on the back of the railroad. Before there was a Trans Canada Highway the only way to travel across Canada was the railway.
Last Spike, Craigellachie, British Columbia, Canada