The Maple Leaf Has Landed – Canada RVing
Canada RVing
The Maple Leaf Has Landed
"ehCanadaTravel.com is riding on the wings of their Maple Leaf RV all the way across Canada"
The Big Reveal
You may have seen it already? People are talking about it here in Campbell River, British Columbia, Canada on Vancouver Island. How could they not, we have been all over town grabbing supplies for our project. Is our secret out? We are making a scene wherever we go. And I guess, when it comes down to it, that is just how we like it – fun, daring and very Canadian.
RVing Has Never Looked This Good
What is this project you may ask? What have we been keeping under wraps for so many months? Well… the big reveal is a Maple Leaf. Not the ones you find in the fall beautifully carpeting Canada's landscapes. The Maple Leaf getting all the attention is the one wrapped all over the front of our new motorhome! From this day forward Canada's Maple Leaf will be leading us down the highways, country streets and backcountry roads of Canada.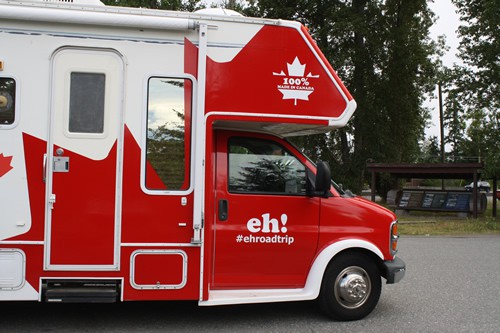 Yes, you heard it right, we here at eh Canada Travel are taking tourism on the road and are now, currently, rumbling across British Columbia, Canada draped in Maple Leaf red. Canada RVing has never looked this good before – red, curious and proud.
Canada RVing Wrapped in Canadian love
The front of the motorhome, of course, is the wrapping Maple Leaf. How cool does that look by the way! The drivers side wrap is an old chainsaw sculpture we came across representing an explorer looking out into the distance. Colin and I selected this photo to represent our love for travel and exploration.
The back of the RV is a Grizzly Bear. Why a bear you ask? We have traveled this country and in that time we have seen plenty of wildlife. And in our travels we have grown to love some very specific wildlife for their beauty, power and grace. We break down our wildlife categories into 3 areas – air, water and land. Bear is land. Owl is air. Whale is water. So, hence the bear on the back of the RV. A species of beauty and power.
On the passenger side of the motorhome, we went off the charts. Currently there is a large hand taking a photo with a smart phone. Inside that smart phone, get this, there is going to be a 70 inch digital monitor playing videos and displaying photos of Canada when parked, camping, at events, trade shows and more. I bet there will be the odd movie playing too while around a campfire with friends. Now that sounds like fun. Watch for us on Facebook as we might be going live during the installation of the digital monitor in the next couple weeks. Probably most certain a blog too.
Canadian RVing Enhances ehCanadaTravel.com
The Brothers, Colin and I, of the "eh Clan" are branching out and embarking on a cross Canada road trip to promote tourism, meet people, consult communities on digital marketing, attend events and trade shows, and sell the many benefits of social interactive tourism on Canada's Adventure Travel Website – ehCanadaTravel.com.
Our website is like no other in that it is a booking, planning and interactive website. One which feeds traffic to client sites and social media pages using our social media and content creation tools built for tourism promotions. In essence advertisers can create hundreds of pages of travel information directing travelers to their websites, blogs and social media pages. Plus… their content is now part of ehCanadaTravel.com which will always direct travelers to their website and/or social media pages.
And for travelers, locals, photographers and bloggers they can sign up for free and post tips, stories, photos and videos creating their own travel portfolios.
We call it tourism-on-wheels
With the addition of the Maple Leaf RV, ehCanadaTravel.com is now a resource to access real live tourism as it happens. We call it tourism-on-wheels. Never before has tourism gone this live and mobile. We like being the first at things. Today, we celebrate the start of live tourism the eh Canada Travel way.
Colin and I are going to bring Canada to you live on your phones and on your computer screens via Facebook Live, You Tube Live, our website and blog. Full of color, scenery, personality and emotion the eh Canada Travel experience just got better for you, the traveler ,and for all our advertising members.
Canada RVing on Facebook Live
The Maple Leaf RV is totally digitized and functioning as a mobile internet office. All aspects of eh Canada Travel can be run from the unit so we can grow our business on the road while sharing Canada with our followers on numerous social media platforms including Facebook, Twitter, Google +, Pinterest, Instagram, You Tube and more. Pick a platform and watch the adventure unfold. Like it or hate it the main format will be Facebook as most of Canada's tourism businesses are participating on that platform. So follow ehCanadaTravel.com on Facebook and see Canada first hand and live.
Canada RVing Hashtag #ehroadtrip
We have made it easy to follow our adventures by creating the #ehroadtrip hashtag which is proudly displayed on the doors of the RV. Just click the hashtag and you will pull up the feed of all our past and present posts. Watch for our social media posts announcing upcoming live broadcasts from all over Canada sharing destinations, highways, events, communities and attractions. And being live will create some great bloopers too we are sure of that.
Launching from Thunderbird RV and Campgrounds
We are launching our tourism-on-wheels road show from the Thunderbird RV and Campground in Campbell River, BC on Vancouver Island. We selected the campground because they have been long supporters of ehCanadaTravel.com and because they are good people. We believe in paying-it-forward to businesses who have treated us well over the many years as we grow this now 18000″ page travel guide.
Name the RV: Maple Leaf (insert here)
We want your suggestions for naming our Maple Leaf RV. All we ask is that the name includes Maple Leaf in it. So fire away, lets hear what you got. If we like it, we will use it and mention you in our social media posts. Maybe even write a blog on it.
Invite the Maple Leaf to Your Community or Event
Our schedule is pretty full this summer with Canada RVing to events and communities, but we are taking submissions for the 2018 fall and winter season. So, if you want to put a spotlight on your event drop us a line. If you want us to share our knowledge, put on a course, consult about your community digital marketing plan we have a booking agent we can put you in touch with for making arrangements.

As Seen On:
CBC, Huffington Post, Canada.com, Nature Conservancy of Canada, Cottage Life Magazine, TravelTV.com, Travel Industry Today, Yukon Life, TAPS Magazine, HUB Magazine

Head Office
ehCanadaTravel.com
54-120 Finholm Street N.
Parksville, BC, Canada, v9p 1J5
https://www.ehcanadatravel.com/blog/wp-content/uploads/2018/07/blog-header.png
333
600
Greg "Gug" Girard
https://www.ehcanadatravel.com/blog/wp-content/uploads/2020/01/ehcanada-logo-340x156-1.png
Greg "Gug" Girard
2018-07-13 17:00:03
2018-10-24 04:34:50
The Maple Leaf Has Landed – Canada RVing