2012 Tourism Playoffs – CTC Report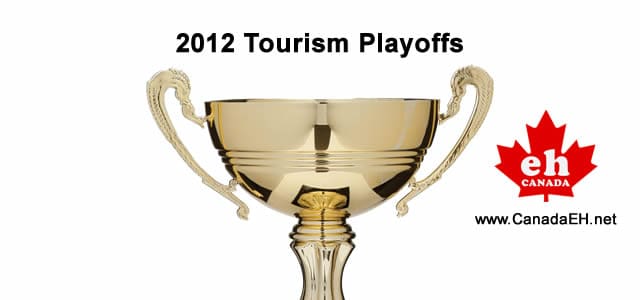 Go CTC GO! We are cheering for you in the 2012 Tourism Playoffs! We realize we just squeaked into the Tourism Playoffs this year based on your latest results. But who cares we are Canadian – tough, resilient and polite. And as an underdog we know you will work the corners, forecheck, hit back and score the overtime goal when it counts in the 2012 Tourism Playoffs. Go CTC GO!
The Canadian Tourism Commission (CTC) Annual Report on the "State of Tourism in Canada" has just been released (link below). It is an interesting read pointing out the many challenges and decisions that lay ahead for the industry that we all love and work in.
It is no secret the CTC is upset with the current government over the budget cuts which saw their funding drop from 72 M in 2012 to 58.5 M this year. Compound that with the funding cuts also handed out to Canada Parks; the Canada Border Agency and Canada Customs. There are many changes coming to the Canadian Tourism Industry. How we react and respond will decide our fate.
Tourism revenue coming from travelers visiting Canada has been dropping for some time now. Since 2000 tourism revenue coming into Canada has dropped over 32%. Much of the drop is due to a poor USA market. To us in the industry the latest figures are of no real surprise.
"Revenue In" is not the only tool used for measuring Canadian tourism success. There are many other tourism measuring tools telling a similar story.
Unfortunately, Canada has fallen in several other travel categories resulting in Canada no longer being recognized as a Top 10 global travel destination in the world. No… now we sit at #18th possibly falling out of the Top 20 next year. The drop started around 2002 – long before so called funding cuts.
The global tourism game is changing and we, as an industry, need to refocus. The CTC must lead the charge for Canada and they should – they are the face of Canada Tourism. They are THE government tourism organization with unlimited resources and receive large sums of funding (even if they think it is not enough). Private tourism DMO's, like us, have to earn our revenue by relying on customer advertising and sponsors not 58.5 M doled out by government.
All Canadian provincial and national tourism stakeholders must succeed for tourism in Canada to grow. When they do well, we all do better. We are one of many cheerleaders for the CTC, we just want something to cheer about not point blame to. Our tourism challenges reach far beyond just funding cuts. Our future tourism challenges may be more influenced by the decisions made or lack there of.
The USA provides the most visitors to Canada every year. Last year USA visitors accounted for 3/4 of all arrivals in Canada (11.8 million). Each US visitor spends on average $518 per trip (Brazil was tops at $1,874). You would think a 3/4 share of our tourism industry would be a market we would fight to protect. Not so much it seems. The USA is out and China is in.
The CTC has created a strategic plan which would drastically reduce promoting Canada to the U.S.A. Some say it is because of the low average dollars spent per US visitor… some say it is the high Canadian dollar while others say it is because of the intense competition in the market place competing for the US tourism buck.
In response to these market factors … the CTC has decided to reduce marketing to the USA drastically and begin allocating more marketing efforts to the smaller 1/4 share of visitors who arrive from afar and spend more money.
Basically, we are dropping the ball on the USA. We think this move, just might, bite us in the foot down the road.
So lets get this right… USA and Canada travelers are the two largest travel markets who explore Canada. We are giving up on the American travelers and we cannot entice Canadian travelers to explore Canada more and for longer. Maybe our stakeholders sell Canada to Canadians ineffectively. Just a thought?
Here is another thought. Canada experienced a "travel deficit" estimated at $17.8 billion last year, a deterioration of 9 percent year over year as "payments by Canadians abroad were more than double the receipts from visitors to Canada," the report states. Ugh!
Why are we not trying to…. extend the length of stays of a USA visitor so they spend more money before we right that market off? The US market is, by all accounts, our tourism base. Do they think the USA will never have money again? Do you thing travel rules will not change again? What happens when international visitors stop? Then what… we burned a bridge.
Why are we not trying to…. lower transportation costs. Airplane travel in Canada is one of the highest in the developed world. Rail system is too expensive to travel across the country. Gas prices are just plain silly. Transportation incentives are a priority! Reputation around the world for economical travel options would change the landscape of tourism in this country.
Why are we not trying to…. sell adventure, activity, fun, excitement to Canadians more effectively instead of spending millions on showing scenery of mountains, moose and lakes. Hello! We Canadians know our country is beautiful, amazing and large. Tell us something we do not know because most Canadians see mountains, moose and lakes everyday and are not going to use their one big vacation a year to see a different mountain, moose or lake.
Why are we not trying to…. try?
Let us not forget…. Tourism creates more than 608,500 jobs in Canada. In 2012 the tourism industry generated over $82 billion in revenue. $15 billion coming from international travellers. Tourism is Canada's number one service export!
The market is growing… the United Nations World Tourism Organization, states tourists spend $3 billion a day ($2 million a minute) globally making tourism one of the world's fastest-growing industries.
We must, as an industry, think long term and stop with short term fixes. Our tourism stakeholders need to move pass the branding of our country as polar bears, igloos, maple syrup and Mounties.
Canada is so much more. Now our tourism stakeholders must work smarter with less money to educate the traveler about our  adventures, culture and, especially, our 4 seasons because that is what sells Canada best – not beaver tails. We are always here to help, but the CTC never asks – why is that anyway? Hmmm.
So… bottom line is that it is finally here! The hotly anticipated Canada's best seller for the Canadian Tourism Industry hits the book store shelves – the Canadian Tourism Commission Annual Report. It is a must read, cover to cover. Cannot put it down. So many twists and turns. I think it is a cross between a murder mystery, drama and humour novel? Have to read it again so much to read in between the lines. Ok…so back to the beginning…
Go CTC GO! We are cheering for you!
https://www.ehcanadatravel.com/blog/wp-content/uploads/2013/05/banner2.jpg
300
640
Greg "Gug" Girard
https://www.ehcanadatravel.com/blog/wp-content/uploads/2020/01/ehcanada-logo-340x156-1.png
Greg "Gug" Girard
2013-05-21 08:29:07
2013-05-26 02:59:18
2012 Tourism Playoffs – CTC Report