An Interview With Expanse Cottages in Nordegg, Alberta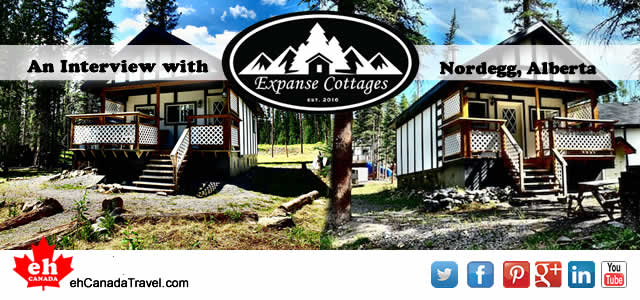 Interview – Expanse Cottages, Nordegg, Alberta
"Where Wilderness Meets Your Vacation"
"Nordegg is known as the "hidden gem" of Alberta. It is surrounded by endless beautiful scenery, hundreds of hiking, biking, and quading trails right at your doorstep…" Jodi Reynolds
In many ways, Canada tourism is built on small towns. It is in small towns that outdoor wilderness and wildlife adventures excel. Yet, why are we always hearing about the big cities in the media? OK… we know why, politics.
Most of our (ehCanadaTravel.com Tourism Ambassadors) best travel experiences, adventures and photography has come from visiting and exploring the trails, beaches, historic sites, rivers and lakes in and around small towns… and we have been all over this great country so we know a thing or two. We like talking small town tourism because that is where, on many occasions, we have found our best adventure memories while staying with real Canadian independent resorts!
It is exciting to introduce you to Expanse Cottages in small town Nordegg, Alberta. The Village of Nordegg is a wilderness and back-country recreation community neighboring on the eastern slopes of the Alberta Rocky Mountains.  Expanse Cottages in Nordegg, Alberta is a private cottage / cabin  resort offering privacy, wildlife, wilderness, relaxation and access to adventures.
Recently, we had the opportunity to virtually sit down with Jodi Reynolds, a part owner of Expanse Cottages, and learn about the past, present and future goals of her venture.  She was kind enough to share some of her insight and experiences with us and you. This is what we like to call our "Friends of Tourism" Interview. Shall we begin.
(eh) Good D'eh Jodi! Thank you for doing this interview. Let us begin with you telling us a little about who you are, what you do and what makes you unique?
(Expanse Cottages) My brother (Jason), husband (Rick) and I (Jodi) have recently taken our life in an entirely new direction by taking over Expanse Cottages. We are very excited to see where this new journey takes us and can't wait to meet all the new and different people that come our way! We officially just opened mid-August of this year and everyone that has visited our cabins so far has been awesome and has given us a great start! We take great pride in what we've started and anyone who visits us will surely sense that.
Click to learn more: eh Canada Travel Member Profile
Expanse Cottages
Website: www.expansecottages.com
Phone: 1- 403-309- 3189
Contact Us:  expansecottages@gmail.com
Location:  305 Shunda Creek Road, Nordegg, Alberta
(eh) What makes Nordegg, Alberta special and why should travelers come there?
(Expanse Cottages) Nordegg is known as the "hidden gem" of Alberta. It is surrounded by endless beautiful scenery, hundreds of hiking, biking, and quading trails right at your doorstep or within minutes, as well as, tons of fishing destinations and great hunting opportunities. It's just as gorgeous as the more popular Banff and Jasper, without the busy city and touristy factors distracting you from your vacation.
(eh) Give us wilderness, adventures, nature and privacy any day over big city.
(eh) What roads did you travel that led you to venture into the tourism and/or adventure industry?
(Expanse Cottages) Our grandparents started their own fishing camp in Ontario when our dad and his siblings were young and the family made it into something amazing! I think that has always been in the back of our minds and what drove us to make a legacy of our own. Not only that, but Jason, much more than myself, LOL, has always had a knack for travelling and seeking out adventure. He has not only been travelling the backcountry areas surrounding Nordegg and all of Western Canada for almost a decade, but has also been all over the world and has always wanted to do anything involving tourism. When he approached my husband and I with the idea of taking over these cabins, it was a little scary, but it also seemed like a great opportunity, so we all jumped right in and we are definitely glad we did!
(eh) Karma. Sounds like Nordegg is the winner in this new relationship.
(eh) If you were staying with Expanse Cottages as a traveler in Nordegg, Alberta for the first time… what 3 things would you do?
(Expanse Cottages) (1) – You must visit Abraham Lake! It has the most gorgeous waters you can find and it's worth the 15 minute drive just to look at…you won't regret it! (2) – Both Twelve Level and Coliseum Mountain are awesome places to get in some great hiking or mountain biking! (3) Take a stroll right off your cabin's private front porch and out into our backyard. We've got a great trail that takes you to some amazing viewpoints where at the end you have a beautiful 360 view of the surrounding mountains…you'll feel like you're on top of the world!
(eh) We enjoy summit hiking because of the sightseeing rewards. Your backyard trail to big sights is a big perk and then Twelve Level and Coliseum Mountain so close. We would be in la-la land hiking paradise.
(eh) Tell us a funny story about Expanse Cottages?
(Expanse Cottages) It was a total fluke that we found this amazing property to call our own! We had no idea what we were going to do with our lives at the moment and then all of a sudden, we stumbled across the property and soon, everything fell into place and we are now the proud owners of Expanse Cottages and can't wait for the years to come!
(eh) What makes the Province of Alberta unique and special?
(Expanse Cottages) Definitely the Canadian Rocky Mountains! They create such beautiful scenery and are a great destination for so many activities. Whether you're into hiking, biking, hunting, fishing or just plain relaxing, this is the place to be!
(eh) The Rockies are one of Canada's best assets for adventure. So agree with you here. 
(eh) Tell us something about Nordegg that we may not know?
(Expanse Cottages) Nordegg is an old mining town with great historic significance. It is known for the Brazeau Collieries Mine Site which closed down in 1955. Soon after the mine closed, the population dispersed and what is left is a quaint little town with only a few hundred people remaining.
(eh) In your experience what countries and type of travelers tend to visit Nordegg, Alberta the most and why?
(Expanse Cottages) In our short 2 months that we have been open, we have had quite a good mixture of people stay with us! Although, I would have to say mostly Canadians and Asians, as well as some Europeans. It seems that whether they are there for the views or the outdoor adventure, they know exactly what they're looking for and they know Nordegg's where it's at!
(eh) So excited for you on your new (ad)venture!
(eh) Please give us some insight on what, you see, as the biggest mistake visiting travelers do when visiting Nordegg?
(Expanse Cottages) I would say that people don't realize just how much Nordegg and the surrounding area has to offer. There are so many places to see and areas to discover, you'll just have to keep coming back!
(eh) Exactly! We hope to play a big part with you in exposing all that is good about vacationing in Nordegg, Alberta.   
(eh) Thank you Jodi for your time and for sharing your insight into Expanse Cottages and the community of Nordegg, Alberta.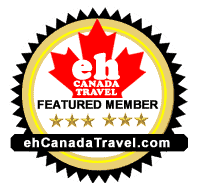 Expanse Cottages is a Featured Canadian Accommodation located in Nordegg, Alberta, Canada on our ehCanadaTravel.com website. Click to learn more. 
How Does Your Business Get Interviewed? Businesses must be advertising on the ehCanadaTravel.com website, as well as, have the FEATURED BUSINESS BADGE posted prominently on their website. When exploring Canada for quality experiences make sure to seek out the businesses posting our 100% Canadian Featured Business Badge!
Sign up your business starting at $69 / year.  More Information
******************************************

Interview conducted by Greg Girard. Greg is a co founder of ehCanadaTravel.com and an outdoor enthusiasts. Greg and the "eh Team" of ehCanadaTravel.com are a group of Canadian explorers called Tourism Ambassadors.
The "eh Team"  visit and explore Canada and the popular destinations and attractions , as well as, the not so popular, media shy and hidden gem destinations. Tourism Ambassadors do interviews, make notes, take photos, create videos and write a lot about Canada then share the information on the ehCanadaTravel.com website, blog and social media pages.
******************************************
ehCanadaTravel.com (eh Canada Travel & Adventure) is the largest privately operated tourism website in Canada for booking, planning & researching travel opportunities. It is the only social travel website on the internet with real-time interactive community walls and content marketing tools using posts, likes, shares, photos, videos, status updates, events, parks, trails, beaches and more.
Thank you for supporting Canadian ingenuity and  entrepreneurship.
"Why book just an accommodation, when you can share, plan & book an entire vacation of a lifetime from start to finish?" Greg Girard
https://www.ehcanadatravel.com/blog/wp-content/uploads/2016/10/banner.jpg
300
640
Greg "Gug" Girard
https://www.ehcanadatravel.com/blog/wp-content/uploads/2020/01/ehcanada-logo-340x156-1.png
Greg "Gug" Girard
2016-10-29 12:58:08
2016-10-29 12:58:08
An Interview With Expanse Cottages in Nordegg, Alberta