Atlas Coal Mine National Historic Site – Star of Tourism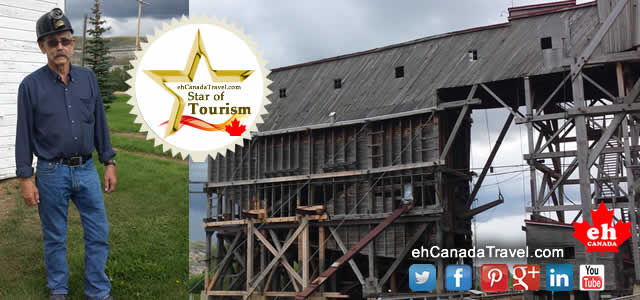 Atlas Coal Mine National Historic Site, Drumheller, Alberta, Canada
"The Atlas Coal Mine tour is one of the most amazing historical tours in Canada. I left there not only much better educated on Canada's coal mining history but also with a heart filled with appreciation for the sacrifices and hardships the miners endured," Cary Horning.
The Atlas Coal Mine is located in the small community of East Coulee just 20 minutes drive east of the bigger town of Drumheller in Southern Alberta, Canada.
Nestled in the scenic rolling hills and coulees of the Badlands, the Atlas Coal Mine is home to Canada's last standing complete coal tipple. Built in 1936 it's really a work of art and a breath taking huge wooden structure.
The Atlas Coal Mine tour takes you back in time with a glimpse into life as a coal miner in Alberta. It was no easy job and many lost their lives during the mining years but for those who survived, such as
my guide, miner Bob Moffat sharing Atlas's history is very much a passion.
The Atlas Coal Mine is the last of 139 mines in Canada and when natural gas replaced coal to heat our Canadian homes the mine closures created a series of ghost towns. One of those ghost towns was nearby Wayne, Alberta when during the mining years had a booming population of over 3000 but now only has 33 residents.
Visitors taking the Atlas tour really get a glimpse of what it was like to
live and work there. Not an easy life and very dangerous work. The miner shacks where they and their families lived were tiny, cramped, and cold during the winter months. Anything was used for insulation to minimize the cold drafts including mud, straw and cow manure.
Walking with Bob towards the mining office past coal cars and old equipment l could hear the wind from an approaching storm whistle through the massive wooden tipple. I shivered imagining what it must have been like up there in brutal -40 weather. But before we would climb the tipple Bob showed me the mining office where miner pay
stubs, old ledgers and a huge impenetrable safe were kept. Apparently the last manager kept his office door bolted at all times. Why, no one knows. Was he hiding secrets or scared of the ghosts?
Small pit ponies carried the men into the dark mines, often they sensed imminent dangers and warned them before explosions or collapses occurred. There is a tale of a miner's wife who ran to the mine office after hearing an explosion. Her warning turned out to be an early omen of a later methane gas blast. But spookier is hearing that the mine manager died when he went underground to investigate. The woman's ghost is still seen around the mine – a woman in a brown dress – running into the mines office building and waving to a small boy upstairs.
The shower and laundry room building was eerie and is where ghostly apparitions have been seen by staff on many occasions. The way the miners had to shower, wash and dry their clothes in such a dark and dingy place after a hard days work was humbling and gave me goose bumps. The dimly lit shower room, with its low ceiling and rusty exposed overhead pipes is daunting and would not be comfortable for anyone tall to shower in. Even I at 5' 7" would have to duck to shower there.
The laundry room with the big wood stove has high ceilings and it is
gloomy. The miners began and ended their days there and hoisted their clothing aloft on "sky hook" baskets to dry. Just as Bob finished explaining how the wood stove heated the water for the showers the wind howled through the walls and something moving above caught my eye and I nearly jumped out of my skin. It looks like bodies are hanging from the ceiling slightly moving with the wind outside. Bob explained it is only the miner's overcoats and hats hoisted up and hanging from the rafters to dry. Phew.
Next we head towards the massive wooden tipple and we started our climb as the sky above continues to darken with the storm. My heart was racing as the floors creaked and the wind howled through the many open gaps in the walls. Bob is a pro at the steep climb and I found myself breathless trying to keep up with him while he described the various belts the coal came up on and how it was sorted. Over 5 million tons of coal traveled these belts. Bob made sure to also point out the safety treads where we walked and the fencing along the side of the huge belts. He told me how the railing were not there for the miners back then and how a fall would most certainly lead to a miners death. The thought of no railings made me dizzy.
During our climb l spotted an old orange paint can with a rag wrapped stick in it and asked Bob what it was for as it was the only color in the dark wooden tipple and had instantly caught my eye. He explained that the mine had originally been located further up the Red Deer River on the north side and when it shut down to be moved they lost a lot of customers. How would they ever get those lost customers back? In one of the best marketing moves ever, in 1937 a miner suggested they take a wheel barrow of their coal down to 3rd Avenue & Centre Street in Drumheller so people could see how nice and shiny and good quality their coal was. Another miner said "But all coal is nice & shiny so how do we get them to buy ours?" A guy who was a little bit sharp suggested they put some red paint on it. But, they could not find any red paint so they got some orange paint. The kid below with the rag and orange paint just sprinkled orange paint onto the coal as it came up the belt and they called it 'Wild Fire Coal' and claimed 'Burns hottest in the Valley'. That creative marketing ploy was so successful a year later they were getting a dollar a ton more than the other mines.
Before descending back down the tipple l had the privilege of going out onto the fire escape which is not part of the tour. When the door was opened and l stepped out onto the small platform it was simply terrifying at almost 125' above the ground. A stunning view, yes it was, but it was a terrifying one.
The Atlas Coal Mine tour is one of the most amazing historical tours in Canada. I left there not only much better educated on Canada's coal mining history but also with a heart filled with appreciation for the sacrifices and hardships the miners endured. I now believe that every man who ever entered our mines to provide the coal to keep Canadians warm is a true Canadian Hero.
---
CONTACT INFORMATION
Atlas Coal Mine National Historic Site
110 Century Drive, East Coulee, Alberta, T0J 1B0
Local: 1.403.822.2220
Website: www.atlascoalmine.ab.ca
Email: info@atlascoalmine.ab.ca
Interactive Social Travel Profile: Atlas Coal Mine National Historic Site
---
Written by Cary Horning
Canadian Travel Influencer
---
Click to Book, Plan & Interact with Drumheller, Alberta, Canada
The "eh Team" of eh Canada Travel & Adventure are Canadian explorers called Tourism Ambassadors. They travel & research Canada – all the popular, unique and unknown destinations – and make notes, write articles, take photos, create videos sharing the many opportunities in travel, tourism, activities and adventures in Canada that you know of and not know of.  The "Stars of Tourism" Promotion highlights and features selected tourism businesses and adventure companies located throughout Canada. Click to view other "Stars of Tourism" Feature Articles.
ehCanadaTravel.com (eh Canada Travel & Adventure) is the largest privately operated tourism website for interacting, booking, planning & researching travel in Canada. Thank you for supporting Canadian ingenuity and  entrepreneurship.
"The future of tourism is social interaction and content marketing. Our website brings your advertising to life with your content. Your content develops a personality with social interaction."
Greg Girard – co founder
https://www.ehcanadatravel.com/blog/wp-content/uploads/2016/09/atlas-banner.jpg
300
640
Greg "Gug" Girard
https://www.ehcanadatravel.com/blog/wp-content/uploads/2020/01/ehcanada-logo-340x156-1.png
Greg "Gug" Girard
2016-09-18 13:36:43
2017-04-08 06:03:03
Atlas Coal Mine National Historic Site – Star of Tourism