Why Visitors Fall For Canadian Autumn Seasons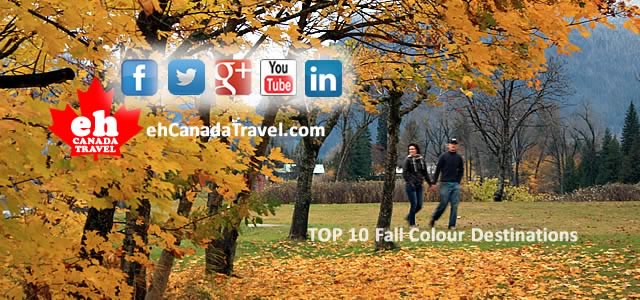 Why Visitors Fall For Canadian Autumn Seasons
"Canada is a four-season destination. Autumn is no less, no more than any other season. It is just different . We like different"
To celebrate the Canadian Autumn Season we have posted below the "5 Best Well Known Destinations For Autumn Colors in Canada", the "5 Not-So-Common (No Less Spectacular) Destinations For Autumn Colors in Canada" and the "5 Activities Best Enjoyed in Canada During The Autumn Season In Canada".
---
5 Best Well Known Destinations For Autumn Colors in Canada
(1) Cabot Trail, Cape Breton Island, Nova Scotia, Canada : Many Canadians know of the Cabot Trail exploring the Cape Breton Highlands National Park. The route is consistently in the media every year and well deserved. The Cabot Trail is one of Canada's premier sightseeing driving / touring routes in Canada for watching the forests change from a lush green to a rainbow of reds, oranges, purples and yellows. The forests of maple trees blanket the valley with reds and oranges while the tamaracks morph into yellows and the taiga transforms into deep oranges and purples. (Click to visit Nova Scotia, Canada)
(2) Rocky Mountains, Alberta, Canada: Canadian autumn seasons in the Rocky Mountains is best viewed from high elevation vantage points. The temperatures are cooler and the crowds are smaller. The Villages of Banff, Lake Louise, Jasper and Canmore, Alberta in the Rocky Mountains all enjoy a bevy of elevation hiking / biking / horseback riding trails exploring into the mountains leading to spectacular vistas over looking valleys, meadows, lakes, rivers and communities. During the fall season many of these valleys, and meadows are painted in reds, golds and oranges. (Click to visit the Rocky Mountains, Canada)
(3) Algonquin Park, Ontario, Canada : The oldest Provincial Park in Canada spanning over 7,653 square kilometers (2,955 sq mi). This park is explored best by canoe or on foot. There are oodles of lakes and waterways to explore surrounded by forests of red, yellow and oranges. There are over 2,400 lakes and 1,200 kilometers of waterways to explore – all dotted with wilderness campsites for the most colorful autumn evenings. Do not be surprised if you are able to capture an autumn photo with a moose. (Click to visit Ontario, Canada)
(4) Mount Tremblant, Quebec, Canada : This Quebec, Canada ski resort town is a haven for autumn colors. The crowds and line ups are smaller in this Laurentian Mountain resort during the fall season. The village is painted in pastel colors mixing well with the surrounding forests. One can take the gondola to the top of the mountain and enjoy the golden views of the forest below or continue into the wilderness hiking trails on a quest for some spectacular colors. (Click to visit Quebec, Canada)
(5) Bruce Peninsula Trail, Bruce Peninsula National Park, Ontario, Canada : There is nothing like it anywhere in Canada. The Bruce Trail is Canada's longest hiking trail spanning over 885 kilometers. It explores cliffs, meadows, waterways, forests and connects with communities. The trail is the best route for exploring what is called the Niagara Escarpment. The changing colors of the autumn season has been spectacular for a very long time here as some of the trees are over 1000 years old. (Click to visit Ontario, Canada)
---
5 Not-So-Common (No Less Spectacular) Destinations For Autumn Colors in Canada
(1) Niagara River Parkway, Niagara-on-the-Lake, Ontario, Canada : Yes, this is well know as wine country. However, there is more to it than wine. The Niagara River Parkway is a sightseeing driving and touring route following along the banks of the Niagara River visiting communities like Niagara Falls, Niagara-on-the-Lake and Queenston. The Niagara River divides Canada and the United States of America. So… not only is the shoreline a border of changing autumn colors but it also doubles as a popular wine route with many vineyards dotting the region. (Click to visit Ontario, Canada)
(2) Cup and Saucer Trail, Manitoulin Island, Ontario : Imagine hiking through a forest of colours, up onto a section of the Niagara Escarpment only to find yourself on the edge of a cliff looking out over a vast expansion of forests and lakes. It is a heart pounding gorgeous view. The forest is a mish-mash of reds and yellows and yes, some forest green is mixed in too. (Click to visit Ontario, Canada)
(3) Alex Murray Trail, Baie Verte Peninsula, Kings Point, Newfoundland : This is an all time beauty of hike which we came stumbling across as we were exploring the Baie Verte Peninsula on Newfoundland, Canada. Although we have not seen it in the fall, we know enough about trees to see that it would be spectacular during the autumn season. The 8 km loop trail explores a forest for a short section and then it is all stairs leading up the mountain. In total there are 2200 steps! And there are 3 waterfalls too! Once you reach the top there are 3 viewing decks. From the top the forest below is a sight to behold. (Click to visit Newfoundland, Canada)
(4) Dorset Lookout Tower, Huntsville Ontario : A man-made tower with far reaching views. The 1922 Fire Tower measures 82 feet high and provides a 300 square kilometer viewing radius overlooking the forests and lakes of Muskoka Country. We have climbed this tower ourselves but, again, not in the fall season but we know from photos we have seen that it is a spectacular picture of reds and golds. (Click to visit Ontario, Canada)
(5) Confederation Trail, Prince Edward Island, Canada : This trail was a mainstay located just down the street in Murray River, PEI where we stayed for an autumn season. The 470+ kilometer trail bisects the island and was once a rail line before being converted into a recreation route used for hiking, biking, xc skiing and snowmobiling. One of the few trails in Canada which elevation means little when it comes to watching the leaves turn colors. Instead of high above you go through forests. It was the tunnel of fall colors which caught our attention. (Click to visit Prince Edward Island, Canada)
---
5 Activities Best Enjoyed in Canada During The Autumn Season In Canada
(1) Hiking: What better way to see the forests turning colors than out in nature hiking a trail. Hiking during the autumn season enjoys smaller crowds, and mild weather.
(2) Photography: When Canada dresses up in its fall colors, it is inviting all amateur and professional photographers to explore the outdoors and take its picture.
(3) Birdwatching: During a Canadian autumn season birds start the long journey migrating south to warmer temperatures. The skies become busy with bird traffic and the waterways become rest stops along the route.
(4) Surfing: As the autumn season progresses and slowly merges into the winter season the weather gets nastier. The winds pick up, the clouds turn grey and the ocean waves crashing our western and eastern coastlines get bigger. A surfer's dream come true.
(5) Golfing: Many locations across Canada enjoy a near-year round golf season. During the autumn season courses are, generally, still in full swing. The plus? Crowds are smaller, the heat is not as intense and tee times are easier to get.
---
Canadian Travel Influencer post by :


As Seen On:
CBC, Huffington Post, Canada.com, Nature Conservancy of Canada, Cottage Life Magazine, TravelTV.com, Travel Industry Today, Yukon Life, TAPS Magazine, HUB Magazine

Head Office
ehCanadaTravel.com
54-120 Finholm Street N.
Parksville, BC, Canada, v9p 1J5
https://www.ehcanadatravel.com/blog/wp-content/uploads/2014/09/bannerfall-season.jpg
300
640
Greg "Gug" Girard
https://www.ehcanadatravel.com/blog/wp-content/uploads/2020/01/ehcanada-logo-340x156-1.png
Greg "Gug" Girard
2014-09-16 22:10:31
2017-09-21 23:52:00
Why Visitors Fall For Canadian Autumn Seasons