Nakusp Hot Springs, Chalets & Hiking Trail Bliss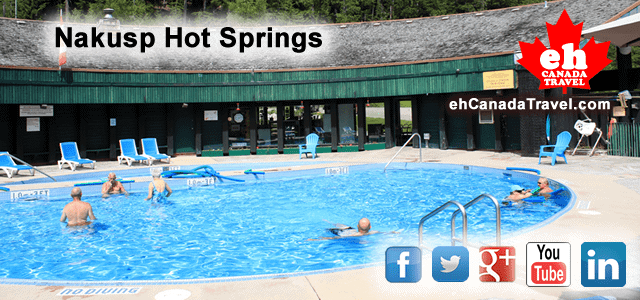 Nakusp Hot Springs, Chalets & Hiking Trail Bliss
"On your visit to Nakusp, BC one of the biggest pleasures was finishing everyday with a soak in the therapeutic mineral waters of the Nakusp Hot Springs. We were greeted with smiles, the hospitality was top notch and our good-byes were heart felt and filled with praise. We cannot wait to visit again."
Watch Video of eh Canada doing Nakusp Hot Springs.
Relax. Refresh. Return. The natural hot springs, the mountain chalet accommodations and the wilderness hiking trails located at the Nakusp Hot Springs in the Kootenays provides an ideal situation for relaxation and adventure thus creating an atmosphere of well being and natural bliss. The soothing mineral waters of the hot springs and the forested hiking trails will, most certainly, enrich ones body, mind and soul. The vacation destination located in the mountains of Nakusp, British Columbia, Canada will do that for you.
The "eh Team" visited the hot springs for 2 days. We did the "soak and float" in the mineral waters. What joy! We "stayed and played" in the cedar A-frame chalets. Country comforts! We "liked and hiked" the mountain trails surrounding the Nakusp Hot Springs. What awe inspiring nature!
After 2 days of wilderness bliss we finally pushed ourselves out the door. We left relaxed, refreshed, reinvigorated… and wanting more. There is only one solution then… a return visit.
The Nakusp Hot Springs includes two outdoor, open-air hot pools filled with therapeutic mineral waters piped in from the mountains. Hot spring mineral waters have been reported to provide many preventative, psychological and medical benefits. The medicinal benefits provided by hot springs is referred to as "balneotherapy". We did not know that? In fact, we also learned that in Europe some doctors prescribe hot springs as part of their out-patient therapy for treating various health conditions.
The Nakusp Hot Spring pools provide eleven therapeutic components including sulphates, chlorides, sodium, calcium, potassium, silica and others. The sulphates are reported to assist in liver, respiratory and gastrointestinal conditions. The chlorides have been documented to assist in rheumatic, arthritis and posttraumatic conditions. Sodium has been said to stimulate lymphatic systems. Calcium attends to bone health, insomnia and cardiovascular conditions. Potassium treats the skin. Silica may provide treatment for sleep disorders. So… one might say "The doctor is in the house" when visiting the Nakusp Hot Springs.
The hot springs in Nakusp, BC were first staked in 1894 by Ellen McDougald. After overcoming many obstacles like an access road into the mountains and much political wrangling the Nakusp Hot Springs finally opened their doors in 1974. But then in 2004 the hot springs were designated a Class A Park and purchased by the Village of Nakusp. As far as we can tell, the Nakusp Hot Springs are the only mineral pools in Canada owned and operated by a local government.
Today, the hot springs include 2 mineral pools, a gift store, snacks, beverages, campground and some cedar chalets. The campground rests on the banks of the Kuskanax Creek (on our visit it acted more like a river) while the chalets are only footsteps away.
In total there are 5 chalets of various types. They sleep, anywhere, from 2 to 4 guests – sometimes more. Each chalet is fully equipped with many of the amenities of home but with a rustic personality. The roar of the creek and the singing of birds provided the ideal sound system for this wilderness retreat.
After some "chillaxing" in the chalets, soaking in the hot pools we found some time to hike one trail. Would of hiked them all but time was not on our side on this trip. There are so many hiking trails surrounding the resort it was difficult to select one great hike for this visit. After we "hummed and hawed" a bit, we finally selected the Kimbol Lake Hiking Trail. The trail is a one-way 5 to 7 kilometre hike (depending on your sources) following along a single track trail leading up a mountain before connecting to a high alpine lake.
The hiking adventure explores the Kimbol Creek Valley. The trail crosses rambling creeks, wooden bridges, explores a cedar and hemlock forest and  includes some surprises like an alpine lake picnic area and a rest stop with wooden stump chairs (a favourite of the "eh Team" as it is unique). The hiking trail is rated as moderate and classified as a low elevation hike. Being that we have hiked all over Canada, we would tend to lean towards categorizing this adventure as a high elevation hike and challenging because it is up hill much of the way.
The hiking trail we explored offers a great prize for your efforts called Kimbol Lake. We hiked the trail in mid June and, therefore, we were so stoked to see we would be hiking above the snow line. Near the last 750 metres of our hike, before Kimbol Lake, we were walking on top of two feet of snow in the hot sunshine. So sweet! Once we reached Kimbol Lake we were greeted by birds chirping and a surreal alpine lake frosted by snow-capped mountains. It was epic!
On your visit to Nakusp, BC one of the biggest pleasures was finishing every day with a soak in the therapeutic mineral waters of the Nakusp Hot Springs. We were greeted with smiles every time, the hospitality was top notch and our good-byes were heart felt and filled with praise. We cannot wait to visit again.
The "STARS OF TOURISM" program highlights the Canadian accommodations and adventures the "eh Team" has selected to visit and explore during the summer of 2014.
Nakusp Hot Springs
8500 Hot Springs Road
PO Box 280
Nakusp, British Columbia Canada
VOG 1RO
Phone: 250.265.4528
Fax: 250.265.3788
Toll Free: 1.866.999.4528
Email: info@nakusphotsprings.com
Nakusp Hot Springs : www.NakuspHotSprings.com (adults summer day pass starts at $15.50) : Summer Hours (May 1 – Oct. 31) Winter Hours (Nov. 1 – Apr. 30)
Nakusp Cedar Chalets : www.NakuspHotSprings.com (starts at $75/night) :
******************************************
ehCanadaTravel.com (eh Canada Travel & Adventure) is the largest travel and adventure website for booking, interacting and planning travel in Western and Northern Canada. The "eh Team" of eh Canada Travel & Adventure are a group of travel explorers, called Tourism Ambassadors, who research and write articles, take photos, create videos researching the many opportunities in travel, tourism, history and adventure in Canada.
We are currently expanding into Eastern and Atlantic Canada.
Always Let your host know you saw them on eh Canada Travel.
And if they are not advertising on eh Canada give them heck for not supporting
Canada tourism and adventure.

*********
https://www.ehcanadatravel.com/blog/wp-content/uploads/2014/07/banner-nakusp.png
300
640
Greg "Gug" Girard
https://www.ehcanadatravel.com/blog/wp-content/uploads/2020/01/ehcanada-logo-340x156-1.png
Greg "Gug" Girard
2014-07-03 13:31:17
2016-04-25 14:41:03
Nakusp Hot Springs, Chalets & Hiking Trail Bliss