If the Shoe Fits Wear It – Cowichan Bay – 2013 Road Trip Series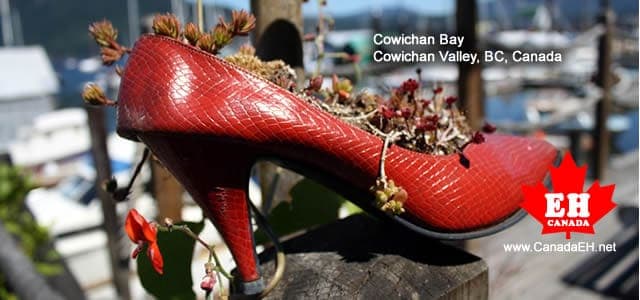 Today, we are going to visit more childhood memories by exploring around the village of Cowichan Bay. "Cow Bay" for short is located south of Duncan. British Columbia on Vancouver Island on the west coast of Canada.
The little village is unlike any other on the island. When you think of a small village on the ocean many think fishing village. At one time this may have been true but not today. No… today the village of Cowichan Bay is a tourism destination in the Cowichan Valley visited by many every year for its marine scenery, many boats and unique shops, adventure tours and patio restaurants, coffee shops and pubs lining the main street.
Cowichan Bay is a park and walk destination. No driving required once you arrive.
The one problem is that parking is limited. There is parking in front of the shops and boutiques. Just good luck getting one of those. Most of the parking is along the side of the main street. The problem is there is never any parking there either. Another precaution when parking in Cowichan Bay is that traffic is close to parking so watch for oncoming traffic and keep kids close.
Once you have arm wrestled someone for a parking spot the rest of your visit is all good!
On the north end of main street Cowichan Bay there is a small day use picnic site and a boat launch. Good spot to start a walk. There is a small walking path also nearby which connects to a bird viewing platform. A camera comes in handy during migration season.
Walk towards town and you pass some very unique houseboat accommodations. All up tight to the road with no front yard to speak of but a heck of a oceanfront back yard to brag about. It is an oceanfront of motion with sailboats, fishing boats and recreational yachts passing by continuously.
Along the entire waterfront are docks, marinas and more marinas. A quick look spots many sizes of sailboats and yachts elbowing each other for space on the docks. Some docks are for private members only. Please obey signs. At the far end of the street is a public dock which extends out onto the ocean. Make the effort and you will be rewarded with beautiful views and beautiful boats.
Look closely and you can see that mixed among the boats are families of floating houseboats. Some floating accommodations are decorated with a hippie-flair while others stay with the marine theme decorated with adventure toys, flower pots and lawn chairs.
Back on main street the stores, restaurants and attractions line up one after the other. There is no rush. There is no reason to push and shove because life here is relaxed and slow-paced. Take your time and browse. There are ice cream shops, a bakery (great bread), gift stores, cafes, fine dining, pub food, liquor store, hotel, B&Bs, general store, boat tours, fishing charters and more.
In Cowichan Bay, B.C., Canada you can go whale watching for a half day and then relax with a coffee on an outdoor patio and then finish the day with the ocean as your guest over dinner. Yes, it is straight out of a romance novel. Can you feel the love!
Visit Cowichan Bay on our Canada eh Travel & Adventure Website for accommodations, tours and a lot more photos at : http://www.vancouverislandaccommodations.com/scowichan/cowichanbay.htm
https://www.ehcanadatravel.com/blog/wp-content/uploads/2013/08/cow-bay-banner2.jpg
300
640
Greg "Gug" Girard
https://www.ehcanadatravel.com/blog/wp-content/uploads/2020/01/ehcanada-logo-340x156-1.png
Greg "Gug" Girard
2013-08-29 14:36:54
2013-08-30 14:41:10
If the Shoe Fits Wear It – Cowichan Bay – 2013 Road Trip Series