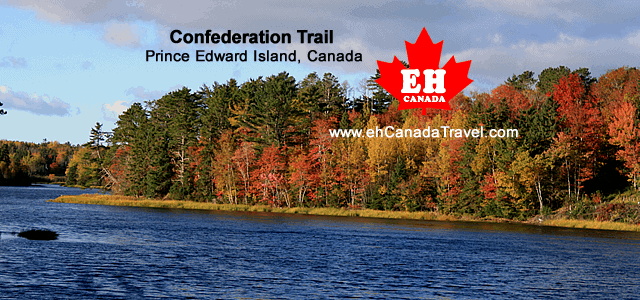 Best Autumn Hiking Trails & Driving Routes
Canadian hiking trails & driving routes for enjoying our Autumn colours
"Autumn in Canada is one of the most misunderstood seasons by travelers."
Summer is about to come to a close and the autumn (fall) season is waiting in the wings to take its place. So, we asked ourselves, "What are the Best Autumn Hiking Trails & Driving Routes in Canada during the Fall Season?" In some destinations in Canada the process of Autumn colours is already in full swing.
September in Canada is considered the best month for travel in Canada by many. Why you ask? In general it is because the weather at this time is is very summer-like, there are less children as they are back in school and there are smaller crowds and line ups. And then add in the massive dose of colour.
Canada Has The Best Autumn Hiking Trails
Autumn (fall) in Canada is when Mother Nature celebrates the season of the Maple Leaf. There are leaves of red, orange, yellow, brown and, sometimes a rainbow of colours. Some leaves cling for life on branches while others already made the decision to fall to the ground and add colour under our footsteps as we explore.
Autumn Landscape Photography
Talk to any landscape photographer and many will tell you that the Fall season in Canada provides some of their best photo shoots. Many of us here at ehCanadaTravel.com are one of those photographers who love the season of colours. Below, we listed some of the best Fall locations in Canada for capturing amazing Autumn photos.
Autumn Season Is Misunderstood By Travelers
Autumn in Canada is one of the most misunderstood seasons by travelers. What travelers need to understand is that the weather is still amazing in September and that everything is still open for business. And most importantly, as September rolls along, accommodation prices in many areas revert back to their off season rates. Part of the blame of a misunderstood Fall season is the marketing by tourism associations and by poor media coverage resulting in bad information. Unfortunately, too many in my mind, believe Canada is a one month summer, hence the onslaught of visitors in the month of August.
Canada Is Huge So There Are Differences!
Canada is a very large country no matter what measuring stick you go by. Canada is 9,984,670 square kilometres and has a land boundary length of 8,893 km (5,526 mi) and it enjoys a 243,791 km (151,485 mi) of coastlines.
All and all the country of Canada is the second largest in the world. Being so large there are differences. Weather on the east coast is usually very different or very much the same. You just do not know because it is so big. Hours of daylight in the north is polar opposite than the daylight hours running along the southern border. Autumn means different things to different people all around Canada.
Until you have walked in our shoes, hiked our trails and driven our roads it is hard to understand our Canadian love affair with the Autumn season.
Best Autumn Hiking Trails & Driving Routes in Canada
1. Confederation Trail, Prince Edward Island, Canada
Once a railway line the Confederation Trail is now a popular hiking and biking trail measuring over 470 kilometres. Sections of the trail are lined with maple and cherry trees sporting vibrant colors of orange, red and yellow during the fall season. Other sections are interspersed with popular, birch and beech trees glowing with bright yellow leaves. Sections of the trail are narrow creating tunnels of colorful leaves. The moderate climate on the island creates a longer-than normal fall season for colours. Plus… there are no bears, cougars on Prince Edward Island… learn more
2. Cabot Trail, Cape Breton Island, Nova Scotia, Canada
A driving route loaded with hiking trails and parks exploring forests and small villages located along Cape Breton's northern shore. Rainbow reds, oranges, yellows and golds paint the landscape best in the month of October. Not only are the colours. spectacular there are also opportunities for a moose sightings… learn more
3. Algonquin Provincial Park, Ontario, Canada
The 7,725 square kilometre park is a canoe and hiking mecca filled with vibrant fall colours. The forests, lakes, and rivers that create Algonquin Park are decorated with various species of trees including maple, aspen, tamarack and red oak trees. The best viewing times run from the end of September to mid October… learn more
4. Fundy Coastal Drive, New Brunswick, Canada
The Fundy Coastal Drive in New Brunswick is a little known route which comes alive with colours during the autumn season. The driving route visits with small villages, historic bridges and sightseeing viewpoints. Not only does one enjoy the colours of the forests in the region but as an added bonus it is also home to the world's lowest tides. Best viewing month is October… learn more
5. Banff and Jasper National Parks, Alberta, Canada
So many hiking trails with summit views overlooking autumn forests during the months of September and October. A popular sightseeing feature in the parks are the Banff Gondola and the Jasper Tramway which provide birds-eye views of the changing colours of the Alberta forests…. learn more
6. Whiteshell Provincial Park, Manitoba, Canada
The yellow golden forests of the Whiteshell Provincial Park light up the landscape for many who visit in the fall season. The autumn forest are enjoyed while driving through the park, hiking the trails, as well as, canoeing the lakes… learn more
7. Mont-Tremblant, Quebec, Canada
Mt. Tremblant is home to forests of reds, yellows and oranges stemming from the sugar maples, yellow birches and American beeches in the region. For those who are not keen on hiking there is a gondola which provides some good views as well… learn more
Best Autumn Hiking Trails & Driving Routes
Follow us on our website and social media for daily updates and some ehCanadaTravel.com highlights.
Canadian Travel Influencer post by :



As Seen On:
CBC, Huffington Post, Canada.com, Nature Conservancy of Canada, Cottage Life Magazine, TravelTV.com, Travel Industry Today, Yukon Life, TAPS Magazine, HUB Magazine

Head Office
ehCanadaTravel.com
54-120 Finholm Street N.
Parksville, BC, Canada, v9p 1J5
Best Autumn Hiking Trails & Driving Routes
https://www.ehcanadatravel.com/blog/wp-content/uploads/2013/09/autumnbanner2.png
300
640
Greg "Gug" Girard
https://www.ehcanadatravel.com/blog/wp-content/uploads/2020/01/ehcanada-logo-340x156-1.png
Greg "Gug" Girard
2013-09-20 14:02:39
2018-09-04 18:14:59
Best Autumn Hiking Trails & Driving Routes for Fall Colors in Canada