Travelodge Duncan BC Hosts High School Reunion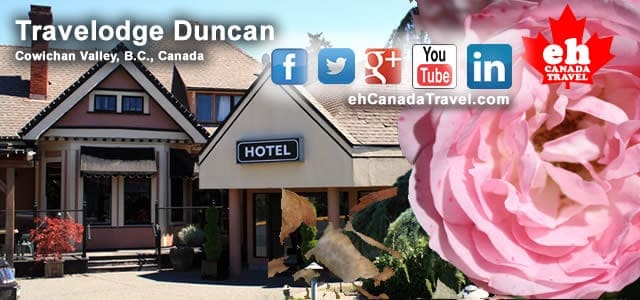 Travelodge Duncan BC Hosts High School Reunion
"Good people always make accommodations a better place to stay. I was impressed with the hospitality I received from Travelodge Duncan. I was greeted with smiles from the reception desk to the restaurant staff to the house keeping team. Thank you all for the hospitality and assisting me in creating great memories. We do look forward to another visit soon so we can talk about you again."
Feels good when old acquaintances become new friends again. I got the call from my graduation class requesting my attendance at our high school reunion. Due to my work and play schedule I have had to pass on this "celebration of maturity" on previous occasions… but not this time. Who made it all possible were our friends at Travelodge Duncan (www.travelodge.ca/property/travelodge-duncan) in the Cowichan Valley, British Columbia,
I learned many of my life lessons hiking Cowichan Valley trails, swimming their lakes, tubing their rivers, climbing their mountains, biking their streets and more.
I grew up in Duncan BC .  My love and appreciation of the outdoors was born in the Cowichan Valley in so many ways. I owe much of who I am to the geography of the region. So… on this reunion, I was going back home to pay my respects and to meet with some friends I have not seen in decades. Travelodge Duncan made it all possible.
Duncan BC is a community located 75 km north of Victoria, BC. Travelodge Duncan is located at the southern entrance of the town on the main highway (Hwy #1) running through town. It is one of the few full service accommodations in the community equipped with conference rooms and facilities to accommodate large groups of people.
Once I committed to the reunion I immediately booked my room with the hotel. There are many reasons why I decided to book with Travelodge Duncan. One, very good, reason was I was meeting up with many old friends and who knows where that was going to lead us. So, I felt it was wise to be close to the reunion for those late night walks to my room. But it was more than just a convenience thing.
There are 34 rooms and suites in the hotel.
The accommodation rooms are broken down into 4 types: Standard Rooms, 1 Bdrm Suites, Relaxation Suites and Family Suites. Some are even pet friendly. My room was well decorated, clean, the bed was comfortable and my unit included a private bathroom, television, internet, coffee maker, air conditioning and a fridge for cold liquids. Plus, one of my best friends of all time was also attending his first reunion as well was in a room down the hall.
Being that the Travelodge Duncan accommodation is located in the hub of Downtown Duncan BC everything was within easy walking distance. I could walk to get groceries, do shopping, sightsee, go for a drink, do my banking and eat at restaurants. However, the restaurant thing did not go far as the Travelodge Duncan has its own restaurant called the Old Fork. So… why would I go anywhere else. No need. I just chowed down breakfast in the hotel. Mmmmm!
There is much more to the Duncan BC accommodation than a clean room and good breakfasts. The Travelodge Duncan is also home to the River Rock Bar & Grill. The pub style restaurant is housed in a building dating back to 1893. That is a piece of history I did not know. Nor did I know the building was a heritage landmark. Even more reason to stay with Travelodge Duncan on this trip.
For big groups, special events and things like a high school reunion the Travelodge Duncan enjoys over 5200+ square feet of conference and event space. Plus… for some outdoor fresh air there is an outdoor courtyard in the centre of the accommodation with tables and chairs, as well as, a 150 year old Sequoia Tree. A many good conversations ensued in the courtyard during my reunion with old friends.
For those days you may want to get out and go for a day drive there is much to enjoy in the Cowichan Valley. Being that I grew up in Duncan some of the more popular adventures include the 12 wineries, 3 golf courses, art galleries, sandy beaches, the parks, the many attractions and the First Nation Totem Poles. For sightseeing scenery no visit to the Cowichan Valley should go without visiting the nearby hamlets of Cowichan Bay, Maple Bay and Chemainus.
Good people always make accommodations a better place to stay. I was impressed with the hospitality I received from Travelodge Duncan. I was greeted with smiles from the reception desk to the restaurant staff to the house keeping team. Thank you all for the hospitality and assisting me in creating great memories. We do look forward to another visit soon so we can talk about you again.
The "STARS OF TOURISM" program highlights Canadian accommodations, attractions and adventures the "eh Team" brothers explored during the summer of 2014 in the name of tourism and travel research for their ehCanadaTravel.com website, blog, social media channels and ehTV (YouTube).
Travelodge Duncan : www.travelodge.ca/property/travelodge-duncan
140 Trans Canada Highway
Duncan BC, Canada V9L 3P7
Toll Free:  1-888-858-2200
Phone: (250) 748 4311
**********
The "eh Team" of ehCanadaTravel.com (eh Canada Travel & Adventure) are the brother team of Greg and Colin Girard. Together they are the brains behind the ehCanadaTravel.com travel website, blog, social media and ehTV which is the largest and fastest growing booking, planning and researching tourism and travel network for Western and Northern Canada – currently expanding into Eastern and Atlantic Canada.
**********
[google-map-v3 shortcodeid="6fd37adc" width="80%" height="350″ zoom="12″ maptype="roadmap" mapalign="center" directionhint="false" language="default" poweredby="false" maptypecontrol="true" pancontrol="true" zoomcontrol="true" scalecontrol="true" streetviewcontrol="true" scrollwheelcontrol="false" draggable="true" tiltfourtyfive="false" enablegeolocationmarker="false" enablemarkerclustering="false" addmarkermashup="false" addmarkermashupbubble="false" addmarkerlist="140 Trans Canada Highway, Duncan, BC{}home.png{}Travelodge Duncan" bubbleautopan="true" distanceunits="miles" showbike="false" showtraffic="false" showpanoramio="false"]
https://www.ehcanadatravel.com/blog/wp-content/uploads/2014/08/banner-travelodget.jpg
300
640
Greg "Gug" Girard
https://www.ehcanadatravel.com/blog/wp-content/uploads/2020/01/ehcanada-logo-340x156-1.png
Greg "Gug" Girard
2014-05-11 16:17:33
2016-02-19 13:45:28
Travelodge Duncan BC Hosts High School Reunion