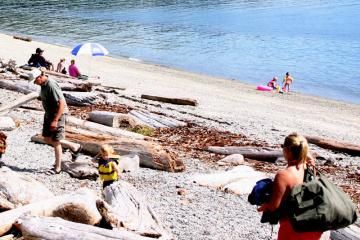 Park Size:
1.2 hectares
Park Amenities
:





Oak Bay's Willows Beach may be the most popular beach in the Victoria, BC region on Vancouver Island. Located in Oak Bay which is northeast of the City of Victoria, the white sandy beach measures about 1.2 hectares in size and includes change rooms, toilets, day use picnic sites, concession (summer only) sightseeing benches, playground, grass lawns and a paved walking trail.

Many come to relax, some to play, some to people watch and some for the spectacular views looking out over Discovery Island and, on a clear day, one can see Mount Baker over in Washington, U.S.A.

Willows Beach activities enjoyed include swimming, sunbathing, beachcombing, sightseeing and kayaking. During the summer months the beach attracts large crowds and it wise to arrive early to secure your spot in the sand. The waters are particularly shallow and protected from the elements making the beach popular for young children.

A walking runs parallel to the beach. It is paved, flat and very easy going making it wheelchair and baby stroller friendly. The path connects Willows Beach to another popular oceanside park called Cattle Point which is part of Uplands Park.



Address:
Oak Bay's Willows Beach
How To Get ToOak Bay's Willows Beach
:
How to Get Here:
From the City of Victoria travel northeast on Beach Drive to Oak Bay. At the corner of Beach and Dalhousie Drive is a parking area with beach access.
No reviews yet for Oak Bay's Willows Beach.