Interview with SaskPower Windscape Kite Festival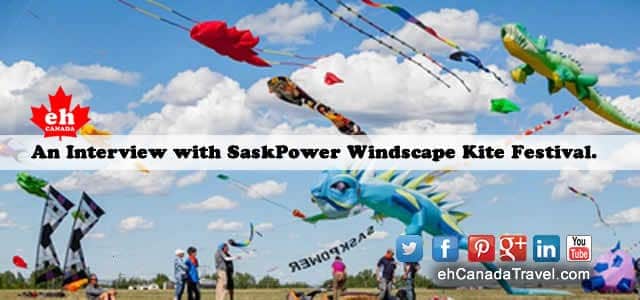 Interview with SaskPower Windscape Kite Festival
An interview with Shann Gowan of SaskPower Windscape Kite Festival in Swift Current, Saskatchewan, Canada
"Our event is different from any other event in Western Canada. The SaskPower Windscape Kite Festival is one of North America's most well known Kite Festivals. It has quickly become a destination for kite flyers from all over the world to showcase their amazing art and kite flying skills."
Remember when, as a child, flying kites in an open park, on a long sandy beach or in someones backyard field brought many thrills and highlights to your day. We do. At that time kites were simple. They had one color material of some kind, a ball of string of some sort and 2 bamboo sticks is all that it took to build a kite in those days. Well… how times have changed. Kite flying has gone Hollywood.
"For eleven straight years, the SaskPower Windscape Kite Festival has welcomed an impressive cast of Celebrity Kite Flyers to present an incredible array of kites against the beautiful Saskatchewan sky. On June 25 and 26, 2016 from 10am to 5pm, the skies will once again be filled with a multitude of flying creations for the 12th Annual SaskPower Windscape Kite Festival. Over 40 national and international stars of kite performing and kite-making attend Windscape each year, many of whom have flown at some of the most prestigious and largest festivals in the world."
Such kite flying fame draws a lot of attention including ours. So we met  with Shann Gowan of SaskPower Windscape Kite Festival in our swanky online studio and got to the bottom of this kite flying phenomenon taking over the Saskatchewan skies once a year.
1. Please tell us a little about who you are and what you do?
 Cultural Festivals strives to provide cultural experiences that contribute to a greater quality of life for our citizens, improve community pride, create  content for the cultural tourism industry, focus audience attention on our Canadian culture, and develop artistic literacy and awareness. Cultural Festivals provides a series of cultural events and festivals to showcase community assets and fulfill a need for high quality cultural entertainment and attract outside audiences.
We strongly believe that the arts are essential to the creation and sustenance of a thriving, vital community, and that the arts should be available to all people. We know arts play a crucial part in the economic, social, environmental, health, and educational future of Swift Current and Saskatchewan to ensure that it is, indeed, among the best places on earth.
With a great lineup of kite artists attending from across North America and beyond, this year's Windscape Kite Festival will offer another exciting weekend of unique entertainment. On June 25 and 26, 2016 the skies above Swift Current, SK will fill with an incredible array of beautiful and colorful kites, with plenty of other activities for the whole family to enjoy.
This year's festival celebrates Windscape's 12th anniversary, and welcomes a number of celebrity flyers from years past, bringing them back to the Windscape Field to showcase their creations and skills alongside some brand-new talent from across the globe. Featuring enormous, wonderful kites and inflatables, out-of-this-world stunt kite flyers, quad line flyers and teams that thrill the crowd, and colorful banners to brighten up the festival grounds, Windscape Kite Festival truly offers something for everyone.
The festival would not be possible without the 350+ volunteers, staff members, and sponsors who all contribute to ensure the event's success. Their support has allowed Windscape to continue to grow over the past decade, becoming one of North America's very best kite festivals.
SaskPower Windscape Kite Festival
The kite festival is held in conjunction with Long Day's Night music festival, which runs Thursday through Sunday at the Windscape Field. With exciting kites, fun activities, and great musical entertainment, the SaskPower Windscape Kite Festival 2016 is shaping up to be a can't-miss event this coming summer. (eh) We saw some of your photos from last years festival and some were beyond our imagination. So beautiful, big, colorful and crafted.
2. What makes you different from other events in the region?
"Our event is different from any other event in Western Canada. The SaskPower Windscape Kite Festival is one of North America's most well known Kite Festivals. It has quickly become a destination for kite flyers from all over the world to showcase their amazing art and kite flying skills. Windscape differs from other events in the region because it has activities that can accommodate the whole family and it is a free admission event." (eh) Yes, we too soon learned how big your event was and  the positive impact it has on the region.
3. Why did you decide to work in the tourism, travel and/or event industry?

"There was no major summer festival in Southwest Saskatchewan. We have lots of windy and a great landscape for kite flying. It was a perfect match." (eh) The sky is the limit – literally in your case – when you put your mind to it. We can relate. 
4. What are your future plans, projects or goals for SaskPower Windscape Kite Festival?
"As the SaskPower Windscape Kite Festival continues to grow, in both popularity and population, we find ourselves having to expand our activities, as well as our festival grounds. The future sees Windscape becoming Canada's number one kite flying destination, where professional kite flyers from all over the world want to come and show off their kites and their skills." (eh) It is obvious you are well on your way to being the premier kite festival in Canada and the world.
5. Tell us an interesting story about SaskPower Windscape Kite Festival?
Every year the festival grows bigger, and every year we work hard to produce an even better event.  I think everyone did an amazing job this year. Feedback from the community was very positive.  People loved the variety of events and, of course, the kites. Children lined up for face painting, balloon animals, bubble booths, juggling and balancing, temporary tattoos, bol races, the splatter mural, straw bale maze, and the popular mystery sand pile.  Over a hundred children tried the trapeze swings offered by the Green Fools performance artists from Calgary, and the Milkmobile, sponsored by Dairy Canada, gave away over 3450 containers of milk.  
The Living Sky Casino is also a local sponsor of the festival.  Trevor Marion, General Manager, said they have been a sponsor for several years and are proud to be associated with the festival to help keep it as a free, family event. "When our family moved here and attended our first Windscape, we thought 'Wow!'.  We had never seen anything like it.  There are so many different activities incorporated into the Kite Festival and it keeps getting bigger and better."  Marion said several of the staff at the Living Sky Casino also volunteer at Windscape.  "This event is very well organized," said Marion.  "Volunteers know what is expected of them, they are given training, and treated very well.  They feel appreciated, taken care of, and thoroughly enjoy spending their time helping out."
This year, there was a record number of kites in the air, by both attendees and the celebrity flyers.  "More than 550 kites were made in the kids' booth, plus kites that people would bring.  With all the kites brought by approximately fifty celebrity flyers, there were literally thousands of kites in the air over the weekend," said Gowan.
Professional flyers from all over the world participated in the event, coming from Germany, Japan, England, the Philippines, the U.S., and across Canada from British Colombia to Quebec.  "The Flying Squad from England were fabulous people who put on a superb show, and Orly Ongikingco, the kite artist from the Philippines, put on some great impromptu kite building workshops," said Gowan.
6. In your opinion what is the #1 reason tourists should pick Saskatchewan to travel to?

Tourists should pick the province of Saskatchewan to travel to because of its vast open spaces and unique landscapes that spread as far as the eye can see. Saskatchewan is a part of Canada that is often over looked, but offers a completely different perspective on beauty and scenic views. (eh) We so agree. And may we add that tourist should explore off Highway #1 and exit the (TCH) to truly explore communities and the beauty of the province. 
7. What do you like the most about holding your event in Swift Current?
By having the SaskPower Windscape Kite Festival in Swift Current we are able to attract a lot of traveling tourists because of our proximity to the #1 Highway; Swift Current is easy to get to. The City of Swift Current also offers a lot of open space, ideal for kite flying. With fields that are raised above the rest of the land the landscapes offer great channels for high winds, exactly what is needed to keep kites afloat in the living skies of the prairies.
8. In your experience where do most visitors come from when attending your event in Swift Current and why?
Over the years we have seen just about half of our Windscape visitors coming from outside of Swift Current. The majority of tourists come from Saskatchewan cities, other then Swift Current, and many travel from Alberta. We see a good number of people from other Canadian provinces, and quite a few from the States that boarder Canada; North Dakota, Montana, Washington, Idaho, and even Oregon. (eh) And , I think we can safely say it is only going to get bigger and far reaching every year.
9. Please give us some insight on what, you see, as the biggest mistake visiting travelers do when attending your event?

Not realize that they are going to love this event. Most people are unsure of what a kite festival entails. Everyone is blown away by what a great event it is and how much fun kites are. (eh) We are kite-addicts in a big way. Kites were a big thing during our childhood on the farm.
SaskPower Windscape Kite Festival is a Featured event posted on our ehCanadaTravel.com website serving Saskatchewan, Canada.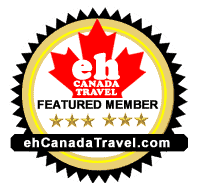 How Do You Get Interviewed? To qualify for this "Friends of Tourism" Interview Program businesses must be advertising on the ehCanadaTravel.com website, as well as, have the FEATURED BUSINESS BADGE posted prominently on their website. Look for the badge for quality Canadian businesses. Keep it Canadian.
Sign up your business starting at $69 / year.  More Information
******************************************
ehCanadaTravel.com (eh Canada Travel & Adventure) is the largest travel and adventure website for booking, interacting and planning travel in Western and Northern Canada. The "eh Team" of eh Canada Travel & Adventure are a group of travel explorers, called Tourism Ambassadors, who research and write articles, take photos, create videos researching the many opportunities in travel, tourism, history and adventure in Canada.
We are currently expanding into Eastern and Atlantic Canada.
"We bring your advertising to life with content.
We give personality to your content with interaction." Greg Girard – co founder

*********
https://www.ehcanadatravel.com/blog/wp-content/uploads/2016/03/banner-2.jpg
300
640
Greg "Gug" Girard
https://www.ehcanadatravel.com/blog/wp-content/uploads/2020/01/ehcanada-logo-340x156-1.png
Greg "Gug" Girard
2016-03-28 15:50:23
2016-03-28 15:54:16
Interview with SaskPower Windscape Kite Festival