Vancouver Island: An Outdoor Paradise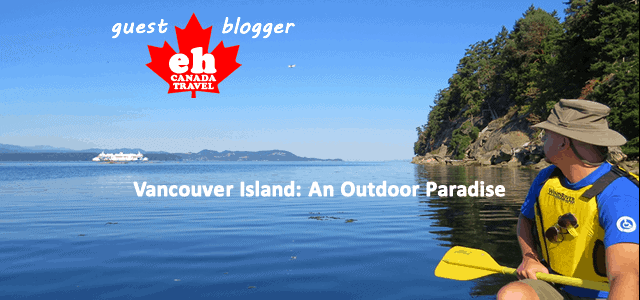 Vancouver Island: An Outdoor Paradise
Intending to move to Vancouver Island for 'just one winter season,' we have now lived here for over two years.
The Island has converted us to an outdoor lifestyle, made possible by the wonderfully mild climate and huge diversity of potential activities.
It's hard to know where exactly to begin; from the ocean to the mountains, there is seemingly something for everyone to enjoy outside, even if you like to take life at a slower pace.
The ocean is host to endless kayaking opportunities as well as plentiful waves for surfers. Kayaking with the hope of seeing orca whales is popular in the north, while island hopping further south is a rewarding way to spend a weekend. Surfing is popular year round on the Island's west coast near Tofino, with the waves actually said to be better in the winter.
Further inland, there are more opportunities to get out on the water on Vancouver Island's many mountain fringed lakes and rivers. There's even a circle of lakes west of Campbell River which make up the Sayward Forest Canoe Route (40km of paddling), perfect for intermediate level canoeists. If you don't have a canoe, river tubing is another option, with popular locations in Sooke, Courtenay and near Port Alberni.
Back on dry land, there's a multitude of short and long hikes around the Island, the most well-known being the spectacular West Coast Trail, a 75km hike between Bamfield and Port Renfrew. The Juan de Fuca Marine Trail is a great shorter (50km) but less remote alternative. Fantastic day hikes can be found within many of the Island's Provincial Parks, my favourite being those in Strathcona Park, both at the beautiful Paradise Meadows and Buttle Lake.
Not only great for hikes, the Provincial Parks offer some great camping locations too. There are car accessible campsites as well as basic sites in the extensive backcountry, so you can go as remote or close to civilisation as you like. Throughout the Island there are Forestry Recreation sites (often next to lakes) as an alternative to the Provincial Parks; those in the north tend to serviced less but are often completely free of charge. We go camping every weekend in summer and pay nothing but the gas to get there!
Though winters are extremely mild compared to the rest of Canada, Vancouver Island does receive snow at higher elevations providing plenty of terrain for snowboarding, snowshoeing and both Nordic and alpine skiing. With an average of ten metres falling every winter, Mount Washington Alpine Resort can usually claim to have the most snow in the world. Further north, volunteer run Mount Cain provides a more low key experience but excellent access to the backcountry.
Vancouver Island is home to North America's highest concentration of caves, and there are tours available at Horne Lake Caves, near the centre of the Island. There are other, less accessible, caves to be found along the many logging roads crisscrossing the island, as well as lots of climbing opportunities.
If you prefer to enjoy the outdoors at a more leisurely pace, there is still plenty to do. There are hundreds of beaches to explore and giant trees to be amazed by (70 metres high!), both on and off the beaten track. The most accessible places to see the latter are at Goldstream Provincial Park just north of Victoria and MacMillan (Cathedral Grove) Provincial Park near Port Alberni. Away from the main tourist trail Carmanah Walbran Provincial Park provides a more private experience. Just driving around Vancouver Island you may be lucky enough to spot some of the non-human residents, but if you want to be sure, take a bear or whale watching tour in Victoria, Tofino, Campbell River or Port McNeill. In Tofino, you can even combine whale watching with a trip to the natural Hot Springs.
Vancouver Island truly epitomizes the best Western Canada has to offer; it is a year round outdoor playground, with endless opportunities on both water and land. There are not many places in Canada where you can surf, snowboard and hike all on the same day. Just be careful, you may end up staying longer than planned – we can vouch for that!
About the Author – Gemma Taylor is one half of a Canadian-British couple, enjoying the outdoor life to the fullest in BC, both on and off the beaten track. http://offtracktravel.ca
ehCanadaTravel.com (eh Canada Travel & Adventure) is the largest booking, planning and researching tourism and travel website for Western and Northern Canada currently expanding into Eastern and Atlantic Canada. The EH Team Brothers (Co Founders) also author the eh Canada Travel Blog which was recently awarded "A Top Canadian Blogger" by FlightNetwork.com.
https://www.ehcanadatravel.com/blog/wp-content/uploads/2014/03/banner-guest.png
300
640
Greg "Gug" Girard
https://www.ehcanadatravel.com/blog/wp-content/uploads/2020/01/ehcanada-logo-340x156-1.png
Greg "Gug" Girard
2014-03-15 12:18:04
2014-03-15 12:18:04
Vancouver Island: An Outdoor Paradise