2014 Travel Trends & Tourism Indicators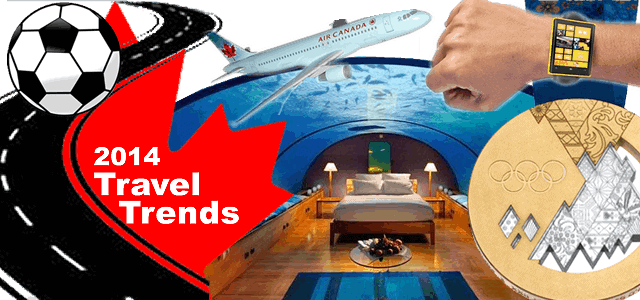 2014 Travel  Trends for Canadians.
The question everyone in tourism and travel is asking themselves at this time of year is, "What are the travel trends to watch out for in 2014?"
There are so many type of travel trends to anticipate and so many factors to consider. And on some occasions the travel trends predicted do not ever materialize.
There all types of travel trends to consider. There are travel trends which poke their heads out in the middle of 2013 and continue to gain momentum well into 2014.
There are the travel trends you never see coming – they are the surprise trends which come fast and hard out of nowhere. Often these travel trends are created from unforeseen world events.
Then there are the travel trends which are "guess-ta-mations" based on industry indicators, statistics and reports.
And last… there are the no brainer travel trends – the ones that you see coming.
No matter what the trends are… the question still is and always will be, "What are the travel trends to watch out for this year?"
The "eh Team" has been marketing and promoting tourism, travel and adventure for a combined 40+ years. We have been in the trenches, we have climbed back out and we have been bullied by some of the powerful government tourism associations. We have seen it all – the good, the bad and the ugly.
We also follow closely international tourism markets and watch as they push for a bigger share of the travel market. The researching we do, the road trips we go on, the writing for our websites and the discussions and debates with tourism people has taught us many things.
Based on our observations in 2013 there are a few travel trends to, possibly, watch out for in 2014. Some are Canadian and some are international. All of which are important to Canada one way or another.
(1) There are certain communities and regions which will see an increase in tourism numbers this year due to some new large events like the 150th Anniversary of the Charlottetown Conference of 1864 on Prince Edward Island and the TED Conference to be held in Vancouver, BC. No brainer trend.
(2) Air travel within Canada is ridiculously out of touch. Taxes on everything, poor service, high ticket prices and lack of competition. It is more expensive to travel in Canada then overseas. The airline industry in the United States is a different ball game as prices look like they may be in decline. What does this mean for Canada. More Canadians will continue to travel south of the border to fly to international destinations – taking their money with them. Rumours have it that on March 31, it is said that US Airways will drop its membership in the Star Alliance (where Air Canada's a member) to join One World (West jet's partner alliance). A game changer?
(3) Another no-brainer trend is the Olympics in Sochi, Russia. However, predicting the travel trends in Russia is difficult because of security concerns, the unpredictability and outrageous acts of the Russian Government. The outcome of the Olympics will, either, hurt tourism or help Russian tourism. But there will be a short-term impact one way or the other. Post Olympic tourism revenues have proven to always fall back to pre Olympic levels… and, like previous Olympics, with a large debt load.
(4) Here is another no brainer. Gas prices will go way up in the summer peak seasons and come back down in the winter seasons but not to the pre-summer gas rates. This technique keeps slowly increasing our gas prices in Canada every year. This practise hurts tourism travel within Canada. This will continue until green energy becomes more affordable and available, our travel infrastructure improves or Canadians speak up in large numbers.
(5)  The World Cup of Football (Soccer in Canadiana) is being held in Brazil in 2014. Being that soccer is the world's most popular sport it will be watched by millions on TV. It makes sense that Brazil's scenery, culture and adventures will be showcased throughout the world during the event creating a tourism wave of activity for Brazil.
(6) Multi day river cruises are taking off in Europe. It is said up to 20+ more ships are being built this year to accommodate growing demand. River cruises are the new marine sightseeing. A river cruise is always close to the shoreline, the scenery is always in sight and the port-of-calls are always close by. Why not tap into this market by developing in-country cruises exploring many communities along our ocean coastlines and down river systems.
(7) All inclusive theme accommodations are growing in popularity. By theme we mean the accommodation itself or the over all resort grounds are theme related. There are accommodations underwater, on the side of mountains, hanging from trees, in the air, on lakes and underground. They come in all sorts of shapes and sizes. In Canada we have the landscapes and waterscapes but little unique theme accommodations. What we lack in Canada is the will, the funding and imagination.
(8) Family vacation packages are seeing an increase in a demand overseas. Families are becoming a larger segment of the tourism market. Families tend to vacation closer to home due to tight finances. Pre packaged family adventures provide vacations with no stress, many options and variety, as well as, as designated child-free days for the parents as their children go off on supervised group adventures with other children.
(9) Train travel vacations in Canada will continue to struggle because of poor marketing support, infrastructure challenges, high prices, lack of competition and a poor public image due to train collisions and accidents throughout Canada and the world.
(10) Tech gadgets will continue to shrink in size and get smarter: Some new technology on the building blocks possibly becoming available in 2014 are smart-watches and phalets (smartphone-tablet hybrids).
(11) Technology tools like Facebook, YouTube and Twitter will keep morphing into bigger and better. They are the most used social media tools for Canadian travellers and they will continue to increase in popularity in 2014. It is a marketing risk not to be building this part of your tourism strategy.
(12) Travel deficit continues to widen as Canadians continue to spend more overseas while less outside money is being spent in Canada.
(13) Recent travel reports and statistics from government tourism associations indicate emerging travel markets coming to Canada will continue to grow like China, Brazil, India, Japan, Australia while our traditional markets will continue to drop like USA, U.K. and Germany. What is even more startling is that some of the emerging markets are up to 1/50th the size of the traditional markets. It is apples (emerging) and oranges (traditional). We are losing a lot more oranges than gaining apples.
(14) The parks system in Canada will continue to struggle as the government funding cuts of last year will start to show its impact. In some areas of the country there will be more park closures, increase park fees, staff reductions, new parking fees and an increase in visible litter and wear and tear.
(15) The population of 25 – 35 year olds is growing. More and more people are looking for adventures "off the beaten path". Life is short and more people want to experience it and therefore step out of their comfort zone providing them more memorable rewards. Remote resort experiences priced for the economical and for the outdoor enthusiasts will see growth this year and in the next 5 years.
(16) Last year our national government quietly removed federal protection from millions of rivers and lakes in Canada. Sources tell us they are now removing measures which protect endangered species and prevents industrial water pollution. We will begin to see the negative changes in attitude in 2014 towards our rivers and lakes by some corporations. Polluted lakes, rivers and oceans is never a good thing for tourism.
ehCanadaTravel.com (eh Canada Travel & Adventure) is the largest and fastest growing booking, planning and researching tourism and travel website for Western and Northern Canada currently expanding into Eastern and Atlantic Canada. The EH Team Brothers (Co Founders) also author the eh Canada Travel Blog which was recently awarded "A Top Canadian Blogger" by FlightNetwork.com.
**********
https://www.ehcanadatravel.com/blog/wp-content/uploads/2014/01/BANNER.png
300
640
Greg "Gug" Girard
https://www.ehcanadatravel.com/blog/wp-content/uploads/2020/01/ehcanada-logo-340x156-1.png
Greg "Gug" Girard
2014-01-06 11:50:32
2014-03-25 15:52:09
2014 Travel Trends & Tourism Indicators