Sicamous, B.C. Paradise Motel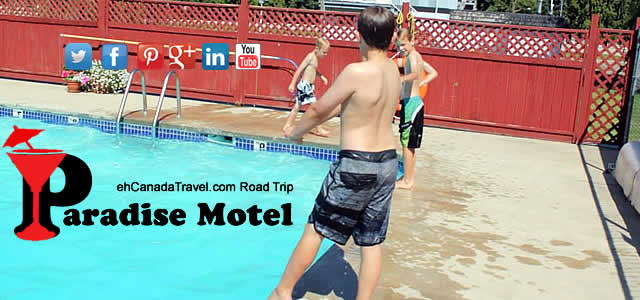 Sicamous, B.C. Paradise Motel
"its the hottest place… to be cool"
I pulled into the parking area of the Paradise Motel in the community of Sicamous located in the Shuswap Lake region of British Columbia, Canada. This was to be my home for the next week. I  arrived after a full day of researching the historic Last Spike and the Malakwa Suspension Bridge.
My day was long, filled with photos, learning and driving under a hot sun. Just the way I like it. Anyone who travels big kilometres knows one can be pretty wiped at the end of the day and I was. So it was so nice to be greeted with a friendly smile and not 20 questions, a welcoming introduction and not a lecture. How refreshing, real people.
The Paradise Motel is located on Main Street in Downtown Sicamous, B.C.  It is clean, economical and convenient. It is walking distance to some restaurants, convenience stores, a grocery store and some retail shops. It is ideal for someone like myself who likes to walk to services instead of driving.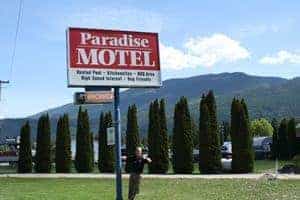 The motel has 20 something rooms. And… for you dog owners, they are welcomed as well. Many of the accommodations are suites too, which works for those who do not want to eat out every night. In my room there was a stove, kitchen utensils, fridge and a coffee maker. Cell service was good. A must have for me.
Outside there is a swimming pool, as well, which will always score big points with family and kids. The rooms open up to the outdoors and not a hallway. One can sit outside and enjoy the sunshine and fresh air. I was told by the owners it is the only outdoor pool in town. OK… that is huge for many.
My room had all I needed to make my stay comfortable and to make my work efficient. The table in the suite was home to my laptop, and we both were married to a comfortable padded chair. Internet was free, fast and easy to set up. Can't live the life of eh Canada Travel without good internet. The TV was large, picture clear and good for background noise while I worked. The beds… well they welcomed me with open arms.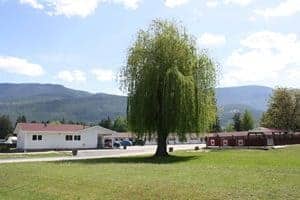 Sicamous is called " The Houseboat Capital of the World". This is very apparent when one visits the waterfront. A short drive away from the Paradise Motel. The shoreline of Shuswap Lake is lined with Houseboat companies, watercraft rentals, docks and marine gas stations. At one end of the waterfront is a beach park and a walkway with sightseeing benches. This is a great spot for watching the comings and goings of boats, kayakers and paddle boarders. Time it right and your might see the rotating train bridge on a swivel in action so houseboats can enter Shuswap Lake.
On my visit to Sicamous my hosts at Paradise Hotel were very accommodating, knowledgeable of the area and pleasant to deal with. They were great for conversations and for leaving me be when work needed to be done.
When in Sicamous, BC and you want to stay with Paradise Motel here is how to get a hold of them: 
You can look them up on our website at: https://www.ehcanadatravel.com/british-columbia/thompson-shuswap/4397-paradise-motel.html
The Paradise Motel
517 Main Street
Sicamous, BC
V0E 2V0
Telephone: (250) 836-2525
Cell: (250) 803-8281
Email: info@paradisemotel.ca
Website: http://www.paradisemotel.ca/
https://www.ehcanadatravel.com/blog/wp-content/uploads/2016/05/blogBANNER2.jpg
300
640
Greg "Gug" Girard
https://www.ehcanadatravel.com/blog/wp-content/uploads/2020/01/ehcanada-logo-340x156-1.png
Greg "Gug" Girard
2016-05-07 21:26:35
2016-05-07 21:26:35
Sicamous, B.C. Paradise Motel